Quousque tandem: How long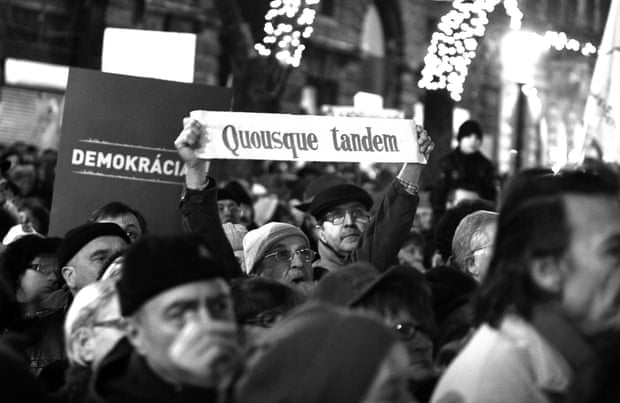 Tajuddin Abdul Rahman, like columnists in Malaysiakini, seems to know the mind of China better than the Chinese in Beijing or in the MCA: that is, China wouldn't care if the Chinese here live or die from the keris. That being so why are infantile Umno people, Zainuddin Maidin comes to mind, the Anglophile Dennis Ignatius and some two-bit Malaiyoo barking dog named Ahi Attan talking and getting themselves worked up about interference in domestic affairs by Huang Huikang or by China.
The contradiction gets worse. When Tajuddin says local Chinese should not bother to look up to China as a 'protector' or 'Godfather' for the troubles inflicted on them in Malaysia, he reaffirms an Umno raison d'etre: 'Protecting' Malays is first, fuck the Chinese is second. He is therefore saying to the Chinese, we'll get you one day, and you can never get away, not even China can save you now.
Then there is their ignorance and naivety. Like Ahi, like Zam, people like Tajuddin know nothing about the Chinese language, much less the Chinese mind, and they don't know how to listen to Huang Huikang's words in Petaling Street. He didn't use the term Chinese Malaysian, of course. But what was the term he used in its place? And why that term? What does it mean, really mean?
We won't tell those bodoh….
***
Closing Ranks
"They say when trouble comes close ranks, and so the white people did." — Jean Rhys, Wide Sargasso Sea (1966)
***
On Pomelos & the Family Altar

*
It is not known how the name Pomelo came about, a giant size grapefruit or Citrus grandis. Although native to southeast Asia, the Malays (in Malaysia) seemed not have taken much to it but Chinese farmers (in Perak for example) spread its consumption especially because the fruit ripens at the time of the mid-Autumn festival. The pomelo has little to do with 'prayers' but was useful as an altar ornament because of its thick skin and its lasting quality.
Eat it anyway. See the nutrition table: no sodium, high energy. The B group vitamins (for cell reproduction) add up to almost 10 percent of every 100 gm and especially Vitamin C which at 73 percent beats the temperate fruit orange hands down. And it's cheaper gm for gm.
The Chinese family altar: Anglophiles, Chinese and Christians in particular, tended to view the family altar with as much contempt as scorn. Helen Is-Not-Christian-Name Ang, for example, would compare grandmothers bowing in front of an altar (as opposed to bowing to an altar or to gods) to some kind of voodoo 'superstition' (her word) writ large. She is of course not alone in such thinking; Lisa Ng comes to mind; others Wong Chen, Rotweiller Yam of Penang…. Ignorant to Chinese history, practices and culture, Helen learned neither tolerance nor acceptance; it's her mother's fault to have raised such a bitch. Many Malays, other than the Hadi PAS types, were more respectful than her.
The origin of the Chinese altar need not detain us. But examine the concept of 'praying'. The Chinese don't pray as Christians or Muslims pray. To pray is to summon some 'Almighty' Thing, hence the word 'godfather', as Tajuddin calls it, as someone with some influence and power to come to your rescue in times of need. So who is it that Helen's voodoo grandmother talks to at the altar, and what's it that she summons? And where from, although, beyond the godfather, there is simply no one out there, heaven or earth, tian 天 or di 地.
The answers to the questions are as vague as they are varied, but some things are not 'praying'.
There is no single, defining objective Thing out there. What's clear, though, is that the so-called prayer is an anthropomorphic expression which says, that short of what we as humans are capable of, the rest we leave to Fate. It means that the human existence, beyond its physical, objective boundaries, there is nothing, no god, no spirits, and no need of metaphysics to prop up a Chinese life. This contrast with the Christian voodoo Dennis Ignatius, who believe the world is populated by souls that needs to be saved (by him) through some conversion by a metaphysical object he calls 'God'.
Inverse the argument, it becomes, in the Daoist Chinese (in parallel to the Buddhist Indian) thinking a pre-Sartre existentialism that has the infamous line, 'Hell is other people'. Whereas Descartes would say this — in just thinking, I therefore exist — Chinese Daoism questions the preeminence of the human person that pivots everything on the 'I' who, if you were to think it through, is nothing but a collection of bones, flesh and blood.
Here is the Berkeley academic Alison Gopnik paraphrasing 18th century philosopher David Hume:
Ultimately, the metaphysical foundations don't matter. Experience is enough all by itself. What do you lose when you give up God or "reality" or even "I"? The moon is still just as bright; you can still predict that a falling glass will break, and you can still act to catch it; you can still feel compassion for the suffering of others. Science and work and morality remain intact. Go back to your backgammon game after your skeptical crisis, Hume wrote, and it will be exactly the same game.
This line of thinking is identical to Buddhist thought, says Gopnik:
The Buddha doubted the existence of an omnipotent, benevolent God. In his doctrine of "emptiness," he suggested that we have no real evidence for the existence of the outside world. He said that our sense of self is an illusion, too. The Buddhist sage Nagasena elaborated on this idea. The self, he said, is like a chariot. A chariot has no transcendent essence; it's just a collection of wheels and frame and handle. Similarly, the self has no transcendent essence; it's just a collection of perceptions and emotions.

"I never can catch myself at any time without a perception."
Gopnik didn't know it but the concept of emptiness is also the nothingness in Daoism. The opening lines of the daodejing (道德经) from an excellent David Mitchell translation:
The Dao that can be told
is not the eternal Dao.
The name that can be named
is not the eternal Name.
The unnamable is the eternally real.
Naming is the origin
of all particular things.
What's the 'name that can be named / is not the eternal Name'. 'Gosh', you can hear the infantile Helen Ang cursing, 'what superstition!' Patience, Stupid, here's daodejing's elaboration of that concept.
When people see some things as beautiful,
other things become ugly.
When people see some things as good,
other things become bad.
Being and non-being create each other.
Difficult and easy support each other.
Long and short define each other.
High and low depend on each other.
Before and after follow each other.
Next time you see an old Chinese grandmother 'praying', think of the duality in that nothingness; it's more profound that Helen thinks it is voodoo. Here's one of the best parts:
Less and less do you need to force things,
until finally you arrive at non-action.
When nothing is done,
nothing is left undone.
Indeed, when nothing more is to be done, the grandmother goes before the altar and 'prays'.
And next time you need rescue from Tajuddin's keris, don't phone up Beijing. Go to the altar. Pray!
I stand here as nothing…
***
Oh, 榄 Once so beautiful…