This post should be read alongside China Breaks Containment, Zahid Calls for War.
If only Zahid has the balls…
It is astonishing how Malaysians, Malay politicians in particular and their hanger-on, sycophant Malay journalists, so land bound, so small minded about 'cari makan', have absolutely no inkling — absolutely none — concerning the group of Spratly Islands, about who is fighting for what, who is fighting who, and so on.
If what Zahid Hamidi say is true, that the Chinese had encroached on Malaysian territory, then it behooves on him to go to war with China. In referring to three spots of atolls and reefs that the Chinese occupied, Zahid is therefore saying this: Those belong to Malays; they are Tanah Melayu; the Chinese have grabbed Melayu property.
Zahid's kind of talk is identical in both meaning and content to the Red Shirts marching into Petaling Street, demanding Chinese be kicked out of Malaysia or else they will kill Chinese and burn down Chinese-owned houses for occupying Tanah Melayu.
So, what next, if not war?
It is pointless marching in the Spratly — there is no one around to watch. Nearly all of those places — by one count, 750 pieces of Spratly islets, atolls, reefs, shoals and cays — have only sea shells on the sea shore, each no more than 100 metres wide, not even good enough to make a race track. (Keep this in mind, for we shall return to this point.)
But, Zahid has not the balls to march against China, much less go to war. Against Chinese Malaysians who can't fight back, he, like Tinju Ali, resort only to shouting and cursing like mad woman Helen Ang running down the street. And that's that.
It's the Yanks again…
Spot A in the map above is Diego Garcia, the largest piece of real estate in the Chagos Archipelago, comprising a group of 60 atolls and reefs, much like the Spratly Islands, along the equatorial belt, no native population, just lots of washed up corals. Its nearest African land mass is Tanzania, 1796 km away.
European seaward colonizers on the way to the Far East would pass it. Hence in the last 300 years, the Portuguese stopped by, and occupation has gone from French to British. Mauritius now claims from the British that it is theirs although the US occupies Diego Garcia with a military facility serving destroyers, submarines, fighter bombers, incredulously, half a planet away, to serve American national interest.
If Zahid Hamidi still has his Javanese scrotum-balls his father gave him, and which his mistress licks on, he can even claim Diego Garcia for Malays. He could say to Americans and Mauritius that the Chagos is actually native bumi land and was once named Pulau Pulau Tanah Melayu. Incredulous, yes, but who is to say he can't?
More realistically, though, Zahid hasn't the means nor the firepower to back up such a claim, not even with 2.6 billion in Najib's bank account which is actually enough to buy a submarine from the French.
This way of explaining Diego Garcia, its geography, its topography — actually nothingness — plus its claimants, its occupiers, past and present, Zahid and his groins, replicates exactly the Spratly Islands disputes.
Even the word dispute so widely used in media reports is erroneous because it assumes, like plaintiffs in court room litigation, one party out of two (or more) is in the right. Or, has to be in the right. That is, the Spratly or a part of it has an original, native occupier.
The Filipino and the Sulu claims on Sabah carry this element of original ownership, or native-ness: 'we were there, first and foremost, and well before those Malaiyoos and Najib Razak's father took Sabah from us and sequestered the entire population'.
But, like Diego Garcia, no part of the Spratly or the entire archipelago contains any of the elements of native-ness for a simply reason: there were no permanent inhabitants and no part is habitable, not even for a few hours for passing fishermen to wait out a typhoon. So flat, so barren is it, that unless you live on corals, the Spratly is good only to bury the dead passing through.
And this — a matter of recorded history — is one of China's historical claims on the Spratly: as early as the Tang dynasty (618-907 AD) Chinese traders and fisherman going up and down the South China Sea (some ended up as far as Kelantan) would stop by to bury their dead and on it built a shrine, sometimes called a temple. Unlike white people, the Chinese have no tradition of sea burial and this goes for the Muslim Zheng He as well. He was dead on the last voyage while still sailing into the Malacca Straits so a few in the armada of 60-odd ships had to turn around and sailed back to Fujian with his rotting body. It is today buried in Quanzhou. (Once, Hussein Onn went to see the tomb.)
All this represents a strong case for China's claims on a historical basis but it is not good enough because such provisions in international sea laws are not considered conclusive — so new and alien are these laws in terms of China's history.
Sea laws are what they are — sea laws that specify conduct of coastal states, the limits of what they can own in the sea and the rights of ships from other states passing through. But the fundamental issue in Spratly is not about navigation, freedom of passage and so on.
It is about territorial ownership, and territory is not even actual land, but small strips of sea shore covered in coral and stinging hot sand and most so barren and so tiny that when Zahid takes off his pants then squats down to defecate after his Malaiyoo rendang curry, he can be seen at the other end of atoll. You can even smell his fart.
Since it is uninhabited and without natives, and since it is smack in the middle of a 425,000 sq km of ocean, far away from any human or land mass, the Spratly is in a situation not unlike Diego Garcia. So that the fight at Spratly is not about navigation or free passage, it is fundamentally over claims on territory — essentially a fight over space, over  nothingness.
Consider this counterpoint to the Spratly: Should the Philippines succeed in wrenching Sabah from Malaysia and claim it as one of their provinces, like Mindanao, what do they have in the territory?
The land is of course a requisite. With land the Philippines could grow coconuts in Sabah and sell them to Najib Razak for his 2.6 billion in AmBank after twenty years. But would you go to war, losing life and limbs, just so as to grow coconuts?
More important than the natural resource is the inhabitants because without them, without people, Benigno Simeon Aquino III, that English duck-quacking President, can't be president. There is no king without subjects.
*
Why Malaysia is more likely to war with the Philippines than with China
Why China is singled out as villain
The above is an American-made map, dated 1982. Because there are 750 places in Spratly for the taking, and five countries help themselves to them, it is important to know dates of those maps. Unless permanently occupied, like Layang Layang and the namesake island Spratly (below) taken by Vietnam, countries move in and out at will.
In 1982, Vietnam occupied most of those places followed by the Philippines so that in some atolls, soldiers of different countries are actually staring into each others gun barrels. It means there are more chances of Vietnam and the Philippines fighting than say between Malaysia and China because none in the latter is anywhere near Malaysia's claim.
Malaysia is sandwiched between Philippine and Vietnam, both countries have seized atolls within Malaysia's claim-line and Exclusive Economic Zone. In 1982 China-occupied parts of Spratly were roughly equaled to Malaysia in numbers.
Yet in all this brouhaha, China is singled out as the only and chief villain. Why? (a) Because America wanted it that way and the Philippines is an American lackey. (b) Because if China acts, all other claimant-invaders, Taiwan and Malaysia included, will be out of business — 'so let's get together, kick out first the Chinaman then our fight between third rate countries will be equal'.
This is also why warmonger Zahid Hamidi was completely irresponsible and it was unnecessary to provoke China. There was nothing to be gained other than to get Asean to band together when it can't. Just look at the map.
*
Spratly island, Vietnam, which is just outside Malaysia's claim-line and EEZ border.
*
Swallow Reef or Layang Layang, Malaysia.
Swallow Reef was formally occupied by Malaysia in 1983 when the RMN moved in with 18 men. Since renamed Layang Layang, it is both a military outpost and a resort smack in the middle of, according to Zahid Hamidi, a contested area, a potential war zone.
Swallow Reef before it was Layang Layang has land of 15 acres above sea surface. After reclamation it grew to 86 acres, what you see below, which Malaysia says is national sovereign territory. Now Zahid Hamidi is bitching about what China is doing to the northern atolls — in identical fashion.
Will Zahid next transport in Bangladeshis to make them Umno's fixed deposit vote bank? Fuck you, Zahid.
*
The Ghosts of Spratly
This then is Spratly's dilemma to claimants: a territory without territory, land without land, even monkeys won't live there, so that after you have succeeded in seizing all of this nothingness, what do you do with it? On top of nothingness, there are just ghosts — Chinese ghosts at that. This explains why, quarrel as they may, shout and curse as they may, like mad man Zahid and duck-quacking Aquino, nobody wants to wage war over it.
So, if there are 750 pieces of sand shores and corals for the taking, what should the countries surrounding Spratly do in place of war? Simple: Each one takes a grab at it. And this is what's happening today, which if you'd think it through is no different from invasion.
It would be invasion if there were native inhabitants. But, without inhabitants, Aquino, the Americans and now Zahid make everything look as if freedom of navigation is as stake and China is the bad boy bully.
Other than to dump its dead fishermen onto those atolls, China is the last of the four main claimant-occupiers — others, Philippines, Vietnam, Malaysia, but omitting spineless Taiwan — to actually go ashore and grab a piece of Spratly. Malaysia is one of the earliest invaders and occupier with Swallow Reef in 1983, since renamed Layang Layang. The idea is simple: first come, first served. In Spratly's case, first come, first own.
Fearing that Malaysia after Layang Layang would take the other nearby ones, Vietnam and the Philippines quickly followed to the northwest and northeast, the first taking Amboyna Cay and the latter Commodore Reef. Today Vietnam and the Philippines have most of the big atolls and reefs, building airstrips and jetties like those in Layang Layang.
China, worried about projecting its bully boy image, sat on its hands and all through the last 20-30 years restricted its activities to constructing stone markers here and there. This was useless as a method of claiming.
Some five years ago, Aquino's henchman, behaving very much like the Najib's Red Shirts, went ashore with sledgehammers and smashed a stone marker to smithereens: 'Fuck you Chinaman, this is Tanah Melayu', is what they are saying.
As if to make up for lost opportunities, China in the last two years has rapidly moved into, or occupy, parts of Spratly, mostly in the north. The word occupy is, like the word dispute, a misnomer. What do you occupy? Corals? The reality in Spratly is different because there is nothing to occupy save for strips of coral and dead fish.
To invade the Spratly isn't to occupy it. It is to construct something on an atoll or a reef. You actually add to what you take so that in all places taken, invaders like Malaysia and Vietnam build something on an existing tiny territorial surface which, in turn, becomes the seed of a territorial construction. That is to say, the occupation of Spratly is the occupation of artificial land, man-created, after which you call it your sovereign territory.
The result is this: within Spratly, and near Layang Layang, Malaysia has numerous new, adjacent neighboring states, all dropped in from the air or landing by boat. Top of this list in the order of most Spratly possessions: Vietnam, the Philippines, and China each separated from the other sometimes by a strip of water no more than 20km.
Welcome to the beginnings of a New World Order: the Kingdom of Spratly split into half a dozen states.
*
The Curse of Zahid Hamidi
The Chinese are truly master builders, even historically, showing off their skills thanks to instigation by the Philippines, backed by America, and now by Zahid Hamidi of Malaysia. They would have let the Spratly alone if not because Benigno Aquino had been taunting them and, in the process and over the years, kidnapping and beheading people, Chinese Malaysians included, jailing Chinese fishermen and shooting Chinese tourists.
Below are a series of satellite images — thanks to the spying Americans and their Filipino lackeys — that showed its transformation of Johnson Reef and the Fiery Cross atoll into islands within 12 months, today completely habitable.
Fiery Cross has aircraft landing, runway and ship docking facilities. It is this atoll that Zahid Hamidi was bitching about recently, except there is a problem with his whining. This ain't fucking Tanah Malaiyoo: 'You don't like it, Zahid, and you think it's Tanah Melayu, go and take it. Or blow it up with your French submarines. Or use the Hornets. Not the Sukhois, or else the Cossacks will disembowel you along with your wife. But, will your Hornets fly, Zahid?'
*
Island building by China
On Johnson Reef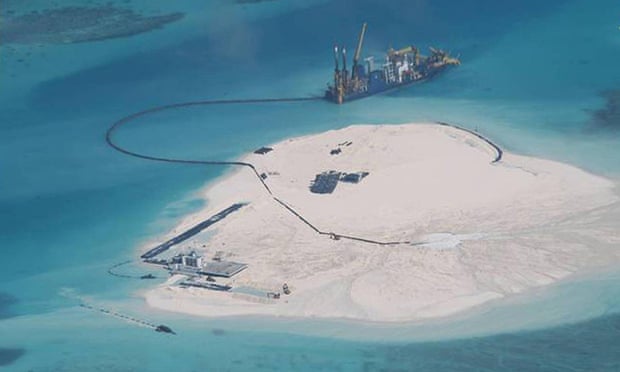 On Fiery Cross Atoll
Aug 2014
Sep 2014
Nov 2014
Apr 2015
Apr 2015 close-up
Sep 2015
***
Below is the Vietnamese transformation of Sand Cay, right next door to Itu Aba occupied by another American lackey called Taiwan.