To Subra, a Letter on Honesty

Dear Mr S. Subramaniam:

To you this UTM education business on Hinduism and Sikhism in its Tamadun Islam and Tamadun Asia (Titas) course modules is about (a) "pools of ignorance", and (b) "intellectual dishonesty" in academia.

To your political colleague P. Kamalanathan it is about "misrepresentation", which has delivered a "painful experience" that's not to be repeated. Painful? Is pain for real?

The same arguments, almost to the near exact words, would have been said or heard five years ago or ten or 30, 50 years. And in that duration, the ignorance continues, the dishonesty repeats itself and the misrepresentation and the pain find their way into some temples, in Penang most recently, Selangor before. You know of course what happened: People wreck your gods and they piss on them. Immediately, one can imagine who would have done such a thing because, before Penang, it had happened in Kerling. Why did it happen? Is it unrelated to the UTM and its life 'kehidupan' courses?

You think those acts and those courses happened from nothing? They happened from the misdeed of just one person? Or, do you still think, they stem from your notions of ignorance, intellectual dishonesty and that they are a matter of misrepresentation?

Only days earlier, PAS people, from Hadi Awang down, were pissing on the Chinese. Ismail Sabri, your Cabinet colleague no less, thinks that Muslim-Malays are the only righteous people fit to run the country. Hishammuddin Hussein, yet another Cabinet colleague of yours, has argued that Teresa Kok shouldn't be in a mosque. There is, in H2O's thinking, the problem of whether Teresa is sufficiently 'clean'. Jamal Yunos, Umno divisional leader, could have been an MP, even a Minister like you. He says the Chinese are pigs — filthy. And one can go on and on but that's already a lot of intellectual dishonesty, and they didn't come from universities, Subra. You sit next to them every Wednesday.

Now, flip around this 'pool of ignorance' or this 'misrepresentation'. Do you know what it got Vivian Lee for her ignorance? And that's not even any sort of representation or misrepresentation that Nathan-in-a-Kamal talked about. Her's didn't happen in some university run by your fellow Umno Cabinet colleague. No; it was a personal, trashy, nobody-gives-a-shit Facebook page that didn't even belong to her. And the photo on the page was what? A pot of pork meat in tea and no Melayu has to eat it, which they won't of course. No. But, for all that: Six months, Subra. Six fucking months in the slammer for being 'insensitive', for being not 'responsible' to Malay feelings on Ramadan.

Everything in this country has to be made sensitive to Malay feelings. It is a crime to be insensitive. But for Hindu feelings or Chinese feelings, it's purely a matter of ignorance and misrepresentation — and this is not according to them but to you — so that if you compare Vivian with Jamal or UTM then what do you get, Subra? Intellectual dishonesty? Pool of ignorance? What the fuck did you learn in school?

Ti Lian Ker may be on to something when he said — and here's someone saying it at last:

"It is rather unfortunate that Muslims, on the one hand, demand high reverence for their religion but at the same time some are loose cannons when it comes to understanding and respecting the religious practices of others."

What is he on to?

Go back to the course description (above). Is it about the philosophy of Hinduism or Sikhism? If not, what misrepresentation is there to worry? For the answer, anyway, ask a UTM student. Or try Hadi Awang in private. He'll say to you, no, you got it all wrong thambi. It's about the Malay life, talking about how they should view other gods, other faiths, other peoples, people like you. True or false, honest or dishonest are not in question. God, you see, is not mathematics nor reasoning, and so this UTM business has nothing to do with academic honesty or dishonesty. Creating ignorance is precisely the purpose in such courses. After which, why are you surprise someone should turn up in Penang to wreck your gods?

In Orlando, they will blow your brains out, even if you are the most honest Hindu thambi in Malaysia.

Enough therefore with your pontificating when, clearly, you can't even convince yourself about what is it you're saying because you are wrong and you want to be wrong. Or are you just plain stupid? To be wrong in your case is to apologize for Barisan, Umno in particular, for its racism, and to pull a cover over your association with such kinds of conduct that are completely intolerable. But you accept them, the official, unstated, unwritten policies through which institutions like UTM are created and then to serve those policies.

So, please, Subra…, cut the crap. Save it for your kids. Or your mother. Asshole!

Sincerely

rihaku

PS: What's with people like you? You get a Minister's job and you start to pontificate?
***
---
Surprise, Class! Pop quiz today
Look at photo. Answer the question. 5 marks go to final grade.
***
The history so far:
The Marcos family flees the Philippines…
…leaves behind 2,500 pairs of shoes.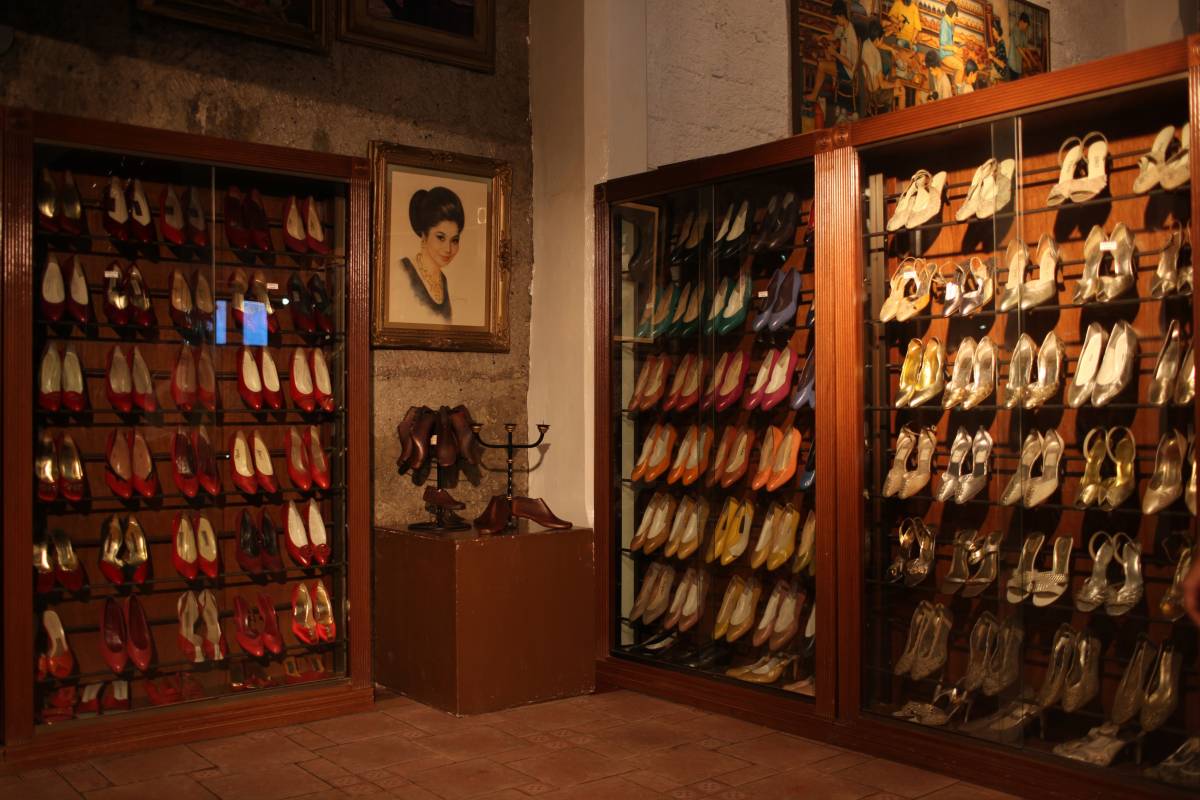 ***
The Najib family flees Pekan…
…leaves behind 2,500 pieces of bags.
*
In the nick of time, Rosmah returns for the bags. What's inside?

*
Me and my bag: Rafizi Ramli is just jealous. His wife got him to smear my name. She's got no bag, no class. Bitch!
***
Now, for the truth!
Quiz answer
---
All those things in the bag were promised Jian as well (below). There is just one short, one more to collect; only one. Ran out of money, you see. Should call tonight to let her know. She will understand and might even scold me for wasting money on things that won't make her prettier. You know, money don't just drop off in the desert from galloping camels.

*
In the palm lies the heart…