chop the roots of Najib. Crush the al-Sauds.
Who are they? What are they? Here's the opening bid…
*
Saudi Arabia, the World's Greatest Evil
*
Backed by the World's Greatest Power
…Their Trail of Destruction. In Yemen
US Aiding and Abetting Saudi Slaughter in Yemen
The [Saudi coalition, including Malaysia,] air force bombs: [They] bomb our sons and our daughters, our men and our friends. Why are they doing this? What have we done to them? — Yemeni man in Sana'a
But why the Saudi carpet bombing? Answer by Saudi Arabia to Deputy Secretary of State Tony Blinken in Riyadh: "We want to wipe out the Houthis."
Excerpted from Democracy Now.
Andrew Cockburn, Washington Editor, Harper's: [T]hey've [the Saudis] attacked—consistently attacked economic targets having nothing to do with any kind of war effort, but like potato chip factories, water bottling factories, power plants. It's an effort to destroy Yemen. And that's what, as Kristine said, we are part of that. This is our war, and it's shameful.
I mean, I'll give you one quick example. Yes, everyone is horrified by Syria and what's going on there, and quite rightly so. And we've had this picture of that poor Syrian child that's gone viral. Yesterday, The New York Times had one—you know, had a piece saying one—a picture of one Syrian child went viral, but here are seven others, so seven other children that got similarly affected. And I thought, "Oh, maybe they'll mention a Yemeni." Not so. Syrian other—seven other unfortunate Syrian children. But I defy you to find a single picture in The New York Times or any other mainstream New York media of any of the hundreds, if not thousands, of Yemeni children, because no one really knows how many have been wounded or killed by the Saudi bombing.
Sen. Chris Murphy: There is an American imprint on every civilian life lost in Yemen. Why? Well, it's because though the Saudis are actually dropping the bombs from their planes, they couldn't do it without the United States. It's our munitions, sold to the Saudis. It's our planes that are refueling the Saudi jets. And it's our intelligence that are helping the Saudis provide their targeting. We have made a decision to go to war in Yemen against a Houthi rebel army that poses no existential threat to the United States.
***
In Syria: Hillary's Fingerprints All Over

Hacked emails prove Hillary armed jihadists in Syria, including ISIS
Fresh off of throwing the Democratic National Convention into turmoil after proving that party officials had conspired to sabotage Bernie Sanders' campaign, WikiLeaks founder Julian Assange announced that he has some even more damaging material in his trove of hacked emails — this time involving Hillary Clinton pushing to arm jihadists in Syria, including ISIS. — DailyWire
Those Hillary Clinton emails, they connect together with the cables that we have published of Hillary Clinton, creating a rich picture of how Hillary Clinton performs in office, but, more broadly, how the U.S. Department of State operates. So, for example, the disastrous, absolutely disastrous intervention in Libya, the destruction of the Gaddafi government, which led to the occupation of ISIS of large segments of that country, weapons flows going over to Syria, being pushed by Hillary Clinton, into jihadists within Syria, including ISIS, that's there in those emails. — Julian Assange
***
In Libya, Hillary Again
The Hillary Clinton accountability: You would have seen it all in Malaysia under Najib.
***
US & Saudi Salafism & ISIS
Why Saudi Arabia, not Iran is the country responsible for the spread of terrorism. From the Duran:
Denunciations by the US of Iran as the world's main state sponsor of terrorism are way off the mark. The record shows that Iran is not involved in terrorism to any significant degree and that it is Wahhabist Sunni groups ultimately connected to Saudi Arabia, not Shia groups connected to Iran, which are the main practitioners of terrorism.
***
In the House of Al-Saud: al-Qaeda, ISIS, Jihadists

Left side of the above paired photos: Mahmoud Raslan (in blue, front) is the man taking a selfie with an armed group in Syria. Raslan also took the photo on the right, which is used to show, in red lines, two of the men with another group involved in the ISIS beheading of a 12-year-old Palestinian boy last July in Aleppo, Syria.
And Mahmoud Raslan is the same man who took the photo, below, which has got the world weeping for Allah and Muslim kids, among who are all of Malaysia's naive, bleeding heart PKR arsehole politicians, starting with Nurul.
Like ISIS is so good at duplicity, so is Najib Razak their professed admirer.
***
Saudi, Salafist Beginnings & the Origins of Islam
Just as Arabs created Islam to buttress their conquest and provide legitimacy of rule by invoking divinity (a Roman secular idea), the 'people's will' in modern democracy, PAS and Umno conveniently used Islam for their political conquest. God was made in the process, not the other way around.
Islam is an Arab religion as Christianity is a Jew religion. None originated from this part of the world. Why, when Malays would reject Europeans who presented them Christianity, should they accept the Arabic word, Quran or no Quran? Where is Merdeka, if Malaysia, Malays especially, shackle independence to the history of a band of nomadic camel herders?

*
Jihad, ISIS Beginnings & the Origins of Islam

The Saudis and ISIS sing from the same hymn sheet. — Tom Holland, UK historian
***
---
*
To Save Malaysia: Finish the Al-Sauds

*
Yesterday's photo, below: Najib Razak (below) with religious advisers to the Saudi king, a country named after the al-Saud family, the only such country in the world.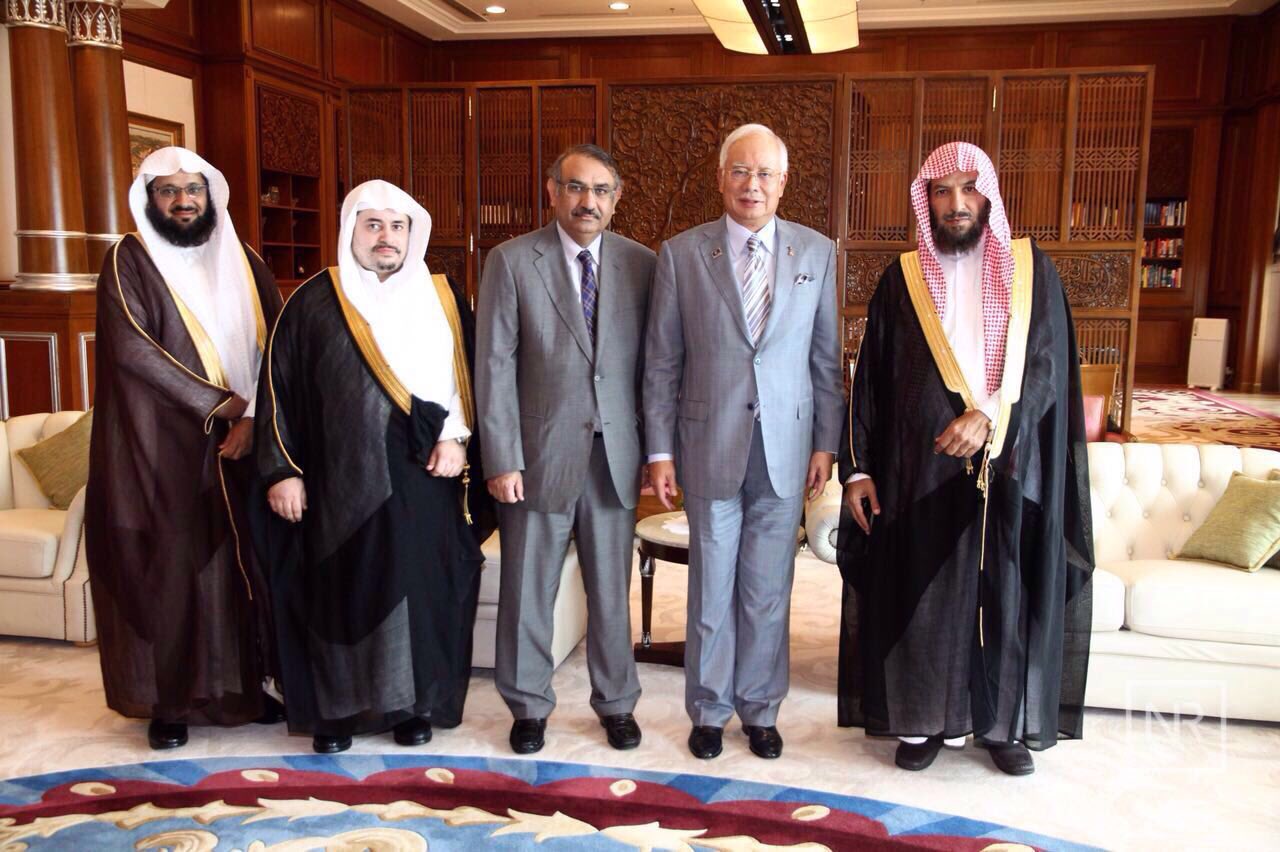 Najib's penchant for associating with medieval fascist and religious tribal thugs has become a characteristic of his rule of Malaysia. Like the al-Saud name is invoked to declare ownership of a country, Najib invokes his Bugis ancestry and his father to gain legitimacy — especially after stealing USD billions — and then make every party stooge sing the refrain that Umno is Najib and loyalty to Umno is loyalty to Najib.
There have been no shortage of Umno arseholes tripping over each other to pledge loyalty and, in the process, say all sorts of absurdities. Nawawi Ahmad and Idris Haron are among the latest. Even pondans like Azalina O are doing it, so why not Nazri or Hisham.

Yet, in plain truth, Najib is just a common thief and 21st Century pirate, now dressed and robed in some camouflage, foreign desert tribal god that has absolutely nothing to do with original Malay culture.
Why not go all the way: Umno politicians should proposed a constitutional change of Malaysia's name. How about Al-Najibstan? Who is to stop the man? He already has Umno allegiance. He does what he wants; he owns this fucked-up country, and to prove his Salafist credentials to the al-Saud, he aligns Umno with PAS and prosecutes anybody who ever question Salafist allegiance but calls it 'protecting Islam'.
Namewee is the among the first Chinese to suffer under Najib's Salafist deity worship.
To solve Malaysia's problems and get Najib out of the way simultaneously, perhaps the Opposition should form a pact with Iran and Russia, after which those Shia Ayatollahs would be welcomed to nuke Saudi Arabia and turn that desert into fine ash — and so be done, once and for all, with a 1,400 year-old tribal rivalry spilling into SEA shores. After which, the world might just get back some peace.

It is a not a coincidence that modern day's biggest financial fraud has an al-Saud name affixed. And, further, if the al-Saud family bring their problems to us, we take our problems to them.
*