Human purpose and, with it, his character changed forever when the Daodejing 道德經 composition was completed around 200BCE. It also guarded Chinese society (and Korean and Japanese and Vietnamese) from the terror and destructive consequences of Christianity and Islam; the Chinese being fortunate to have an antidote before the birth of the poison of dogma from Jesus and Mohammad and the barbarians they subsequently spawned.
Of Daodejing's conventional translation into English, The Book of Tao, the title says nothing. Chinese don't obey the rules of western syntax nor semantics (why should we) so that, taking its actual contents as guide, 道德經 should read as 'Classical Principles in Ethics' wherein 道dao = way as in a highway or route; 德de = inner character or strength, today called virtue; so that 道+德= 道德daode=ethical principles; and 經jing=book/classic/canon which as a standalone definition is redundant; of course, this is a book. (Englishmen and Scottish, the Xaviers and La Salle preachers, so overdose with doctrine and god theology, can be stupid. So stupid, they called Daoism a religion, like Jesus Christ is a religion.)
Correct naming, such as in translation, is important. The Daodejing (Ch 1, Mitchell translation):
Naming is the origin
of all particular things.
Recall Liu Tezuo 刘特佐 (Jho Low) telling the diamond sellers to keep everything secret, recall the PM's office complaining about the DOJ's 'gratuitous naming', recall the secrecy wrapped around the investigations and the money laundering. All of which so clearly shows that, though the PM have few advisers (actually just macai) ethnically Chinese, a character like Jho knows nothing about what goes into Chinese thinking:
若要人不知除非己莫为 = if you don't want anyone to know, don't do it.
This, above, is a principle so down-to-earth that it beats all Christian abstract injunctions, for example, Do no evil. Because, the first problem, what's evil? Whose evil? Daodejing:
The world recognizes beauty,
only because there's ugly.
People see good,
only because there's bad.

Being and non-being create each other.
Difficult and easy support each other.
Long and short define each other.
High and low depend on each other.
Before and after follow each other.
Evil was created by the good, and good by evil. That's to also say, if evil ceases to exist altogether, nobody could do good because it won't be recognizable. The West in the person of Saul Bellow had only just discovered this notion; so profound they thought he was awarded the Literature Nobel prize. Writing in the Dangling Man, 1994, Bellow argued through a character how a man locked up alone in a cell, with nothing except for the surrounding walls, could be neither good nor evil, and so unrecognizable as a human; like a day-old baby, useless and meaningless even to himself. He would need another human to be himself recognizable. (Which is why, with Albert Camus, suicide is the ultimate self-consciousness.)
Within this interdependent, inter-exchange motion of duality, God if he were any good at all would have to make Jho Low a thieving, fraudulent character, not the Chinese. (We can't create nature.) The reason being, a thieving Low would make Jesus look like the ultimate good — and the inane Bible (or Quran) necessary to sell. A thieving Najib is already making Mahathir, a man equally base in character, beginning to look like a saint. Yet, just as Umno made Mahathir and Mahathir Najib, Najib made Umno. To save Malaysia, all have to be removed then start over.
Low again: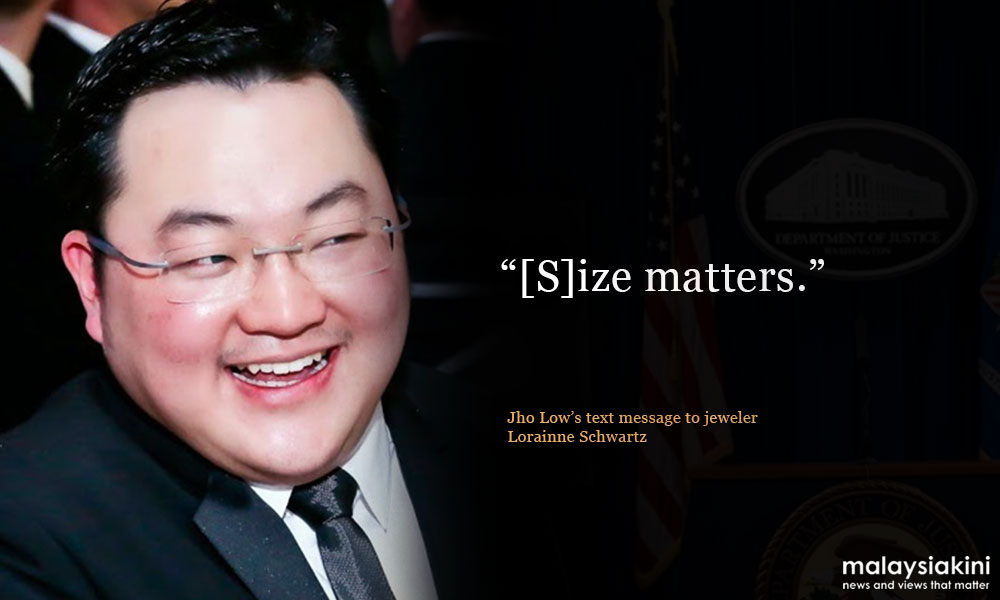 This — size matters — is so Anglophile, thrown around a million times that the English-educated like Low think nothing of repeating the trite which, as a principle, is badly flawed. Daodejing (Ch 11, Waley translation) in contrast:
We put thirty spokes together and call it a wheel; But it is on the space where there is nothing that the usefulness of the wheel depends.
We turn clay to make a vessel; But it is on the space where there is nothing that the usefulness of the vessel depends.
We pierce doors and windows to make a house; And it is on these spaces where there is nothing that the usefulness of the house depends.
Therefore just as we take advantage of what is, we should recognize the usefulness of what is not.
Daodejing principles once properly translated has a modern, even scientific sense in them and, therefore, immensely profound. There, in those lines, is the analogous marriage of the physical characteristics of space, void and matter with the human sense-feelings of being adrift, uselessness, emptiness and vacuousness. Size doesn't matter; nothingness matters.
***
---
*
三寸天堂 Three Inches of Heaven
All, pure erhu

Someone, a German, called the erhu the most emotional musical instrument belonging to the Chinese. Perhaps he is right.
From 永安 Yung An: 三寸天堂 Three Inches of Heaven

The vocal version
步步驚心,刻骨銘心。 夢回大清,愛恨難清。 是是非非,隔世再敘。 兩世宿命,豈非天定?
***
From 宋飞 Song Fei with the 中国中央民族乐团, China Central Orchestra
Performance in Vienna: She is so natural…like she is one with the instrument. Watch and listen to the crescendo at 4:16 then in the closing bars 5:25

二泉映月
***
From 賈鵬芳 Jia Pengfang, a Sino-western combination.
情侣 To my Love, in China

*
Travel Worries 旅愁
***
---
Pure strings, pure energy!
战马奔腾 or simply 赛马. Either way, in English, this neo-classical piece is titled: Galloping Horses. In all versions, note the parts in which the strings are beaten (they didn't break) to imitate the sound of horses at war, galloping and panting.
 Version #1: single erhu and string quartet combination. Performed in Canada by Gao Shaoqing 高韶青, one of China's top erhu masters.

Version #2: With the Russia Symphony
Version #3: Pure erhu. This is the conventional version, performed by Hong Kong students, and is the best of three so far. They made music underscore the real, like a thousand horses charging!

Extra X-Version: Below is a solo experimental with an electronic erhu! Blasphemy!
Verdict: F for Flop! 放弃吧 好像马要死了
The guy on the street, below, does an even far better job.
This is dedicated to all erhu street performers. 祝你们顺利
Street music performance is as old as Chinese civilization.
The piece played below was composed by a blind street erhu performer 80, 90 years ago, someone who had the same, impoverished beginnings, a time of war and widespread hunger. He died, still poor, but his composition outlived him. Song Fei 宋飞 (near to top of section) played the same piece in Vienna: a single instrument, so ancient, contributed to give China hope and helped sustain our people and our spirits. 中国加油!
***