Zahid's Karma

Zahid Hamidi's conduct (below) has the streak which we, in Chinese, say 没有底线 meiyou dixian — no bottom line. Umno has no bottom line; Zahid has no bottom line. If, from now on, anything goes then everything about Umno go, starting with that man.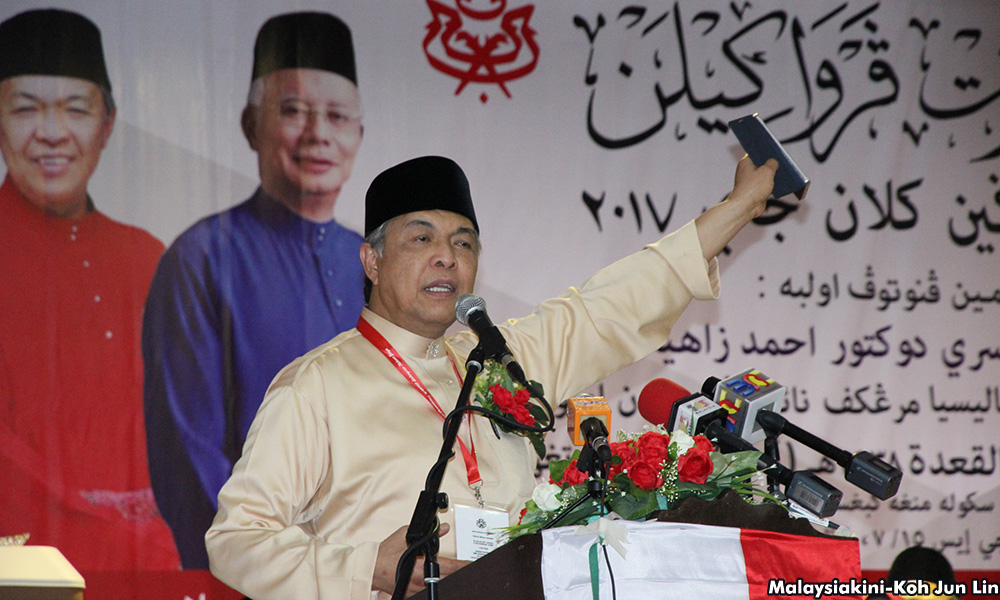 Perhaps, he believes such a thing will appeal to Umno members, their minds conditioned as they are. But we, who have been abused so much over our ICs, why don't we feel vindicated?
On the contrary, should Zahid next pass by Bagan Datoh, might he please stop a moment so that we can shit into his filthy Javanese tongue. His Chinese foster parents will see they have a pig gone berserk in their house.
Even for prime minister material, supposedly, Zahid doesn't seem to see the far-reaching consequences that will likely flow from his shock-and-awe, and how it will affect people from the Malay sultans down. At its dead-end, Zahid would be shoveling Arabic dung for the rest of his Umno days.

Has he no idea, or a vague idea, what it is he has done? Karma is a real bitch and, guaranteed, it will return to bite him — as it did to Mahathir Mohamad. Zahid has set in motion his own cycle of demise, and now there's no going back.
The sting in Zahid's attack wasn't whether or not Mahathir was of Indian therefore pendatang ancestry (so what?) but it was in Umno's self-annihilating fascism: only Malays will serve and 'protect' Malays. Standing on this racial platform, it was easy for Zahid to next step up and accuse Mahathir, by pretending to be Malay, of exploiting Malay power, position and Malay privileges. The Malay, because it is a political term, comes and goes.

Personal identity, as represented by an IC or not, blue or black, it doesn't matter, has long been in Malaysia an instrument of oppression. Those who protest against Zahid, whether Mahathir in his own defense or others, have not pointed this out.
They complain instead about the meaning of names even though whether it is 'anak lelaki' or 'bin', Mahathir remains, as personal and historical fact, the child of a pendatang.
Why don't they see it? Perhaps they don't want to. To save Malaysia, removing that instrument of oppression must be a beginning step, after which the bone of contention over who will better serve Malays, and how, will fade away. And, along with it, the dichotomy of meritocracy vs privileges.

***
---
*
Good strategy has no plot, nor a man's life.
善計,不用籌策
记的老子怎样教我们吗:

希言自然。
故飄風不終朝,
驟雨不終日。
孰為此者?
天地尚不能久,
而況於人乎?
*
*
Letter to Lilan

報丽兰書
*
丽兰好兄妹
您好

Xiaodi had been meaning to speak you in person, as a tongzhi 同志, since Zhao Mingfu 赵明福 was killed. That it has come belatedly is partly because I have just been able to wrench myself away from the burdens of my responsibilities. Yet, sitting down to write, the heart manages to find only reticence to speak of your brother, to speak to you, your family and Soh Cher Wei.
In Mingfu's death, Sima Qian 司马迁 comes to mind, specifically his Letter to Ren An 《報任安書》:

人固有一死,死有重於泰山,或輕於鴻毛,用之所趨異也。[In translation] A man dies only once. His death may be a matter weighty as Mount Tai or light as a feather. It all depends on the reason for which he dies.

[Alternate last line: It is how he uses that death that makes all the difference.]
有的人说 死亡等於回歸到一種無知、無識、無感、無覺的狀態。這原無什麼價值可言。可是如果我們進一步追問:我願意為什麼而死
Those words subsequently gave rise to a proverb in Japan: "Death is lighter than a feather, duty heavier than a mountain." 義は険しい山よりも重く、死は大鳥の羽よりも軽い
But, it's the supreme irony that, driven to a frenzy with these words, Japanese soldiers killed more than 23 million Chinese and those were the days of bayonets and guns. No atom bomb. Are Chinese lives so cheap? Our people alone accounted for half the 45-48 million WWII deaths and not even a stone memorial, not a single word of remorse from Japan, no compensation, nothing. Instead, the world continue to vilify us, speak of us as aggressors, and America enlists Japan to issue threats every year. You can see why we, the Chinese, China, will never, never, never let it happen to us again, tomorrow or forever.
China's PLA celebrated its 90th anniversary most recently. With this greatly increased military capability, along with enormous economic strides at our Motherland, our people have reasons to be proud. We, as Chinese, want to leave behind not only a pathway of progress but especially we want to ensure, as best as it's possible, that the safety and security of our future generations will also be provided for.
In your brother's death, and like Sima Qian's letter to a dear friend, one is reminded of his final note addressed to Auyong Hian Wah:
欧阳:
他们 在没有复制我的电脑文件下取走了所有电脑。矛头一直指向你。
对不起。
不懂装懂,结果连累了你。
我说,mendapat lulusan YB。他们硬打成mengikut arahan YB.
我帮不到你,抱歉。
对不起,我很累了,再见。
"All spears are pointed at you! 矛头一直指向,"  Mingfu wrote. Yet — and here's another irony — it was against him that death visited.
Similar circumstances had confronted Ren An (or 任少卿 Ren Shaoqing) when, with spears pointed at him and death near, Sima Qian, himself in a dire situation, could only help by writing the letter. That was enough, although we'll never know if Ren An received the letter. But, that for 2,000 years our forefathers have so diligently passed it down to us, we know today from death a little more about life.
Not until much, much later did Hian Wah received your brother's note. Like the apology to Ren An, there's in it this: 我帮不到你,抱歉。对不起,我很累了,再见.
We are a people sentenced to death at the instance of birth.
This seems meaningless. But, we now know from Sima Qian and others, it is life that acquires for death its depth of meaning, gives it insight and a purpose. Mingfu must have understood this because he spoke on terms that concern friendship and loyalty, devotion and duty, the same terms understood by our ancestors and which Confucius have taught us. Their formulations for life have stood with us in good stead, and with Mingfu as well, never mind what the judges at the Royal Commission of Inquiry (RCI) might say about his 'state of mind' (below). Those are, in spite of their learning, naive and ignorant people, unable to understand why it is in life are the reasons for death made. They may be skilled in law and in analysis, but they have none of the insights into life to sustain and to support their skills.
How Mingfu was murdered is, however, a different matter altogether.
That's a matter of law with which, because one has no control over, you must therefore fight tirelessly for it to come alive since Mingfu's death eight years ago.
Law in Malaysia, as it is in the West, creates government, becomes its function in turn, is controlled therefore by it and, before that, by legislature. Essentially, that is, by politics. (Increasingly, though, law is religion, that is, Islam.) In our Chinese, Confucian jurisprudence culture, law or 法规 fagui is purely a product, an instrument of governance and so does not construct or determine anything. Thus, in that bewildering state, you must appeal to Law in Malaysia, being maker of and being made by politics, for the justice it is suppose to uphold and then, through it, find reasons for Mingfu's death.
The world will never come to understand, not even remotely, your brother's ordeal and pain, nor his duty and devotion because no one else had lived his life, died his death, and never will. When Law failed to offer justice, and when the reason for your brother's death is not satisfactorily answered — 死了不明死了不白 — you must return to the beginning of all things: politics; this is what, I believe, you mean by campaigning against Najib Razak.
But, 丽兰, we do know!

We know everything and, knowing everything, it tears and wrings out and pounds our hearts, yours most especially.
We not only know how death took place — and this was the easy part to understand — we also know the reasons for his death, these being the same reasons he had lived, being Chinese, in keeping with his duties as colleague, friend, son, husband, brother. Your brother. This is why it so pains us, horribly, to see that the price of duty should be as heavy as Mount Tai — true today as it was in Sima's time 2,000 years ago — and why being Chinese has come to be fatal, today as it was in 1969 and when the Japanese invaded.

But, understanding this, requires us as Chinese never to cease to live as we are because it is our life; it belongs to no government nor political party. Malay lives might belong to Umno, but our lives belong to no one, including the DAP.

The justice you seek and the Law you seek invoked might deliver to us the actual officers who murdered Mingfu but we want more than that. We especially want the Thing that brought him to the offices of the MACC. We want the Thing, the system, elusive as it is, that delivered his killers. It's the same idea contained in the wish of a father wanting the person who hired the policemen to kill his daughter Altantuyaa. Without getting to it, the injustice will only continue; of this I'm convinced.

The price of duty is as heavy as Taishan 泰山, above.
*
A Government Gone Amok
What is the 'Thing' I speak of?
Before Mingfu was taken, the MACC also took Tan Boon Wah and Dariff Din against both of who interrogators typically started and continued on this line of interrogation: "you orang Cina?" followed by "you dari Cina?"
None of which had, of course, to do with some alleged misappropriation of 2,400 ringgit at Hian Wah's office. Dariff Din got away only because, on his father's side, he was Malay. Against Boon Wah, they told him repeatedly, "Cina bodoh" as if that will made his interrogators clever.
There is every reason to believe, therefore, your brother's death has to do with the same racial motivation that had set up Hian Wah as a target.
In that year, 2009, and this is long before the 1MDB and a year after the 12th General Elections, Mahathir Mohamad was already attacking Najib Razak on the grounds he was giving in too much to the Chinese and to Singapore, also Chinese. Recall the Utusan Melayu inflammatory banner: 'Apa lagi Cina mahu'? Najib's answer to such repeated criticisms from both Mahathir and from the Malay ground is now self-evident: it was to pick on the DAP, using anything to pin it down. Such were the circumstances in Mingfu's death that the RCI never dwelled on and never looked into.
Chinese and Malay meet only once every four, five years when we queue up to vote. The rest of the time, we stay apart to avoid, for the Chinese, stepping on the Malay tails. We run our own schools, observe our custom, we don't proselytize and we restrict our lives to ourselves, mind our own business, pay our rents without asking for subsidies, but they still won't leave us alone as if our existence is itself a poison.
I believe this anti-Chinese racism is what caused Mingfu's death, as well as hundreds and thousands before him. Supporting this racism wasn't confined to the MACC and its officers. Here's one and that's from a supposed liberal named Mariam Mokhtar. Petra Kamarudin, also supposedly a liberal, has turned out to be thoroughbred fascist. The fault didn't just lay among Malays; Anglophiles actually deepened it: Lim Kit Siang by asking to be Chinese second even though the Chinese were never first. Yeoh Tseow Suan's response was to renounce her Chinese ancestry and to be born again as Hannah Yeoh, as Anglophile, after which she'd transfer her anti-Chinese racism to her child as Anak Malaysia, even refusing her an Indian name (the father's). She is today called Shay Adora. Hannah's Christianity is today interpreted as a Chinese affront against Malay's Islam even though this is not the work of the Chinese but Anglophiles.

Who and what creates, prop up and advances this Thing, this unseen force? Unseen because it seems to dwell and move about even outside of people.
Let me take the example of the RCI, comprised of fine people who, although had the task to establish the identity of your brother's killers within the MACC (it had to be MACC and no where else) but turned up, incredulously, exonerating it. Not once in their findings, as I'm aware of, do they mention the word 'race' or 'Malay' or 'Chinese' although these are matters of established fact both before Mingfu was taken in and during numerous related interrogations. How can this fact of matter, this reality, not be buried or hidden away when a fiction takes its place? The result, predictably, was utter humbug, a Commission of Inquiry reduced to speculation, and speculating about some other worldly experiences called 'state of mind' that has nothing to support it.
Mingfu's note to Hian Wah was its refutation.
Reread the first line: Tormented by a predicament, Mingfu experienced a change in his state of mind… 'Tormented', certainly; 'predicament' maybe. But 'experienced'? 'A change in state of mind?" Those are states internal to Mingfu. After this extrapolation, the RCI then indulges in platitudes that were laced in contradictions:
Passage 356: The failings in the Selangor MACC which have been identified largely rest in the operational area, contributed by inadequate training.
Several paragraphs later:
Passage 367: Our findings and recommendations are directed at the individual officers involved and are not meant to be an excoriation of the MACC as a whole per se.
In that passage, it pulls back from naming individuals, from its minimalist approach to make everything look like the mountain fell, an accident: it was a 'failing in operational area', 'inadequate training', there is no 'excoriation' (beating something to produce a wound).
The recommendations are intended to improve and rebuild the MACC….
This isn't an RCI. This is a Cover-Up made in the name of the King.
Those words added up, plainly said, deflected MACC responsibility for a murder committed on its premises. The sum of the findings read like it were tip-toeing between puddles of Mingfu's blood, looking for the way out. But we know who intended death and below is that list, available from the RCI report. So many names and so useful for hiding names:
List of Killers: Primary suspects, P1, P2, P3, P4 and P5.
P1 Hishammuddin Hashim, MACC Selangor deputy director, the arrogant leader (now Negri Sembilan director)
P2 Hairul Ilham Hamzah, MACC Selangor head of investigations
P3 Mohd Anuar Ismail, the case officer
P4 Arman Alies, the bully
P5 Ashraf Mohd Yunus, the abuser (RCI Passage note #158:  "Of the 20 cases, 2005-2010, reported against Selangor MACC officers for assault, Ashraf was involved in 14.")
P6 Nadzri Ibrahim, recorded Zhao's statement
P7 Azhar Abang Mentaril, took Zhao from Ean Yong's office to MACC
P8 Hafiz Izhar Idris, took Zhao from Ean Yong's office to MACC
P9 Mohd Najeib Ahmad Walat, broke into the email account using Zhao's laptop
P10 K. Sachianandran
We also know why this happened the way it did. Because it ultimately involves Malay power, Malay interests and Malay demands, any of which must supersede law.
From the starting position that any Malaysian government must first and foremost protect Malay interest, one arrives, at last, at the point in which the government goes amok.
Its insanity — and this isn't anymore about superseding law — is demonstrated repeatedly. Zahid insults a man's father as 'Kutty' like he were coolie. Before that, he speaks of law, indeed, the entire system that is Malaysia, as an affront, an offense, to the Malay person.  Zahid again:
Muslims must unite and agree that Islam must be respected and that we do not want any decisions made by the National Fatwa Committee to be challenged by anyone, whether an individual or a different legal system outside of the fatwa committee,
For the reason Najib won't deliver Baginda Razak over Altantuyaa's death, neither will he deliver Mingfu's killers. Malay thinking about power and in regards to their being and existence has arrived at the biblical epoch which says,
"I, the Malay, given and possessing dominion in this land named Tanah Melayu, am greater than all life and all things. Whoever or whatever says otherwise shall be cast aside."
Lilan, please understand this: what it means to be biblical, these despicable Christians. Mingfu's life is worth far less today than at the time of the RCI and at the time of his death, and before even that. One can see how, beginning from Mahathir — did he not see this coming? — step by step, generation following generation, we'd reach the point in which life's purpose in death is reduced to just this: the Malaysian IC.
We, the Chinese, have been very reverent of law as we had for centuries when the Jins, the Mongols and Manchus ruled our motherland. We are model citizens because our ancestors since Kongzi have instructed us to first understand where we stand, that is, our station in life, and on that position we must excel. But, what if the law has no reverence for our lives?
This, today, is our problem though: it is not to Fate with which we are born; it is to Fate to which we now die. The determination of our station in life is being wrested from our hands, Lilan, and we must resist at all costs lest our children and their children suffer the more.
We each will individually resist in our own way, and we all know how, the ultimate point of which is to uproot the system and not merely defeat Najib because that is merely scratching the surface. Najib must go with or without the justice you seek but, also understand, his defeat is Mahathir's glory and this is not necessarily to the betterment of all, ours and the Malays. Recall this principle of our lives: 对问题不对人.
Trust, therefore, your compatriots, us, to do what we must, vote how we must, conduct however our individual lives leads us. Campaign against Umno and Najib if you must, but recall that Najib's political life isn't our only purpose because he brings with him a train of history we seek to eradicate or, if that's not possible, to ensure that they can go no farther and must retreat because they have gone too far. We shall help them along in their self-destruction. But I must say no more.
We do not go out looking for trouble but when it comes we fear it not.
All the Chinese are with you because Mingfu was and remains one of us. Has Laozi 老子 not said:
善行,無轍跡;
善言,無瑕謫;
善計,不用籌策;
Please pass on to your parents the greetings of the Chinese people and the Chinese nation. I can assure you that increasingly our Motherland is coming round to understand our predicament and that she stands with us, whatever direction we take, however we decide. Which is this: unlike ordinary Malays, our choices aren't a simple matter of deciding between Najib and Mahathir and all that they each represent. Eventually, we have to defeat both and — xiaodi is sorry to have to say this — Lim Kit Siang and the DAP Christians are getting in the way.
对不起我用英文写,我相信你可以理解这个语言. Till our next life, I remain,
Yours truly,
小弟
***
Street performance is one of China's oldest art traditions. Above, the 二泉映月 Moon Reflections on Two Springs was composed for the erhu around the 1930s, a time of upheaval, by a street performer much like the man above. The composition passed on but the blind musician died, still impoverished, and little about him survived except that he was called 阿炳 Ah Bing. His actual name might have been Hua Yanjun 华彦钧.

Below, the same piece performed in Vienna ages ago by the China National Orchestra.
*
太史公牛馬走司馬遷再拜言。少卿足下:曩者辱賜書,教以慎於接物,推賢進士為務。意氣懃懃懇懇,若望僕不相師,而用流俗人之言。僕非敢如是也。僕雖罷駑,亦嘗側聞長者之遺風矣。顧自以為身殘處穢,動而見尤,欲益反損,是以獨鬱悒而無誰語。諺曰:「誰為為之?孰令聽之?」蓋鍾子期死,伯牙終身不復鼓琴。何則?士為知己者用,女為說己者容。若僕大質已虧缺矣,雖才懷隨和,行若由夷,終不可以為榮,適足以發笑而自點耳。書辭宜答,會東從上來,又迫賤事,相見日淺,卒卒無須臾之間,得竭指意。今少卿抱不測之罪,涉旬月,迫季冬;僕又薄從上上雍,恐卒然不可諱。是僕終已不得舒憤懣以曉左右,則長逝者魂魄私恨無窮。請略陳固陋,闕然久不報,幸勿過。

僕聞之:修身者,智之符也;愛施者,仁之端也;取與者,義之表也;恥辱者,勇之決也;立名者,行之極也。士有此五者,然後可以託於世,列於君子之林矣。故禍莫憯於欲利,悲莫痛於傷心,行莫醜於辱先,而詬莫大於宮刑。刑餘之人,無所比數,非一世也,所從來遠矣。昔衛靈公與雍渠同載,孔子適陳;商鞅因景監見,趙良寒心;同子參乘,爰絲變色。自古而恥之。夫以中才之人,事有關於宦豎,莫不傷氣,而況於忼慨之士乎!如今朝雖乏人,柰何令刀鋸之餘薦天下豪雋哉!

僕賴先人緒業,得待罪輦轂下,二十餘年矣。所以自惟,上之,不能納忠效信,有奇策才力之譽,自結明主;次之,又不能拾遺補闕,招賢進能,顯巖穴之士;外之,不能備行伍,攻城野戰,有斬將搴旗之功;下之,不能累日積勞,取尊官厚祿,以為宗族交遊光寵。四者無一遂,苟合取容,無所短長之效,可見於此矣。鄉者,僕亦嘗廁下大夫之列,陪外廷末議。不以此時引維綱,盡思慮。今以虧形為埽除之隸,在闒茸之中,乃欲卯首信眉,論列是非,不亦輕朝廷,羞當世之士邪!嗟乎!嗟乎!如僕,尚何言哉!尚何言哉!

且事本末未易明也。僕少負不羈之才,長無鄉曲之譽,主上幸以先人之故,使得奉薄技,出入周衛之中。僕以為戴盆何以望天,故絕賓客之知,忘室家之業,日夜思竭其不肖之材力,務壹心營職,以求親媚於主上。而事乃有大謬不然者。

夫僕與李陵俱居門下,素非相善也。趣舍異路,未嘗銜盃酒接殷勤之懽。然僕觀其為人,自奇士,事親孝,與士信,臨財廉,取予義,分別有讓,恭儉下人,常思奮不顧身以徇國家之急。其素所畜積也,僕以為有國士之風。夫人臣出萬死不顧一生之計,赴公家之難,斯已奇矣。今舉事壹不當,而全軀保妻子之臣隨而媒孽其短,僕誠私心痛之。且李陵提步卒不滿五千,深踐戎馬之地,足歷王庭,垂餌虎口,橫挑彊胡,卯億萬之師,與單于連戰十餘日,所殺過當。虜救死扶傷不給,旃裘之君長咸震怖,乃悉徵其左右賢王,舉引弓之民,一國共攻而圍之。轉鬭千里,矢盡道窮,救兵不至,士卒死傷如積。然陵一呼勞軍,士無不起,躬自流涕,沬血飲泣,張空弮,冒白刃,北嚮爭死敵者。陵未沒時,使有來報,漢公卿王侯皆奉觴上壽。後數日,陵敗書聞,主上為之食不甘味,聽朝不怡。大臣憂懼,不知所出。僕竊不自料其卑賤,見主上慘悽怛悼,誠欲效其款款之愚,以為李陵素與士大夫絕甘分少,能得人之死力,雖古之名將,不能過也。身雖陷敗,彼觀其意,且欲得其當而報漢。事已無可柰何,其所摧敗,功亦足以暴於天下矣。僕懷欲陳之,而未有路,適會召問,即以此指推言陵之功,欲以廣主上之意,塞睚眥之辭。未能盡明,明主不深曉,以為僕沮貳師,而為李陵遊說,遂下於理。拳拳之忠,終不能自列。因為誣上,卒從吏議。家貧,財賂不足以自贖,交遊莫救;左右親近不為壹言。身非木石,獨與法吏為伍,深幽囹圄之中,誰可告愬者!此正少卿所親見,僕行事豈不然邪?李陵既生降,隤其家聲;而僕又茸以蠶室,重為天下觀笑。悲夫!悲夫!事未易一二為俗人言也。

僕之先人,非有剖符丹書之功,文史星曆近乎卜祝之間,固主上所戲弄,倡優畜之,流俗之所輕也。假令僕伏法受誅,若九牛亡一毛,與螻螘何異?而世又不與能死節者比,特以為智窮罪極,不能自免,卒就死耳。何也?素所自樹立使然也。人固有一死,死有重於泰山,或輕於鴻毛,用之所趨異也。太上不辱先,其次不辱身,其次不辱理色,其次不辱辭令,其次詘體受辱,其次易服受辱,其次關木索被箠楚受辱,其次剔鬄毛髮嬰金鐵受辱,其次毀肌膚斷支體受辱,最下腐刑,極矣。傳曰:「刑不上大夫。」此言士節不可不厲也。猛虎處深山,百獸震恐,及其在阱檻之中,搖尾而求食,積威約之漸也。故士有畫地為牢勢不入,削木為吏議不對,定計於鮮也。今交手足,受木索,暴肌膚,受榜箠,幽於圜牆之中。當此之時,見獄吏則頭槍地,視徒隸則正惕息。何者?積威約之勢也。及已至此,言不辱者,所謂彊顏耳,曷足貴乎!且西伯,伯也,拘於牖里;李斯,相也,具於五刑;淮陰,王也,受械於陳;彭越、張敖,南鄉稱孤,繫獄具罪;絳侯誅諸呂,權傾五伯,囚於請室;魏其,大將也,衣赭衣,關三木;季布為朱家鉗奴;灌夫受辱居室。此人皆身至王侯將相,聲聞鄰國,及罪至罔加,不能引決自財,在塵埃之中,古今一體,安在其不辱也!由此言之,勇怯,勢也;彊弱,形也。審矣!曷足怪乎?且夫人不能蚤自財繩墨之外,以稍陵夷至於鞭箠之間,乃欲引節,斯不亦遠乎!古人所以重施刑於大夫者,殆為此也。

夫人情莫不貪生惡死,念親戚,顧妻子,至激於義理者不然,乃有所不得已也。今僕不幸,蚤失二親,無兄弟之親,獨身孤立,少卿視僕於妻子何如哉?且勇者不必死節,怯夫慕義,何處不勉焉!僕雖怯懦耎欲苟活,亦頗識去就之分矣,何至自湛溺累紲之辱哉!且夫臧獲婢妾猶能引決,況若僕之不得已乎!所以隱忍苟活,函糞土之中而不辭者,恨私心有所不盡,鄙沒世而文采不表於後也。

古者富貴而名摩滅,不可勝記,唯俶儻非常之人稱焉。蓋西伯拘而演周易;仲尼厄而作春秋;屈原放逐,乃賦離騷;左丘失明,厥有國語;孫子髕腳,兵法修列;不韋遷蜀,世傳呂覽;韓非囚秦,說難、孤憤。詩三百篇,大氐聖賢發憤之所為作也。此人皆意有鬱結,不得通其道,故述往事,思來者。及如左丘明無目,孫子斷足,終不可用,退論書策以舒其憤,思垂空文以自見。

僕竊不遜,近自託於無能之辭,網羅天下放失舊聞,考之行事,綜其終始,稽其成敗興壞之理,上計軒轅,下至于茲,為十表,本紀十二,書八章,世家三十,列傳七十,凡百三十篇,亦欲以究天人之際,通古今之變,成一家之言。草創未就,適會此禍,惜其不成,是以就極刑而無慍色。僕誠已著此書,藏諸名山,傳之其人通邑大都,則僕償前辱之責,雖萬被戮,豈有悔哉!然此可為智者道,難為俗人言也。

且負下未易居,下流多謗議,僕以口語遇遭此禍,重為鄉黨戮笑,汙辱先人,亦何面目復上父母丘墓乎?雖累百世,垢彌甚耳!是以腸一日而九回,居則忽忽若有所亡,出則不知所如往。每念斯恥,汗未嘗不發背霑衣也。身直為閨閤之臣,寧得自引深臧於巖穴邪?故且從俗浮湛,與時俯仰,以通其狂惑。今少卿乃教以推賢進士,無乃與僕之私指剌謬乎。今雖欲自彫瑑,曼辭以自解,無益,於俗不信,祗取辱耳。要之,死日然後是非乃定。書不能盡意,故略陳固陋,謹再拜。
***
---
回来? 当然啊!即使不问也会回来
也有你太可爱了。。。
挑兮達兮、在城闕兮
qing qing my collar qing, echo echo my heart echoes

standing at the gate tower I look out into the distance
one day not seeing you seems now like three months long
青青子衿、悠悠我心。
縱我不往、子寧不嗣音。
青青子佩、悠悠我思。
縱我不往、子寧不來。
挑兮達兮、在城闕兮。
一日不見、如三月兮。
*
***