Everything that could be found inside a vagina had been found.
— overheard, apparently, in the US Patent Office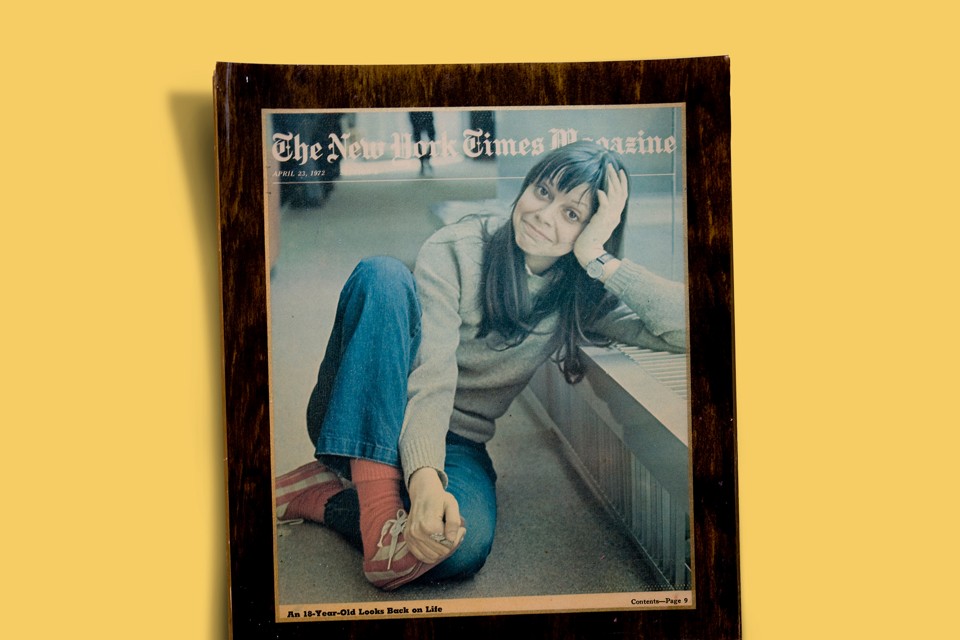 On Joyce Maynard:
The Personal-Essay Boom Is Over," declared the headline of a much-circulated article on The New Yorker's website earlier this year. It was the "God Is Dead" of the Jezebel generation, reporting that the craze for essays with titles like "My Gynecologist Found a Ball of Cat Hair in My Vagina"—a story by a writer named Michelle Barrow that became a fleeting sensation in 2015—had come to an end. To borrow a late-19th-century saying about the United States patent office, everything that could be found inside a vagina had been found.

Let young essayists find hope in the life and letters of Joyce Maynard, who has withstood market corrections to the personal-essay economy for 50 years, ever since her first one appeared in Seventeen magazine when she herself was 14. She is the Joyce Carol Oates of women's confessional essays, firing them off in such rapid succession that she will probably begin and finish one in the time it takes you to read this paragraph. Her subject is herself, and although she has but one life to live, she is never short of material, because she reads and rereads her own story according to market demands. Teach a woman to describe a ball of cat hair, and she will sell an essay. Teach her to regard that ball of cat hair as an illustrative example of a handful of recurring themes, and she will sell essays for a lifetime.

…

The Boomers are getting old now; we know this because there's a Fidelity ad that plays "In-A-Gadda-Da-Vida," and Joyce Maynard has started to appear in the AARP magazine. Her new book, The Best of Us, is about a topic of interest to this aging demographic: widowhood. In her late 50s, she met a man online and they married. Tragically, he was soon diagnosed with cancer; he died three years after the wedding. It was a cruel thing to happen, a wretched turn of luck.

Just as she dropped the depth charge of her mother's quasi-incest into an early chapter of At Home in the World yet expected readers to stay focused on the fact that J. D. Salinger was a bad boyfriend, The Best of Us tucks a whopper into an opening chapter. At age 55, her children grown, Maynard had "missed being a parent as much as a person crossing the desert misses water." So she sent away for a CD-rom from an international adoption agency, liked what she saw at an Ethiopian orphanage, and traveled to Africa to adopt two sisters: "They were ravenous for meat. 'I love you I love you I love you,' they told me." But she soon tired of the responsibility. After 14 months, she drove them across the country and handed them off to a different family, and they were adopted a second time.

So there, on page 56, she loses the crowd. When she describes meeting her future husband just six months later and having the time of her life with him—traveling, eating, sleeping in the nude, throwing a wedding rapturously covered by The New York Times—the reader is back with those little girls she impulsively adopted and then abandoned. Always, Maynard wants our sympathies. "Of all the losses I'd known, this had been the worst," she tells us about relinquishing the girls, a few pages before going on to describe her new beau's silver Porsche Boxster.

And so yet again, we leave the girl writer where we found her, in the pages of her endless testimony, burbling it all up, the stream of experience unmediated by any meaning beyond itself. If Saint Augustine was the father of the autobiography as a form of confession, Maynard is one of the mothers of the "My Gynecologist Found a Ball of Cat Hair in My Vagina" genre. "When I got two cats, I knew their fur was going to get everywhere," that essay begins, its writer surely aware that never since the beginning of time has there been anybody just like her.
***
Here is the opening sentence of Karl Ove Knausgaard's meditation on beds.:

With its four legs and its flat, soft surface, the bed gently accommodates one of our most basic needs: it is good to lie down in bed, and it is good to sleep in them through the night.

Well, you learn something every day.

Actually you do, if you are very young, or at least you are meant to. For this is one of Knausgaard's letters to his unborn daughter, and he's written one book for each season, 20 letters per month, for her to be able to see the world, or for Knausgaard to see it again, anew. It is a mission freighted with honourable intent.

He writes on subjects that are dear to an infant's heart: beds (as we have seen), but also daguerreotypes, Flaubert, thermos flasks, August Sander (you may well ask. German photographer, very good, not well known over here). Also: wasps, labia, lice, teeth, and the sun. Among others. You get the idea. Anything he fancies, really.

For some people it is difficult to find the right tone when speaking to children. On the one hand, they resent being talked down to. On the other, you have to make allowances for their smaller frame of reference. Knausgaard, it has to be said, manages, for the adult reader at least, to get things exactly wrong, quite a lot of the time. (The adult reader is the one he needs to worry about because children, even the ones who have made it out of the womb, do not have £16.99, or the Norwegian equivalent, to spend on books like this and, besides, have other claims on their attention.)

So when we read, in his essay on chewing gum, that it usually comes in two forms, either as small pillow-shaped pellets or as flat oblong sticks, we may feel a certain impatience. The child, on the other hand, may be mystified by an airy reference to Montaigne, Shakespeare and Cervantes (who are mentioned because it was during their time that the last war was fought in Sweden, which is where Knausgaard lives).

That said, there are many times when the book is rather charming, and he does succeed in making us look at things a little differently. Wasps, for instance, like miniature Fabergé eggs, or knights dressed for battle. I may have scoffed at his description of the bed, but when he imagines transparent walls, and being able to see everyone else flat out on them, then yes, maybe that is a little spooky.

Then again, for every observation like that you get another one like this:

The mouth is where the sense of taste is located. This is where it is determined whether something tastes good or bad, sour or sweet, salt or bitter. The mouth is also the place where food is mashed together.

I really don't have the heart to quote any more, even the bit in this passage where he gets to Aristotle. Let me instead add an aperçu of my own, in Knausgaardian style. The brain is where the sense of intelligence is located. This is where it is determined whether a book is worth reading or not, boring or interesting, irritating or illuminating. I have used mine and made my decision.
***