The Banana Republic continued.
***

Is this what it means to be a person?

— Clarice Lispector, The Hour of the Star, 1977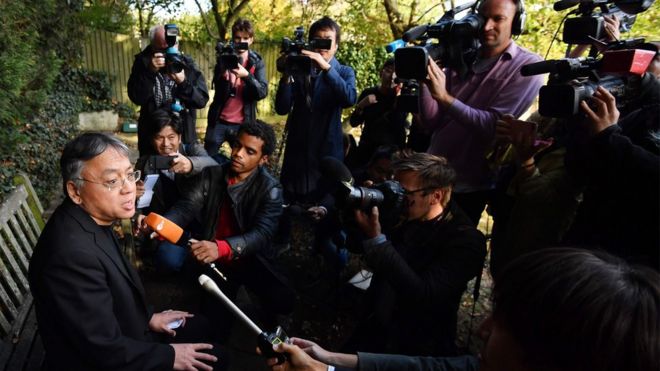 Gentlemen — I see no ladies — I have a statement to make.

I shall be returning the 2017 Nobel Prize in Literature. I say this with much regret. Still, I'm sure my dear Butler Stevens would agree with me. I'll keep the money though. I have been nominated in turn for the Sartre Prize for Price Refusals. To my brothers and sisters, thank you from the bottom of my heavy heart, if there's such a thing. But I can't accept it… just to be consistent. The Petra Principle, you know.

There will be no questions. Good evening, thank you for coming; all of you should go and type out your stupid stories. Make sure it gets subbed. Still, you never know…. Now, all of you, get the fuck out of my house.

*
Because things that happen center on the going-ons in a home, in a mansion, The Remains of the Day is striking in one regard to a Japanese (or Chinese) reader. It's the complete absence of a family, no mother, no sister, brother, cousins, aunties, nothing. Not even neighbors. Stevens's father got only a few words in, and that when he was going to die.
Stevens is, thus, human only if he is English surrounded by other English, a pathetic character replicated in Saul Bellow's Dangling Man, and if lived in New York, he is strung between office and apartment, filled with meetings and 'work' to banish a boredom that would have been fatherless, motherless, meaningless, like a dog thrashing in a river, seeing which our instinct is to reach out with a hand and then to pluck it out of its misery.
On that criteria — a human is only human if following Englishness — has become the underlying motif each time an Englishman writes of the Far East. Problem starts therein; and Ishiguro makes the point well enough, here:
…the Japanese people may be viewed as amusing or alarming, expert or devious, but they must above all be seen to be non-human.
If this is the British life and attitude, why are Anglophiles — banana Chinese and coconut Indians in particular — so enamored with it? We know why, of course….
That was purely a rhetorical question to poke at Ishiguro because there would have been a time he thinks the world of English society, culture, values, ethics, politics, taxis, shops, hound dogs, sheep, jobs, education, the Queen, even the snow, in fact the whole shebang. On the flip side, however, is the plausibility Ishiguro had little regard for Japanese society in spite of being raised in a Japanese home. He is the Anglophile in perfection.
(Among Anglophiles elsewhere, knowing far less and understanding nothing, Malaysians had only contempt for their ancestral past, people like Tony Pua, Hannah Yeoh, Lim Kit Siang, Joshie: almost anything and everything about the English is for emulation, from the system of government to the books they read and what they eat for breakfast. Fish and chips?)
Ishiguro can be read as an answer to John David Morley who had in the reverse order tried to be Japanese but ended up instead preoccupied with sticking his dick into other people's bedrooms. That was as far as he got being Japanese, so that Ishiguro was wrong by a thousand miles saying this about Morley's Water Trade: Adventures of a Westerner in Japan:
 [The book]  is the story of a man who – for reasons left unstated… – feels a powerful need to leave his own culture behind and become accepted by the Japanese. He succeeds so far as to find the inner doors closed to him.
Acceptance? Why would Morley want that when he has English? And especially an English that's superior to all others? Besides, how do you — pray tell, sihei-san — 'leave behind a culture'?
Ishiguro speaks as if culture were a coat you take with you, put on and take off each time you feel like it. But, once you reject that premise then his answer about 'inner doors' doesn't make sense especially since, plain to all and sundry, culture isn't a physical notion nor will anyone find metaphysical doors that you knock on, open and then to get in and out. What exactly are those 'doors' that presumes people exist and whose roles are to stand guard over culture with specified entry and exit points? And they are 'inner' ones at that.
Though he observes and writes well, Ishiguro fails as a thoughtful writer, unlike, say, Camus or Clarice, the clever, insightful writers. Ishiguro, recall, had grown up in a moribund literary diet (Morley is an example) of English culture that pretends to itself, eats its own tail, like Stevens deluding himself and so gets the worse out of a life of his own making and self-justification.
Ishiguro, the Anglophile perfection, is a man copying the same self-delusion.
Take this other piece of evidence, Exhibit B, that is the opening line in Ishiguro's review of Morley's piece of trash:
The British and the Japanese may not be particularly alike, but the two races are exceedingly comparable.
Holy fucking Moses! That and other lines were typical British talk that Ishiguro invariably copied not just into his language and writing style but his thinking as well: flippant, meandering and wishy-washy that show a contempt for the truth. It was stupid. Not alike but comparable? And not just comparable, but 'exceedingly comparable'! Does that mean they are exceedingly unlike or exceedingly alike?
Near identical and similar lines and modes of thought permeate Ishiguro's writings, especially in The Remains and they filled up Stevens's thoughts.
At another level, when Ishiguro makes cultural comparisons, he was being true to his adopted western attitudes. And it is this: when things are different these won't and can't be left alone to be simply different. No, instead, deploying his English (and western) prejudices that he brought into his life, Ishiguro must conduct a comparison followed by a judgment call. This then ends up as some contradictory, self-ingratiating hogwash that typifies the contradictory attributes of Anglophiles who, on the one side, imitate to be English while, on the other, want to seek British acceptance of their inherited cultures. In the end, thus, is an Anglophone world jumbled up with irrationality piled on irrationality, a jumble of banana Chinese idiots and coconut Indian monkeys.
One does not need to live in England to experience, as Ishiguro did, the English mental illness. English delusional sense of delusional cultural superiority would come to us, the Scots following in lock-step then the Welsh. Rudyard Kipling, that 'jingo' imperialist (that's from George Orwell), once described Africans as 'half beast, half child'.
Between Kipling and Ishiguro almost a century has passed, a good three generations. Had the English worldview changed? More important for our purpose here is this, Is Ishiguro himself any different from the Japanese (or African or Malaiyoo) three generations ago who saw themselves as somehow and in someway a lesser being, inferior, to the English, a half-beast, half-child? Has Ishiguro learned anything being English?
Like Ishiguro, many Japanese (and Asians) are today western nationals holding, say, a British passport but are they English? The question is asked to, as they say, push the envelope a little. Pushing it, you confront these questions: What is it to be English? Or, another way of looking at it, to be Japanese (or Chinese)? Is it possible for a Japanese not simply to be an English but to be a fine Englishman, a 'gentleman'?
White, blonde and speaking English, an American of, say, Italian parentage could reasonably pass off as the Lord of Darlington, actually an area in England's northeast Durham, with the Yorkshire parks to the east and west, Newcastle to the north and Scotland beyond. In The Remains, an American's answer to the gentleman question was to buy the Darlington estate. The act of ownership places the American squarely into the English world and so resolves some of the fundamental barriers in identity belonging or, shall we say, tribe membership: race, language, and class (which does not necessarily equate with wealth).
In the case of the American acquiror, Englishness was primarily a matter of appearance, backed up by a new passport and residence in some rotting pieces of real estate; so what if it has historical, national significance. But appearances can't buy inheritance that connotes originality. Which raises, in turn, the question, If culture and skin color are simply necessary requisites (though insufficient ones), what then does it really, really take to be a so-called English gentleman? Especially if you aren't white and Japanese or a passport Chinese like Joshie Hong and KTemoc Kongsamkok?
Four years before The Remains appeared on bookshelves Ishiguro reviewed the Water Trade: Adventures of a Westerner in Japan. In it, he concluded that the protagonist in the plot (almost certainly the author Morley) failed to become Japanese because the 'inner doors' were closed to him. Characteristic of English style writing that attempts to read profound by being vague, Ishiguro says nothing about these 'inner doors', what they might represent and so on. There is just the sense that culture is a locked room (although it is not) and if Morley were admitted he would be Japanese.
Conversely, Ishiguro becoming an Englishman stems from the 'liberal', openness and generosity of English culture? It meant that culture is a guarded, exclusive place and admission to it singularly depends on people already inside, belonging to it. Morley was therefore excluded, but this interpretation says nothing about the people who wants to get in to the other side, nothing about Morley and about Ishiguro himself, one a scumbag wanting Japanese, starting and ending with the women, and the other an imitator who thinks English by way of mansions, grandeur, prestige and all the related material appearances of British life. The entire representative English life in Ishiguro's Stevens was devoted to appearances — how to talk, what to think, what's important and not important. Deeper than skin-deep there is just emptiness. Human relationships were a staged dance, never purposeful nor meaningful.
The whiteman's adventures in Asia are invariably expressed as physical events — John Morley coming into contact with someone, preferably with a vagina — and never a mingling of relationships, a cultural exchange. It is a one-way street because, true to Christendom, there is no equality in relationships and individual persons are always categorized in groups and so judged by the latter, beginning with heathens and so on. True to his copycat Englishness, Ishiguro saw the life of Stevens as the property of the job function — being a butler.
Morley was therefore the least qualified to talk Japanese culture, or language, but then he has written the book in English and selling it to idiot westerners. Ishiguro?
He almost fell for it, talking and weighing the English life from the outside in. But then he is not Japanese in any fundamental sense but a born Japanese and which is entirely a different thing. This presents a problem of the outside worming itself in and talking of an outside experiencing the inside because there exist no experiences, no outsider adventures to write about. Ishiguro is neither. An Anglophile belongs to nowhere, not even on the fence because identity is not what Ishiguro or Morley or anyone says it is or belongs to. It is not a fixture, defined by, say, the Bible within a given set of specifications peculiar to a group. No, it is what a person becomes and continually become; in a manner of speaking, an individual creation, a part of which being character building, being good or bad, being stupid or clever, since identity is personal not group think. This is how we, the Chinese, sees identity.
Identity combines then transcends birth, body and mind. Person and identity are one and are not separable things and this amalgamation, producing culture within groups in a village or a province, is not a test-tube factory production because the identity culture needs to be lived and experienced, the better for it if one lives like among likes.
White people could never get it when a Chinese tells them, there is a Chinese 'culture' (文化) in Taiwan and one in the mainland; that Chinese 'culture' in Taishan mountains is not the same as that downstream in Beijing. Cross the river, is another wenhua. Huh…?
Lu Xun, 1881-1936
The popular western idea that Chinese or Japanese is quite nearly non-human predates Morley.
Take Lu Xun's 阿Q正傳The True Story of Ah Q. Simon Leys, one of the few American historians on China who can actually read and write hanzi, said of Ah Q in one his essays in the 1970s:
In getting to know Ah Q, those Western readers for whom China is most alien will discover a valuable fact that remains obdurately hidden from both the Yellow Peril theorists and from the apostles of Red China: this fact is that the Chinese too are human, or to put it another way, we are all Chinese.
In the western default view of the Chinese — a yellow horde, communist locusts, and so on — is Ishiguro's chief complaint: "the Japanese people may be viewed as amusing or alarming, expert or devious, but they must above all be seen to be non-human."
In 1927 Lu Xun refused nomination to the Nobel then wrote to his friend Tai Jingnong that same year. Rather than put the finger on White people, he wrote, in characteristic Chinese fashion, for self-introspection ('the archer seeing that he has missed his mark turns around, to examine himself and not his bow'). In translation:
To be honest, I don't feel there's anyone in China yet capable of getting a Nobel prize. Sweden had best ignore us, leave us out of it entirely. If it's a case of yellow-skinned people deserving special treatment, it would have the contrary effect of encouraging false pride among the Chinese, leading them to think they're on a par with great writers from other countries. The result would be disastrous.
In Remains, Ishiguro surges ahead with the same critical self-examination, but using Stevens, an Englishman, so that in western literature this is a novelty. Chinese society had lived with the interior monologue since the beginning of time. In Confucian thoughts, it is standard fare. From ancient Chinese texts then pass through classrooms are the same conceptual notions of interiority and reflection:
(a) He who learns but does not think is lost.
(b) Of the three methods in acquiring wisdom, reflection is the noblest, imitation the easiest, experience the bitterest.
What had enthralled the Anglophone reader was reading, without knowing it, Ishiguro's application of that central Confucian idea. In self-examination — a human quality unmatched by other animal species — is the paradox exposed: the discovery that the fine Englishman gentleman, apex of English society, is a fraud. He, not only anti-human, is inhuman.
Because of its introspective quality, The Remains says as much about the English as it ab0ut Ishiguro because, while Stevens is the quintessential English, Ishiguro is the quintessential Anglophile, like Hannah Yeoh is Anglophile and Lim Kit Siang and so on; the difference being a matter of degrees, meaning the level of their anti-humanity.
To that, Lu Xun's work took great exception. In Call to Arms he called to the Chinese with the bowler hat and cane walking down a Shanghai street: The Anglophile isn't a matter of acculturation, not especially in Hong Kong nor the Anglophone world; it is a conscious, deliberate choice.
***