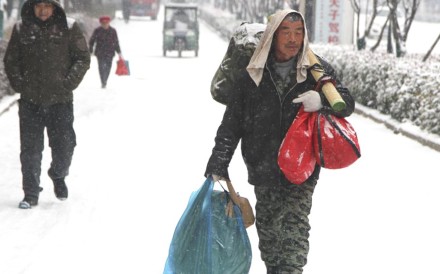 That man walked 42 km in the snow just to get home in time for chunjie. A country at peace begins at home. Confucius: If the family is harmonious, so will the country.
Elsewhere, snow thaw leaves behind icesicles, above — a clear sign spring has arrived.
May our ancestors protect us and keep us free from Mohamed and Jesus. (Got the above on my WeChat)
Jian in a greatly distorted studio touch-up portrait.
*
Much has happened the past year: Jian's circumstances are far, far better; she kept her beauty, we kept our love; there was a lot, lot more snow than the two previous winters combined; the dirt road passing my family's mountain, lakeside home was finally paved, 12-feet wide, eight inches of concrete running along the maize and rapeseed farms, now in winter fallow; the high speed trains that bring us back and will soon return us to the cities continued to be on time, right to the second; and my motherland remained Islam free and Jesus free. We kept our freedom — from God.
This year, we will keep on with our progress.
Once Upon a Time…
*
China Acts to Bring Home the Chinese Diaspora
"I so happy to balik tongsan": The above ad was put up on several social web sides, such as Linked-In. You can come home now. But what does it take?
*
China's immigration treatment of the overseas Chinese are in two broad categories: (a) those in Greater China, meaning holding passports from Taiwan, Hong Kong and Macao, and (b) all other nationalities. The first are permitted into China and then to stay almost as long they wish with all the same social and economic rights as mainland nationals. The second follows whatever bilateral relations are agreed upon.
This year, February onward, immigration policy for overseas Chinese has been modified. Like those in Greater China, overseas Chinese will be entitled to a resident card (which is not a 'green card'). The offer is discriminatory and is for native Chinese only. All other ethnics, white people, Caucasians, Malaiyoos, Pinoys, Javans, whatever, are not entitled to it.
There is only one requisite to be eligible for the diaspora card: a Chinese must have official, documented evidence that one parent or grandparent or any ancestor was once a Chinese, regardless of how long ago. It could go as far back as the Song dynasty and even Han, 2,000 years ago. Such an evidence, for example, may be a disembarkation/landing card that would show a Chinese forefather had traveled, say, in 1930, arriving in Singapore from 'Amoy' (today Xiamen) on such and such a ship.
The diaspora resident card replaces the passport and visa for entry and for an uninterrupted stay in China for between five and 10 years. Residence comes with nearly all the rights of China nationals and dependents: opening bank accounts, access to credit cards, loans, schooling, setting up a business, owning landed property, and so on.
With this Chinese freedom card, we are one step away from the 2016-proposed Ethnic Chinese Card, the EEC. The EEC is the equal of Hong Kong's 回乡证, 'Native Home Returning Certificate or the 台胞证 'Taiwan Compatriot Certificate'. Although named differently, the two certificates — actually they look and function like your ID card — serve the same purpose: uninterrupted residence in China with associated rights, all without losing your nationality status. (Naturally, taking up China nationality after that will be a breeze.)
When the card was launched in January, non-Chinese, westerners in particular, begun complaining — as usual. They had expected China to copy the West on immigrant policies. Labeling the new immigrant card 'racist', they say that what America has, as for example, a 'green card', China should follow. As usual, too, the English language, anti-China press was wrong. Two years ago, Singapore's Straits Times had said a special permanent residency card won't be issued to overseas Chinese. (Told you so: never trust the Anglophile. What the fuck do they know? They can't even write their mother's name in hanzi.)
Annie of the Valley is eligible to apply. So, too, Ridhuan Tee. But Ah Tee better watch his tongue when in China…. We are watching you, boy.
Below are samples of English language comments from some overseas Chinese:
'oriental': I now rest my hope with the PLA of the Peoples Republic of China to at least safe-guard and protect the overseas Chinese community world-wide…..particularly those in Indonesia under the hands of the politicians and Armed Forces! You and I know this Muslim BINATANG's mindsets.
'malaysianconcerns': That's a welcoming news. Thank you, China.
***
Below are three versions of the same, 80-year-old folk song. It is one of the glories of China's performing arts and Jian's favorite (which she insists it be posted).