Glorious Spring
China spring on qingming 清明
Azalea forest in Bijie, Guizhou.
Qingming parade, Kaifeng, Henan. Kaifeng was a Song era capital.
Tea leaf harvest, Gaofeng village, Pingli county, Shaanxi. Leaves are for the mingqian tea and sweet tea dumplings, colored green. Below, school girls and boys are a part of a school tour of Meitan county, Zunyi, Guizhou, to learn tea leaf picking.
Cherry blossom in East Lake, Wuhan, provincial capital of Hubei. Below, more cherry blossom in Daguan Park in Nanchuan, Chongqing.
Fengyan terraces of Xuanwuo, Hanyin county, Shaanxi.
Spring flowers in a Chengdu garden, Sichuan.
Rare panda specie — it is brown, not black — photographed with infrared-red camera in Changqing Nature Reserve, Yangxian county, Shaanxi.
Amid plots of yellow cole flowers (below), a guqin concert is held in Qiantan village, Jiande, Zhejiang.
More cole flowers. They bloom at the same time, the one immediately above in Rugao, Jiangsu.
Fashion week in Beijing. Creations by Xie Jiaqi.
A parade runs through the Dong village of Qiandongnan, Guizhou, prior to the start of a wrestling competition, below. Those guys know fun.
Daming Lake in Jinan at night, Shandong.
A qingming burial ceremony for the remains of 20 Chinese soldiers killed during the 1950-53 Korean war. The remains were returned by South Korea, arriving in Shenyang, Liaoning, March 29, 2018. We will remember.

Qingming 1,000 years ago, captured in the above segment of an almost 20 feet long Song era scroll painting titled 清明上河圖 (Qingming Along the River) by the artist Zhang Zeduan, 1085–1145. The scene location is a river bank in Kaifeng mentioned in the second photo from the top. Animated digital version below.
***
地铁 Iron Road Malaysia
Rolling stock produced by China Railway Rolling Stock Corporation (CRRC) in a 50-acre complex in Batu Gajah, Perak. Begun operations in October 2015, this is the first rolling stock manufacture outside my China; Malaysia used to import these things. Production capacity 200 carriages a year.
Some 84 percent of staff and 95 percent technicians are Malaysians (Malaiyoos only?). Eat your heart out, Old Horse 老马。As Annie might say, 'Happy?' We say, 'Fuck you.'

And, yes, we are going to colonize this sweaty mosquito country where no spring flowers bloom and people live in coconut shells. We are going to bring culture to you, Old Horse. Try stopping us….
Peking Man Malaysia
'Peking Man in Malaysia' exhibition kicked off on March 29, 2018, in Kuala Lumpur. The exhibition is supplied by Zhoukoudian heritage site where the fossils were unearthed.
But look at that fellow with a near identical skull specimen. The woman talking to him is an archaeologist. But expect him to understand? His head could be in the wrong place (should be below).

***
Non-qingming update
(minus Mariam yada, yada)
Malaysiakini on another promotion round….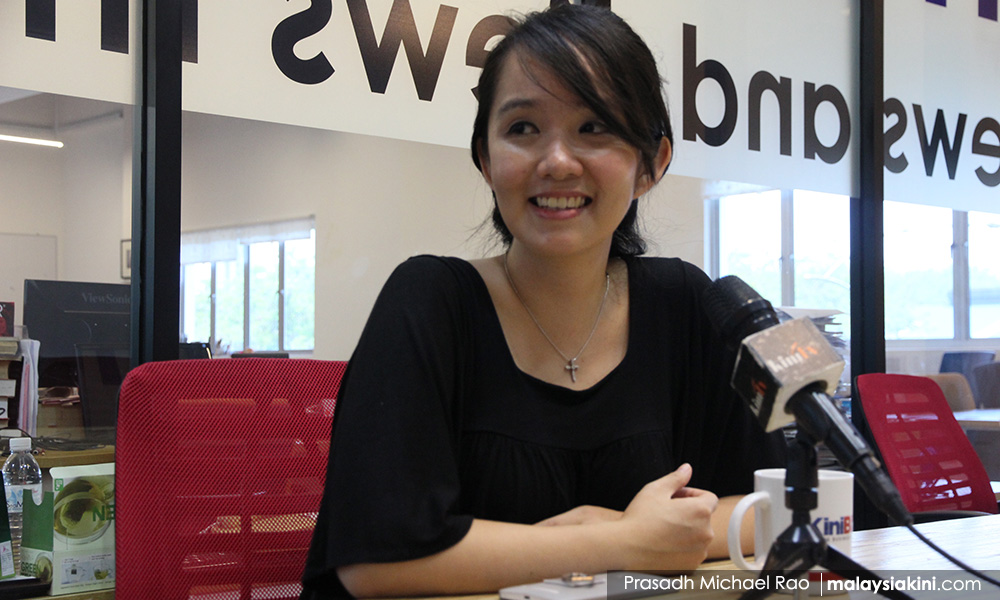 The one above, named Michelle something, is one more Christian Anglophile member for the DAP tribe, yet more Yeo Bee Yin type (they are mold-produced in the Church factory) then primed for the season by Tony Pua, marketed by Steven Gan. That Steven fella has the nerve to say Mkini is independent. These Christian motherfuckers… Ptui!

And that Koh Jun Lin, another Mkini willing and stupid idiot. Political awakening, did you say? What the fuck is that? Before that was what? Non-political slumber? Malaysian journalist stupidity has no limit to its depths. Go get another job, boy, a real, work-job. Try selling nasi lemak.
As for Michelle, why don't you sit in a corner — you know the desk beside the toilet? — and lick stamps for Gobind. He has lots of letters to send clients. That way, Michelle, you will useful, serving society.
 *
Below are lyrics to the song clip. It's not too late to learn Chinese on your free nights and days off, Michelle, you might even become a Queen's Counsel. Start simple and easy; it's like a nursery rhyme, you may even like it, Anglophile:
有一種思念叫望穿天邊
有一種愛情叫愛永不變
有一種孤單叫真愛永遠
有一種回憶縈繞在心間
有一種思念叫今生無緣
有一種愛情叫愛你永遠
有一種孤單叫為愛情斷
有一個人永遠在心間
我哭哭哭哭哭到天明哭到淚滿天
我等等等等等不到你出現
我苦苦思念苦苦淚流苦苦又一年
就讓時間證明我的愛戀
有一種思念叫今生無緣
有一種愛情叫愛你永遠
有一種孤單叫為愛情斷
有一個人永遠在心間
我哭哭哭哭哭到天明哭到淚滿天
我等等等等等不到你出現
我苦苦思念苦苦淚流苦苦又一年
就讓時間證明我的愛戀
我哭哭哭哭哭到天明哭到淚滿天
我等等等等等不到你的臉
我苦苦思念苦苦淚流苦苦又一年
就讓時間掩埋我的思念
就讓時間掩埋我的思念
***