Ubah the Lie
If everyone always lies to you, the consequence is not that you believe the lies, but that no one believes anything at all anymore — and rightly so, because lies, by their very nature, have to be changed, to be 're-lied,' so to speak.
— Hannah Arendt, 1973 interview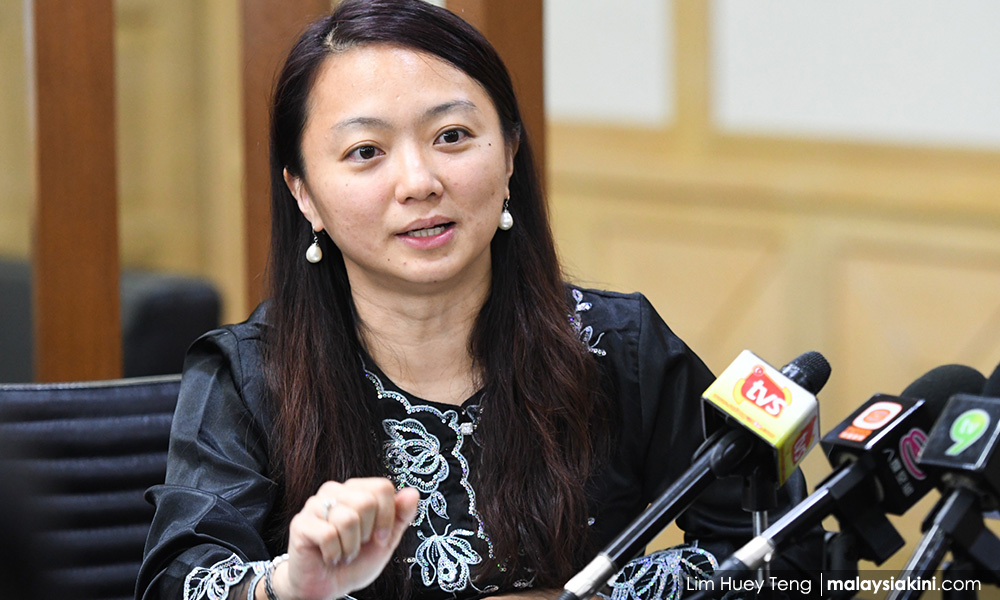 That, the above, is today's (bloated) face of the DAP.
One GE ago, she was promoted, by Malaysiakini in particular, as that pretty 'anak Malaysia' face who was then considered liberal and 'beyond race' politics, willing to marry into another race, qualities being synonymous with beauty, sophistication, smart, overseas and English educated hence Anglophile and meritocratic (photos below).
But, as you would peel an onion, that new face reveals an Anglophile fascism, not just as anti-Chinese and anti-Malay (read for example some of Yeo Bee Yin's condemnation of the Malay). But it especially had all the characteristics of western Kiplingsque bigotry to bring civilization and culture into the 'Asiatic' societies.
Now, picture all those Hannah-like prejudices into politics and after that imagine political and Malaysia life post GE14 under DAP rule.
Aged, bloated, pockmarked, and Hannah having served the party purpose, the DAP now uses Michelle Ng (third photo below) — one more round to give the impression she is the DAP politics of youthful beauty, sophistication, Christian charity and cleverness.

Should anyone be impressed? Those are, after all, the same people selling politics who, skilled in misrepresentation, deceit and lying, used to market Colgate, Milo and Jesus Christ.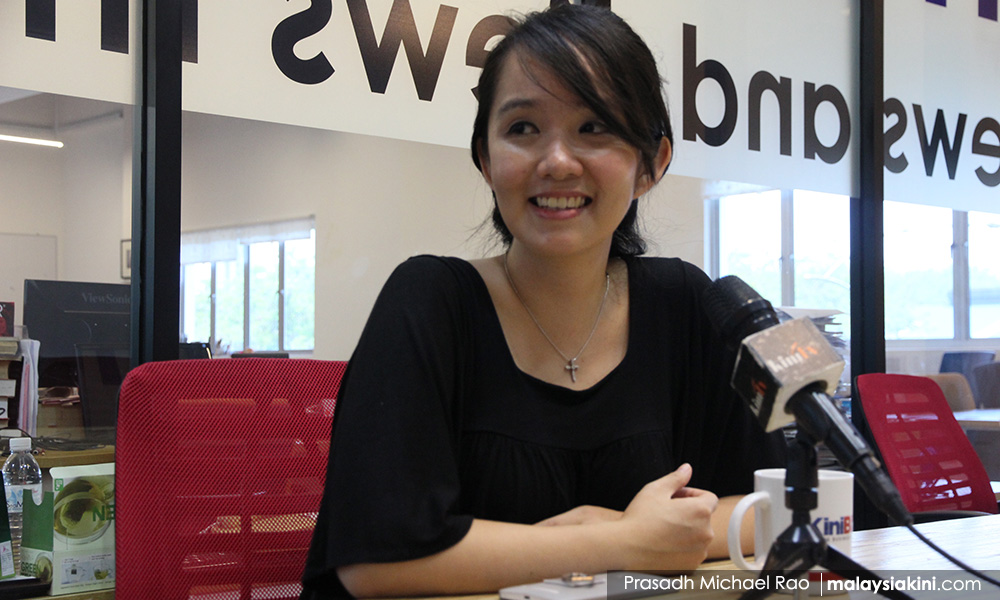 Bananas of the world: Michelle Ng above, like Hannah Yeoh, like Francis Lim Guan Eng, like Tony Pua, like KangarooTemoc, like Stevie 'Wonder' Gan…banana, banana, banana, and more bananas. Now, name the first country ruled by bananas? (Hint: It's nearer than you think.)

Update: That, above, should be the Pakatan Harapan GE logo, in particular wherever there's a DAP. Because it's 'correct, correct, correct'. If they won't use it? BN could. Otherwise, consider this, below.

No, you don't want to try this…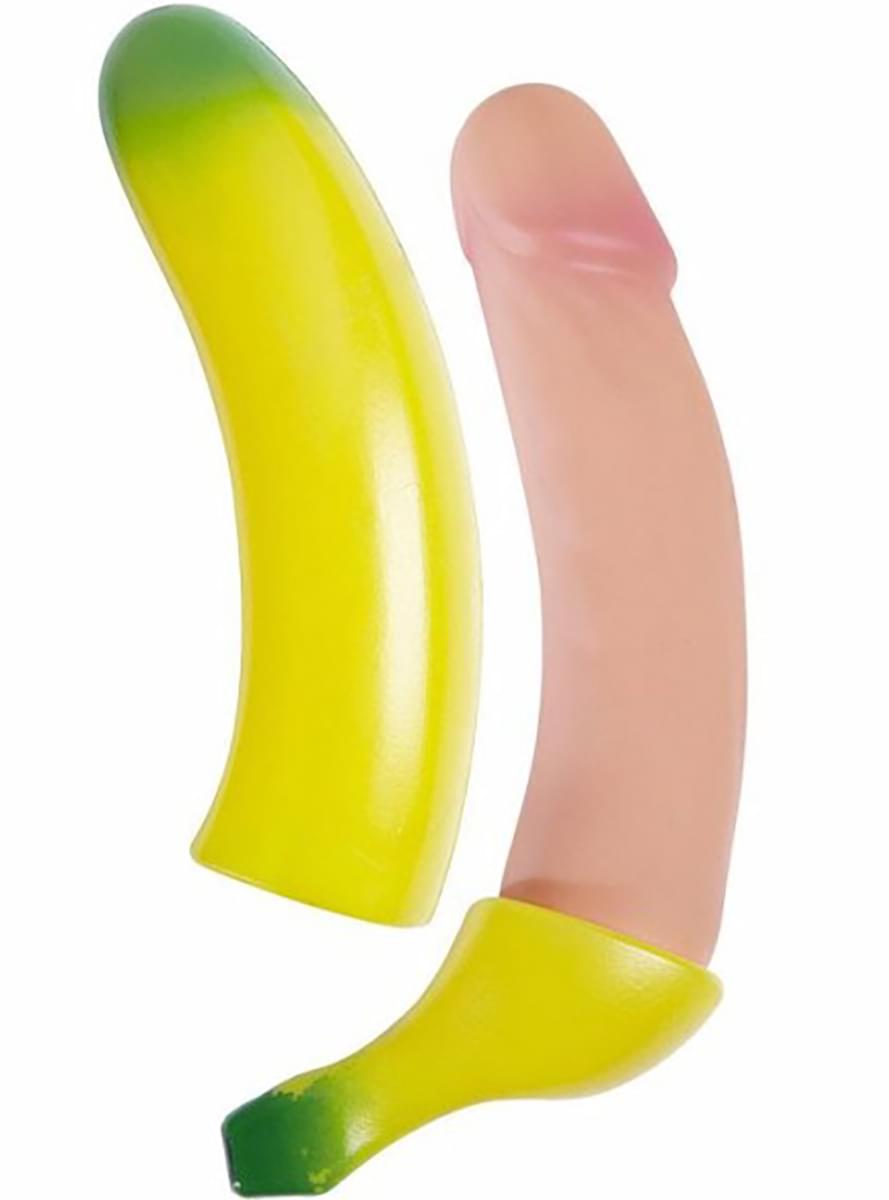 ***
A lying politic pursuing shifting goals has to ceaselessly rewrite its own history, leaving people not only dispossessed of their ability to act, but also of their capacity to think and to judge. And with such a people you can then do what you please.
*
Why, How is Hannah Dangerous?
We could go down with a list of reasons but what would be the point? That the DAP are wrong and we are right. And, after that? They would give up their fascistic dogma, be rational, and to live and let live?
Within the Christian evangelist backbone of the DAP — hence Pakatan Harapan — their arguments were never reasoned in and so can't be reasoned out: Garbage in, garbage out.
DAP the past decade had climbed on the stairway steps of the countless dead and bones of the vanquished, beginning before that with Lee Lam Thye. Ably aided by Steven Gan's Malaysiakini, the party has had and will continue to destroy lives if its leadership, Lim Kit Siang before and now Lim Guan Eng, ruled that you are not in the 'party interest', that is, not in conformity with their dogma: in Perak Hew Yit Foong 许月凤, in Selangor Jenice Lee 李映霞, KL Kua Kia Soong 柯嘉逊, in Malacca and Penang, today Sim Tong Him 沈同钦 and 3 others (Malacca), Tan Seng Giaw 陈胜尧 (KL), Boo Cheng Hau  巫程豪 (Johor).
When Sim and three others quit in Malacca, Malaysiakini, on DAP prompting, labelled them the 'Gang of Four,' the metaphorical idea from the post-Maoist days that was intended to cast aspersions on their personal character and, especially, of their betrayal.
Yet, they were the people who stood for, if not diversity of opinions, then of reason and fairness and circumspection within the party ranks and who represented the benign face of a tyrannical party.
Today the face of the DAP appears as Liew Chin Tong, Tony Pua, Anthony Loke, Ong Kian Meng, Lim Guan Eng. Coming up for GE14 Hannah Yeoh, Yeo Bee Yin and, along with them, the like of Michelle Ng (whom Malaysiakini is actively promoting in the same way Steven Gan once promoted Hannah).
Seeing this party history, it is as if the Bolsheviks would destroy the Mensheviks with propaganda, purges and with sham trials conducted in newspapers and in the courtrooms, known today as the Moscow Trials (Leon Trosky was hunted down by Bolshevik agents and in every publication painted as a traitor). That the DAP adopts communist rule tactics beneath the gracious, liberal face of democratic socialism is not new. Cambodia's Pol Pot had identical beginnings. In the early days of Germany's Nazi party, and once elected to the Reichstag parliament with under 15 percent of seats, Hitler made deals with the Church, opening the way for its control of the state and thence to the annihilation of the Jews.
Kit Siang made deals with the church, too, then packed the senior and middle echelons with the like of the Liews, Ongs and Yeohs. All those named above are, without exception, so-called 'born-again' Christians, meaning evangelical Christians — the last persons in the planet to accept rationality and reason as the basis for decisions and to act humanly, much less to govern moderately.
Of course, intra-party purges were justified on the need for 'discipline' and 'unity'. Yet what these principles are meant to serve are also clear, and which Kit Siang, Guan Eng et al have repeatedly stressed, also in the name of unity.
They would reorganize society along new rules, their rules, DAP rules: Anak Malaysia being classic because of its wide-ranging implications. Under it, all personal and ethnic identities are subsumed to just one bangsa Malaysia. Bangsa Malaysia is the eradication then complete conversion of your personality to a single party mold and single dictate, much like being a 'born again' Christian.
All that, and more, are the dangers represented by the DAP and which Tengku Adnan warned of but had articulated badly (that man is just a third-rate foot lance soldier). Naturally it had to be Hannah Yeoh who made the rebuttal. And notice, for good reasons, the rebuttal hadn't come from Guan Eng or its token keling vice-chairman M Kula Segaran. (On the term 'keling', even Mahathir had to bend to DAP's will to portray Harapan as some sort of righteous, benign force.)
That those dangers will surface in post GE (if Pakatan wins) are a given; they are already manifested in countless cases, beginning in most part with Shay Adora Ram. Consider, next, the DAP superman Hew Kuan Yau who can most galvanized the Chinese. He is also a Christian, with a leaning towards Pentecostal evangelism. But, like Hannah and Guan Eng, so skillful is he in the art of duplicity that not once in all his endless 24/7 campaigning — yes, not once — does he admit to that fact.
Against their internal enemies, they, like Najib Razak, know that Cash is King, they are quite willing to use money to break any dissenting opinion.
The Chinese, far, far more than the Malays, are a docile and tolerant lot. It is in our cultural DNA, littered in our (thankful) godless lives. Which explains why the PAP had it easy in Singapore and why the Malaiyoo wog Mahathir Mohamad could walk into Malaysia and made Malay political hegemony the prima facie basis for exclusion of Chinese and supreme Umno rule. He used the exact same claims that Pakatan made today — then to save Malays, at present to save Malaysia. At the time the Chinese gave up without a fight and the DAP exploited that frustration for the past two GE, going into the 14th.
Does this mean the Chinese and all Malaysia are done in? Hardly. The Chinese, an ethical people very attuned to duplicitous conduct, are beginning to sense DAP bigotry and fascism. (See, for example, Stanley Thai of Supermax, testament of a Chinese business class sub-set even though good at making money but are utterly stupid in political philosophy. Robert Kuok is another.) In response to the prospect of losing the constituents, Kit Siang would, rather than change party policies, overrule all objections and adopt the PKR logo for its electoral purpose. Deceit, anyone?
More to the point, it is not our station in life to answer the question above. But, knowing the essence of the threat, it is for BN, the MCA in particular, to deal with it. If Umno is to save itself from Mahathir and the DAP, it must go back to the Chinese they had disenfranchised. And they are more than a dozen ways to do that — but one 'big one' is enough — and still keep the Malay vote.
Electoral gerrymandering is not that 'big one' and just might turn out counterproductive. Nor should the focus fall on DAP Chinese 'chauvinism' because the party, although it taps on Chinese dissatisfaction, is an entirely different creature from the past and is not Chinese at all. It is, look at anyway you like and from any direction, Anglophile. Hannah Yeoh is simply representative of the new face in the DAP.
Sino-Malay relationship is not a mutually exclusive affair, and Pakatan Harapan's existence proves it.
***
---
On a personal note, how I wish Jian were with me if, for nothing else, just to help me get through the days in this shit hole named Malaysia. And, confronting Hannah Yeoh, woman to woman, Jian would know exactly with what and where to prick that piece of bloated balloon and deflate her for good. She would know where to put away that piece of cunt.

需要人陪
***