Before anything else, this must be gotten out of the way: Jian has asked that I, on her behalf, pass on to you, Readers, warm fraternal greetings on the eve of polling date. This makes the headline valid. She thinks of polling as somewhat akin to national independence day.
In China, the days are warmer and the summer rains have come. She sent some photos, two or three of which are included in the second part of this posting.
The first part, immediately below, are nuggets of stories, also from China, through the lens of the Hong Kong newspaper SCMP.
Until Jack Ma bought the SCMP, it was a western rag sheet imitation run by leftover white Anglophone motherfuckers. We got rid of the lot. Since then, the world is discovering more about China, through the paper linked to Twitter and other social media platforms.
And we China are neither embarrassed nor fearful to say what goes on, within limits of course. It's who we are and what we are. Don't like what you read or see, and not measuring up to some western prejudices and standards, Anglophiles can fuck off.
Click on the Twitter links to read more….
Part 1: Rock store, 1000km/hr train, results, results and results.
***
---
Part 2: On the China-DPRK border
Jian lives in the city west of Dandong. You probably know about a peace deal among the Koreans though she couldn't care less. So long as it is not war. I can't wait to get back. One of our friends, pictured immediately above, also lives in Liaoning and closer to Dondang.
Russia and Vladivostok is to the north and northeast, further upstream of the Yalu River that forms the China-DPRK border. Pyongyang is to the south, about a 4-5 hour drive. The Sino-Korean Friendship Bridge physically link the two countries. A second  bridge on the south side was blown up by the Yanks in 1950, wasn't repaired and is today named Broken Bridge, what else.
Look through the telescope, 5 bucks for 2 minutes, this is what you see, below. The Koreans don't complain that we are spying or anything like that. Actually, for a day trip, you can either walk across or take the ferry, further below. In Dandong there are regular art exhibitions by Korean artists (also below).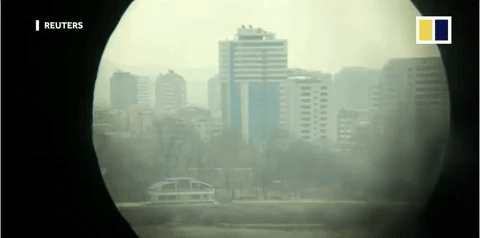 Street market outside department stores, Dandong. Winters are terribly cold, with days at minus 40, 50. I am used to it now. It is Malaysia I can't stand. Then there are the mosquitoes.
There is now a third border bridge, completed in 2014 but we are waiting for our Korean compatriots to do the rest. I think they have no money. Maybe some day. We can wait.
My president Xi Jinping might suggest an idea. They shouldn't fear the Yankees though because we don't. Perhaps the Koreans and us can do a deal, something like the new real estate development being earmarked and planned for Dandong (third photo above).
I mentioned this because it reminds of Forest City that Mahathir wants to raze to the ground. We are waiting for him to do it, if he has the balls to match his yada, yada Kerala tongue.
Why do I get the feeling it has one too many on board…
Hey kid, wanna come over for dinner? Just ask mama's permission.
Although we are like brothers, the Koreans still patrol the border with machine guns. It isn't about us, I think. The young living on China's side also have to spend some time in the PLA (below). I like her looks in the uniform.

Compatriot Kim Jung-un: Tian-ah, his hair style is hip but I don't have the gumption to cut it like that. Call us old fashion. In his youthful days, Xi governed Fujian, ancestral home of many Malaysian Chinese, as many as half.

***