The Game isn't Over
Perhaps the most succinct explanation for BN's defeat is provided by Leslie Lau: he isn't sure. He isn't sure because Mahathir Mohamad doesn't represent a new Malaysia. There is not even an addition of new players: PKR is not a new player, nor is the DAP.
On the contrary, everything about Mahathir, including all that he has spoken up against — abuse of authority and corruption in particular — represents the old. Even the craft of deception is older than Mahathir. Lionizing him, as they now do in Malaysiakini as if he is invincible, won't change that fact of history.
Lau isn't sure perhaps because the question could have been the wrong one. Another way of asking is to look at why and how it is Mahathir won. Even there we find the same answer that goes back to the year which birthed Mahathirism: it is on the back of (a) May 13 and, (b) the political organization Umno to which he was readmitted in 1969.
(a) Mahathir begun anti-Najib on the back of a campaign that Najib Razak was too cozy with the Chinese, Singapore included, after which China was added. Up until yesterday, he saw nothing intrinsically wrong with Umno.
(b) He couldn't because, doing so, is to concede that (Umno) Malays shouldn't govern Malaysia, much less Malays. His argument is that Umno was merely hijacked having been turned into a 'Najib Umno', a political party loyal only to Najib, thus losing its way. So that, if Umno was not supposed to be loyal to Najib, Mahathir wants Umno loyalty to him.
This is a Mahathir wish that, in its turn, sidetracks the inherent contradiction within Umno. It works towards its own death: as Malays progress, Umno's redundancy grows. The party's reason for existence as a 'protector' of Malay interest diminishes as that protection is made secured.
This leads to a further problem: as Umno's redundancy grows, there is lesser need for it. Mahathir invents another Umno, today called PPBM. That is, without Umno, there is no Bersatu, the former's successor
Not even the post GE14 power structure has changed. Recall that Umno begun politics on less than equal standing, both within Malaya and especially after Malaysia's formation. Penang, Selangor and Perak could be considered as opposition states until the formation of Barisan. Sarawak and Sabah then weren't fixed deposits, a situation so precarious then that it lead to Project IC in Sabah, then hoisting up Taib Mahmud as the primary Sarawak force, producing the endemic land grab witnessed today.
There is one hope left for Malaysia: Neither Harapan nor Bersatu can nominate Mahathir prime minister. Harapan is not a registered coalition and Bersatu is not a legal party. All the propaganda won't change that fact so, it's just as well the three originators of Pakatan boot out Mahathir. Here is the actual GE14 parliamentary seat standing:
PKR 47
DAP 42
Bersatu 13
Amanah 11
Warisan 8
Bebas (Tian Chua's Batu) 1
Total: 122.
Less Bersatu 13, the total above drops to 109, three short of a simple majority.
There is, however, also this permutation: Bersatu was never an actual Opposition. PAS is. PAS, with 18 seats, taking the place of Bersatu, is better as an avenue to depoliticize Malaysian lives and end Mahathirism: Hadi Awang has less reason to give (Islamic) trouble in the future and the new federal would have two more state governments to work with.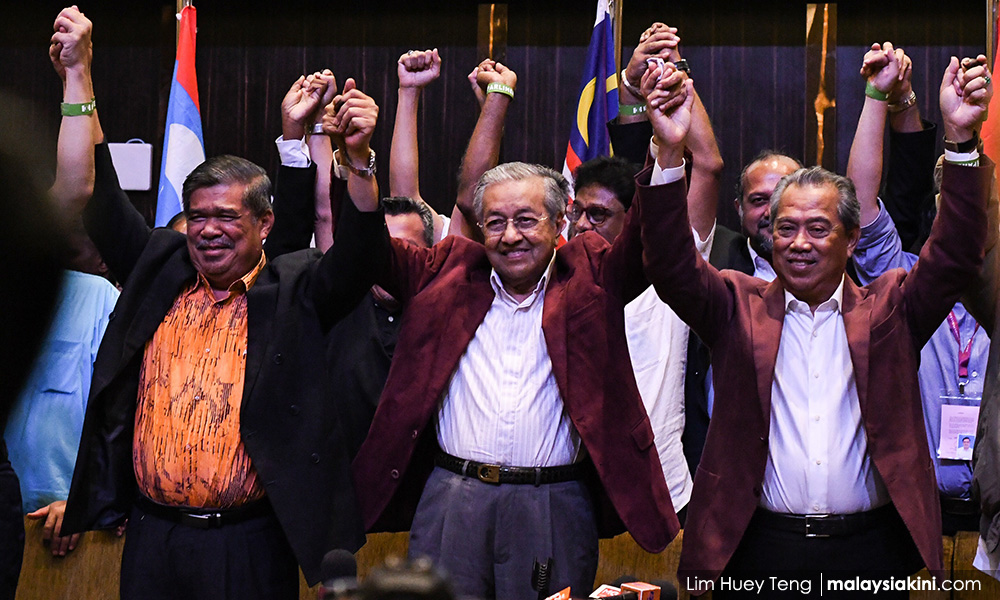 What's wrong with this propaganda picture? The two parties add up to 24 seats but Mahathir is made to look like the victory is his. If the 18 seats from PAS replace both Bersatu and Amanah then, 90 + 18 = 107. Add Warisan's 8 = 115. Bingo! End of Mahathir.
That, think about it, would be truly the People's wish. For Mahathir's party to get 13 seats proves nothing, not especially the People's Wish. On the contrary.

"All is fair in love and war." Besides, both the DAP and PKR have repeatedly stressed, Mahathir is just to be used, like a fucking horse. Well, the use-by-date has expired.
A new federal government would have Perak and Kedah comfortably, on top of Trengganu and Kelantan and still keep Johor, Negri Sembilan and Malacca (there are ways about it, of course).

*
Below shows why Mahathir is never to be trusted. From among Annie's Assholes:
1. Malay rights and privilleges (sic)
2.The supremo position of Islam in the country
3. The rights and position of Malay Rulers
4. The special position of Malay language.

"We'll do anything possible to defend all those rights; such as going to the streets in huge numbers TO FIGHT and PROTECT what is rightly ours!"
Oh ya? That Annie's asshole just don't get it and why yesterday's results are what they are.
Goodbye Annie. See you in hell…(Update: But no hurry. Hell will still be there.)
Update 1: Mahathir relaunched democracy? Is there a claim more ignorant and more stupid than this?
***
Other Updates
Postscript A: A Grand, Natural, Anti-M Coalition
PKR+DAP+BN (all others fuck off)
*
Postscript B: Watch this space…
Late night, update 2: Move along, nothing to see. Go home, get some sleep.
***