Democracy is no longer the only game in town. — David Runciman
Thanks to Jian for reminding me the above.
I
New MCA vs DAP: Dealing with May 13's Twin Child

With Umno gone, there is left its other May 13 Siamese twin child — the DAP. Both are inter-dependent creatures of ketuanan fascism, Mahathirism in particular, their respective political strength feeding on each other, like flowers and bees. One drip at a time on a stone (image above), it took 49 years to destroy Umno — with the hand of Mahathir that made it. So annihilating Anglophile DAP will take time. But this ought to come quicker and easier since Umno which sustains the DAP is dead. Excerpted from In the Market:
Mahathir's contribution to Lim Kit Siang is that the former singularly annihilate MCA's entire voter base then rocketed the entire lot to the DAP. That is, without Mahathir's fascism, DAP would have no dissatisfaction upon which to build its base and to nurture its beginnings. It would have been a write-off a long time ago. This is as if the DAP and Umno are mutual creations, one dependent on the other for their separate existence. Or, to rephrase that, the greater is the success Umno has in 'protecting' Malays from the Chinese, the better off it is for the DAP, electorally and politically. The success of one offers gain to the other.
Umno out of the way, and no longer encumbered by ketuanan and Malaiyoos, MCA (Gerakan and others) are free to pursue their individual political agenda. In the yin-yang of politics, one dies, another enters to fill its place.
MCA's reconstruction ought to begin at its roots, the party Constitution. For that, it merely requires the addition of a single Preamble page:
*
(Front page declaration and preamble addition to the Constitution of the MCA)

CONSTITUTION

of the

MALAYSIAN CHINESE ASSOCIATION

PREAMBLE

IN RECOGNITION, We, the Chinese of Malaysia solemnly proclaim our attachment to the Federal Constitution of Malaysia of 1957, and by virtue of which the Malaysian Chinese Association (hereafter MCA) was established, and having affirmed our rights and duties as self-determining citizens of Malaysia;

IN RECOGNITION that Malaysia is a federalist state, founded on the principles of liberty, equality and fraternity, secular in nature, as affirmed in its constitutional provisions and in common law; and given that we are an inalienable constituent of an indivisible nation guided by the democratic principle of self-determination;

IN RECOGNITION that We, the MCA, is founded on those national principles and acting through them the highest and deepest virtues of native Chinese ethical culture, and for which We were conceived in satisfying the hopes and aspirations of all in Malaysia;

We, the MCA, solemnly make known the Articles as follows (the old articles to follow):

Part I…Part XX

***
II
Umno and Reincarnation
On Khairy's idea, this is the Chinese response, excerpted from Angel's Malaysian Bitch:
Angel's contradiction, as well as Kit Siang's and the DAP's, is that being Chinese and Malaysian are mutually exclusive.

They couldn't see the flip side, that there is no Malaysian without the Chinese. Or, put in another way, Being Chinese is the only way for the Chinese to be Malaysian. It's only that Umno's politics have never permitted it. And now the DAP and Kit Siang are repeating the same fucking Umno idea.
Contrary to Malaysiakini propaganda, Barisan didn't go down in one fell swoop. Its demise came in stages, from 2008, first Gerakan then MCA and MIC followed by Umno and Sabah (see GE results table below).
The point is this: Umno is the failure of Malaiyoo fascism. Pakatan is purely an extension development of the same fascism; it, too, possesses the will of its own self-destruction (see elsewhere in this site: Why Umno finds it hard to govern Malays). For Khairy to replace one racial form with another, multi-racial form does not resolve the fundamental point about its existence: What is it? What are you?
That takes some reflection. The immediate consideration, meanwhile, is not to mistake form as a weapon of choice to defeat Pakatan. Which is like driving a toothpick into the tree trunk.
Go with the grain of the timber instead, and cut it likewise: the most effective method is when the least effort needs to be used. The Malaysian polity and its political consciousness are a fragmented structure (see GE results table below). Easier, hence, to take Pakatan apart piece by piece through its individual constituent parts.
Once the legacies of Mahathir and Kit Siang are eradicated, peace returns.
***
III
Never again will the DAP lead Chinese to their deaths
In memory of May 13 and 赵明福 Zhao Mingfu
***
IV
Every GE is a Malay fight: Distribution of GE14 votes and seats.
 

2018 Najib vs Mahathir

2013 Najib vs Anwar

2008 Najib/Dr M vs Anwar

Votes

(of 2013, 11.2 million / 2018 12.3 million)

PH

5,781,600 (50%)

5,623,984 (51%)

4,082,411 (48%)

BN/Anti-PH

6,131,985 (with PAS)

5,237,699

3,796,464

Seats (of 222)

PH

121

89

82

BN/Anti-PH

97

133

140
2018 seat total: the remaining 4 are held by independents. Source: Wiki
Tentative conclusions:
Of new 2018 votes (1 million), most Malays chose PAS; that is, race politics is still alive and there was no Malay tsunami favoring Pakatan.
In any Malay vs Malay GE fight, Chinese and Indian votes combined are critical to decide winner.
Contrary to design, gerrymandering worked against BN, badly affecting especially MCA & Gerakan but benefiting instead DAP and PKR. Mahathir's PPBM 13 seats is 6% of total. DAP went from 36 in 2013 to 42, PKR 30 to 47.
Three-way fights are bad for BN because Umno needs MCA more than it needs Malays who, absent their votes, still won't swing to Pakatan. They go to PAS, which Pakatan had predicted would get next to zero seats. PPBM 13 plus Amanah 11 total 24 in GE14, just 3 more than the 21 by PAS in 2013.
Mahathir is not the tsunami hero portrayed in Malaysiakini propaganda (also Outsyedthebox); he instead raised the DAP and PKR seat numbers (in marginal constituencies) without bringing in alot more Malay votes.
Pakatan scrapped through with 113 (of 222) seats but, from total popular vote standpoint, it is weaker than 5 years ago.
Electorally, Pakatan post GE14 is sustained by (a) the 8 Sabah seats and (b) Najib Razak's poor reputation in the peninsula. Without (a) or (b), or both, it is more vulnerable than was Barisan shortly before GE14. Time, though, is on its side — five years to shore up its position before the next GE.
End remarks:
As early as 2014, Anglophile Guan Eng bragged that Pakatan needed only a 2% vote swing in GE14 to net Putrajaya. He got that and now finds himself standing on the other shore where the tsunami came in. And when it turns up again, he and Pakatan won't just drown; they'll watch all their entire possessions sweep out into the sea, they'll repay for what Mahathir et al would be doing the next five years, because the tsunami doesn't care whether in its path is Guan Eng or Jesus Christ.
A man can do what he wants, but not want what he wants. — Arthur Schopenhauer (1788-1860)

The more Guan Eng and Pakatan act and do, over the course of time, the more painful it gets when they see all that go out to sea on the next tsunami round. Wuwei, wuwei…. History and Nature are not, you see, linearity even by repetition; they turn up, they surprise you, in cycles. And we Chinese have the patience of a drip, drip, drip, drip, drip, drip, drip… — a force more powerful than any other because it virtually dissolves the stone. That's a part of Chinese naturalist philosophy Anglophiles can never fathom. Never.
Count your beans, Christian Eng, while you still can.
***
V
What is a Chinese ultra? Jesus Eng isn't one, of course. Instead, listen to the man below…
By 'our' culture, Huan means (Confucian/Daoist) ethical culture — how to properly conduct human relationship, even with the fallen. Culture copied by and as understood by Anglophiles (Syed Akbar Ali, Steven Gan, et al) are cricket clubs, Shakespeare, scones and marmalade, and Mahathir horse riding.
They have no refined ethical culture. Contradictions abound. You find Mahathir treating Najib the way Anwar was treated; their methods and conduct are identical. Reformasi is purely the reformation of power — for the purpose of realigning it. Malaiyoo rights and Anglophile righteousness are settled by power.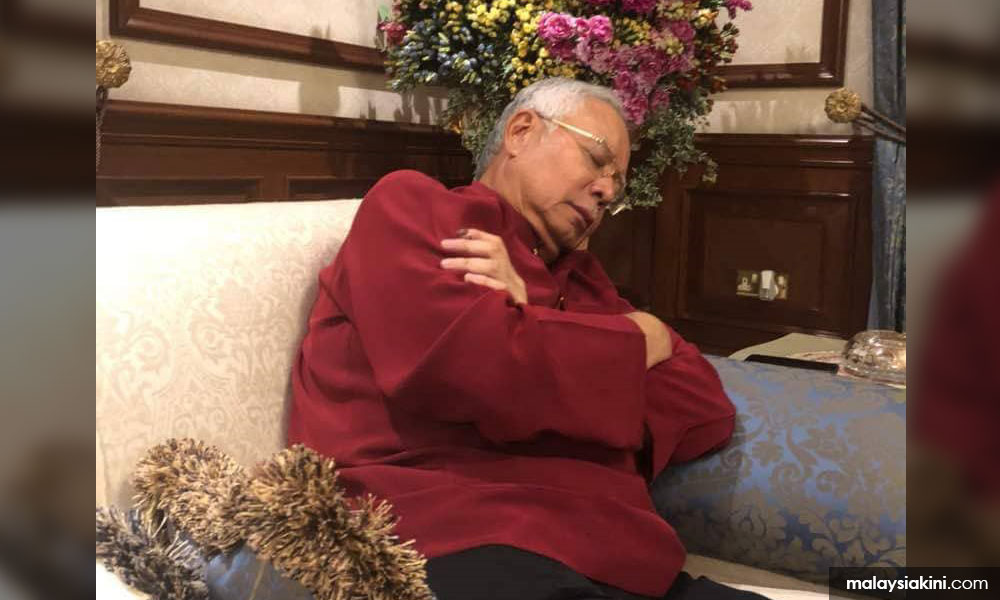 Mahathir's reward for power: Anglophile's narcissistic culture in humiliating another man. Like barbarian hordes and medieval European mobs, they delight in crushing a man. On the day of his release from jail, Anwar called that delight, 'euphoria'. In biblical verse: Vengeance is the Lord's.

***
***