Your grandparents die. And then in time your parents die. The truly startling thing is that your friends start to die. That's not in the plan. It's a bad contract and we all have to sign it. — Philip Roth, talking mortality in a 2006 interview, today dead at 85, May 2018.


***

---
*
A Chinny English Idea
The conquest of the earth, which mostly means the taking it away from those who have a different complexion or slightly flatter noses than ourselves, is not a pretty thing when you look into it too much. What redeems it is the idea only. An idea at the back of it; not a sentimental pretence but an idea; and an unselfish belief in the idea—something you can set up, and bow down before, and offer a sacrifice to…. [Joseph Conrad's ellipsis. Emphasis added.]
*
The Horror that is Chinny

Here I am, writing in English, which is mine because my grandparents used it to survive, and because I have written my truth in it. Encountering Tennyson in a monsoon poem helped me become more critical of how I pieced myself together and of my relationship to language. I believe in literature's ability to connect us. But I also think it can help us discover the ways we are ensnared. And that is the first step to doing something about it. — YZ Chin, 2018 May in LitHub (sub-title borrows from Joseph Conrad's 'Heart of Darkness')

*
By English, does she mean the language or an Anglophile racist idea, a kind of anti-Chinese life? Notice the meandering, woolly, contradictory and self-gratuitous quality in her sentimental English apologia:
my grandparents used it to survive;

I have written my truth in it;

my relationship to language;

literature's ability to connect us (English literature or just literature?);

help us discover the ways we are ensnared;

doing something about it.
The truth of YZ Chin, therefore: She is an Anglophile cunt — in third-rate English.
***
---
Minority Govt Rule by Fatwas, by 'Eminents'
*
The More Things Change, the More They Stay the Same
As Mahathir Mohamad spearheaded the destruction of Umno, so, too, we see Harapan, the DAP especially, being set up for annihilation from the inside out, from outside in and from all sides.
Here are the ominous signs, but don't expect to find them in Malaysiakini:
Fewer than half of Malaysia want Pakatan. Which, however, speaks in Christian, Anglophile linguistic terms of a 'new dawn', a new Malaysia, as if there had been a revolutionary replacement of a hated government. Umno may hated but who says — which God decreed — Pakatan is the anointed replacement? Take Perak for example. Pakatan was before GE14 so cocksure but couldn't have it without two BN defections, exactly the status quo ten years ago.
Minority government. When Barisan was in minority at GE13 with 49% of the popular vote, Pakatan, Lim Kit Siang in particular, questioned the former's (moral) legitimacy to rule (see his tweet above). Now, with 48% instead, there is just silence — not even a murmur, much less 'widespread questioning'. The silence is reaffirmation of Anglophile/Christian contradiction and hypocrisy as an astounding fact.

Mal-apportionment and gerrymandering. Since it took so little to remove Barisan — the knife cuts both ways, you see — there is now no incentive for Pakatan to want to change anything electoral. Again, no drum-beating, from Bersih especially.
100 days agenda. There has been a lot of talk, of police raids, of heads rolling, of counting beans, but what has changed — fundamentally?
The most glaring case is GST, which is to be reduced to a 0% rate. A 0% rate is not the same as 'No GST', that is, abolishing. Another case: The media looks freer, true, and TV3 license won't be cancelled. But therein troubles start: Both online and traditional media are now suppliant, willfully in fact, to Pakatan authorities. When Anwar Ibrahim was release from jail, one of his first visits was to Malaysiakini, where everybody patted each other's shoulders, talking of unimaginable sacrifices and bottomless gumption. Yet its editors see nothing wrong with the visit. Under Pakatan rule, however, Steven Gan's self-proclaimed 'independence' from Barisan has become passe: how do you become 'independent' of Pakatan which you had glorified as underdog? This is a craft of propaganda feted at a dictator's feet.
Institutional reforms. Altantuya case might not be reopened and nobody is talking anymore of a Royal Commission of Inquiry. Her case is a reform benchmark because her death and subsequent trial touches all things fundamental: law enforcement, judicial independence, limits of police powers, abuse of civil authority, financial and moral corruption (Scorpene) in high offices, immigration powers, treatment of pendatangs, and plain fairness and human decency.
Soon Mahathir, Anwar, and Lim Guan Eng will confront themselves with this question: Now that we control the institutions, why bother with reforms? We are the reformation! Trust us!
Abuse of authority. Replacing the heads of institutions once hostile to Pakatan is not the same as institutional reforms. In the nature of the beasts, the new heads of varied units and agencies will be sympathetic to Pakatan — look at the police. They are playing musical chairs, of course. It is the only way to placate the new masters otherwise, how else do you keep your job? Abuse, with even greater fervor, is now counter-clockwise.
Rule by Council Committees.  This is rule by a fatwa committee, and not unprecedented. Soviet-era and communist states ruled in this fashion wherein state policies are established outside parliament and outside the usual due process associated with democratic rule. It works faster. With fewer outside participation, committees don't have to report to the electorate.
Similar named councils exist in Britain and the US. But the Council of Eminent Persons is far-reaching in scope and depth, touching everything, even though there is nothing 'eminent' about the like of Zeti Akhtar Aziz, Daim Zainuddin or Jomo Sundaram. Even Robert Kuok. All he's got is more money than the rest of Malaysia. And Daim is eminent? (Don't ever let him get near your pretty 18-year-old sister.)
Because of their power, reporting only to the PM, watch them gradually displace government role, the role that Mahathir of the 1980s to 2000 had found to be a nuisance and a hindrance to his own plans. Hence, watch for signs of conflict: Bank Negara under Zeti Akhtar Aziz says public/government debt is 600+ billion, whereas Lim Guan Eng says 1 trillion by redefining what makes for public/government. Jomo, a Mahathir hatchet man who had advocated privatization, is an academic (Harvard) leftover from the Reagan era with a taxi driver's knowledge on how economics work on the streets and how banks operate on Wall Street. He represented the tribe of economists who were directly responsible for deregulation, after which came crisis after crisis (Latin America defaults; financial meltdown 1998, 2007-08; Iceland, Greece and Spain defaults). Hence, in contradiction, you hear Jomo talking about welcoming investments while the same week more than 1 billion ringgit were yanked from the Malaysia stock market. (Jomo, that stupid man, even has trouble defining 'investment' because foreign money playing the stock market cannot be investment; it is just short-term, highly liquid currency, and mostly existing as debt, betting monopoly games.)
KL meltdown in just five days… glad we weren't around.
May 14    -RM682.6m
May 15    -RM837.3m
May 16    -RM320.7m
May 17    -RM384.4m
May 18    -RM251.2m
Is there more?
Islamization and fascism. While PPBM and the DAP represent the face of fascism, PKR is Islamization. In Maszlee Malik they found a poster boy devoted to both. Like Umno had previously brought in Islam into the classrooms, all three will bring into the curricula their religious/political agenda — only difference being a new menu. Same dish, new names. Like BR1M. Also, Anwar assuring the Malay contractors that discrimination will continue is, again, another reminder that the whole lot ultimately lives on and relies on their pre-historic Umno racism.
Malay vs Malay. Rafizi Ramli is already ensconced in Trengganu, an oil state after all. PKR knows where next their fights will take them. Half the country is against Pakatan — and all 52% are Malays. (See table below.) This fact alone means something has to give: Once Pakatan has settled down from their vendetta, watch for the old Malay battles to be replayed and the Chinese (or China) flung into the ring as fodder.
New Malaysia. The old Malaysia is back the moment it was declared new, so that the first sign of Malay vs Malay has already appeared — in Perak, of course, where Pakatan's political survival is most precarious, at the edge of a cliff. In the (linked) Mkini article, the PPBM, Mahathir Mentri Besar plays dumb that is typical of Malay, Umno, Pakatan political style. As usual, where their political interests lay, Anglophile DAP has nothing to say. Liquor is Christian haram, after all. Hence, a set of voodoo Islamic/Christian, foreign and desert religious immorality supersedes western-styled secular law, endorsing in effect an illegal, Malaiyoo vigilante of shutting down a licensed, lawful business.
Is this a new Malaysia?
Is the lawlessness new? (Photo below.)
And the police, under Pakatan, not acting against the illegality, is that new?
Is the Christian/Islamic immorality new?
Is the exploitation of Chinese (and Indian) drinking habits for a Malay political cause new?
Is the DAP and Anglophile silent acquiescence to the assault on freedom, Malay religious freedom in particular, new?

Here is a prediction: this Muslim raid is only the beginning. Malaysia under Pakatan can only get more oppressive, more intense and more fascistic especially since the DAP, PKR and, in particular, PPBM want and badly needs a chunk of the 6 million Malay votes they don't have from the GE14 results.
Is there going to be no 'new' Malaysia for the next 100 days or 200 or 1200? Of course not. How can there be new-ness if the country is itself fucked-up? What is new about Pakatan that now runs the country, that is, new in the thinking of their leaders and their values? Evidence of their old is found in MB Faizal Azumu own puerile, insane words to the Malaiyoos raiding other people's property: 'When you do it again, let me know beforehand. And other people must be mindful of Muslim sentiments, especially this is Ramadan.'
Heard that before?
Pakatan Lies: 1MDB, ECRL & China. Through their mouthpieces Malaysiakini (P Gunasegaram) and Sarawak Report (Clare Rewcastle-Brown), Pakatan trolled out the line that China fraudulently bailed out Najib Razak and his 1MDB. In cahoots, they had strung together the ECRL then inflated the contract price in order to skim off money to pay 1MDB debts.
Now, Guan Eng has discovered that, in fact, Najib's Finance Ministry had — legally — sold land to Bank Negara and redeemed money from Khazanah bonds. Raising more than 3 billion ringgit total, as a result, the money had mostly gone towards settling with IPIC.
Their lies having done their political objective, Pakatan (and Steven Gan) pretended none of the slander happened. Instead their accusation is amended to say the ECRL was a case of Najib poor governance  (See for example, Yeo Bee Yin as Racist & Whore). Najib, the amended accusation says, had been selling projects to nobody's benefit and letting in the Chinese to colonize Malaysia and made it indebted.
Wait till the Malay-fight-Malay gets nastier….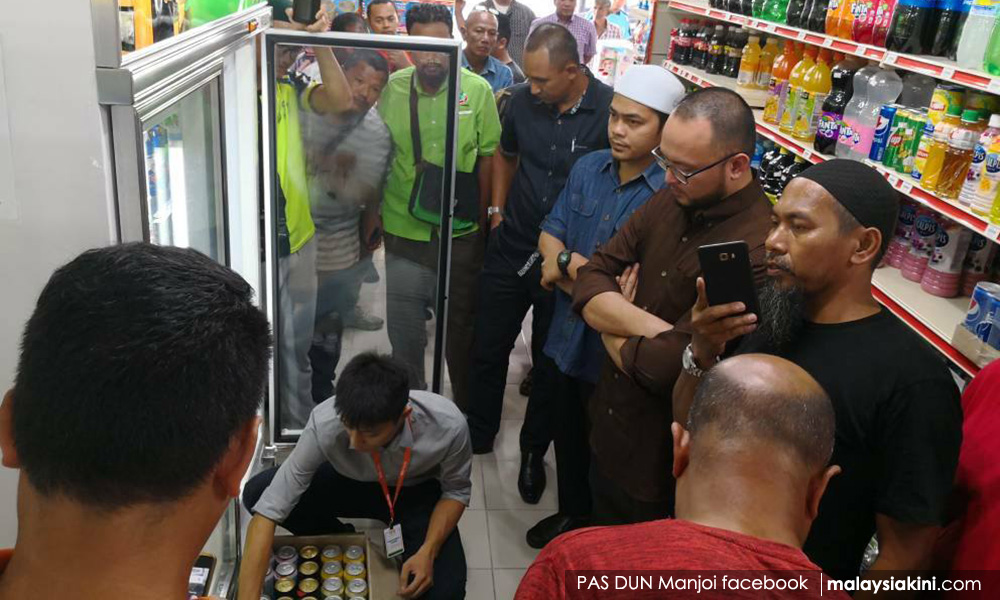 New Malaysia? What is so new about this bunch of coconut Malaiyoo heads?
Lies are cost-free? Slander has no consequences?
Having been slandered and maligned, it has been suggested, China should start a trade war — what the fuck. We pack up and leave, donate the nuts and bolts to Pakatan, cut off the palm oil shipments, followed by everything else. We have met Mahathir, let's see his next move. Like Malaysia, we Chinese are just protecting our sovereignty from any Malaysian invasion, in any and all their forms.
Mahathir et al imagine this is May 13 all over again. Let's see who goes down: We Chinese didn't come from 5000 years ago to be cowed by a lying bunch of kampung coconut heads and Bananas. If push comes to shove, we can bring down the Pakatan government the next day. Want to see how it can be done?

Did some Pakatoon, before GE14, say 'cry for Malaysia': Don't stop, keep crying. Here is a hanky, Pakatoon….
***
***