…and they can't even hide it.
Can you hear? In new Malaysia is a cacophony that fills you with despair.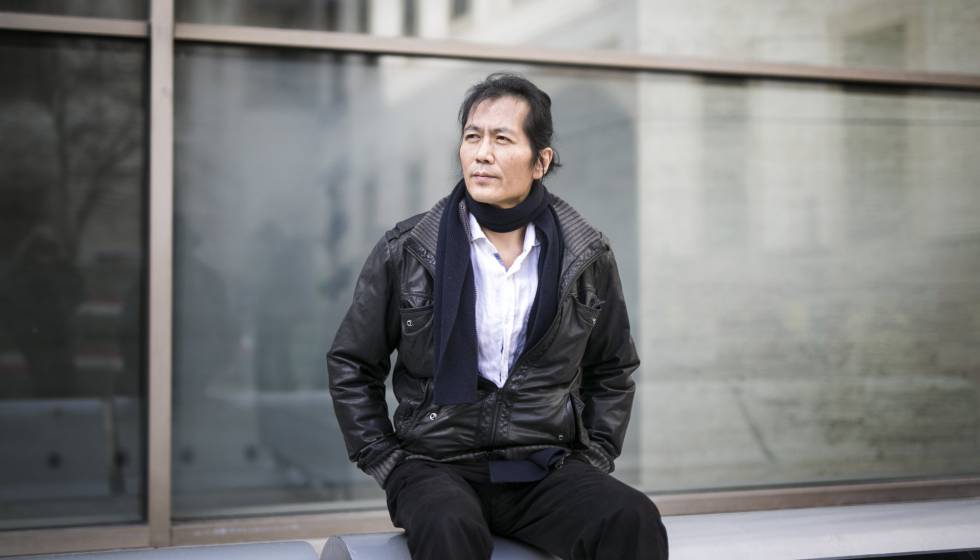 I. Political Correctness
The Korean philosopher Han Byung-Chul (above) was right: Orwell's 1984 society knew it was being dominated. Today — and take Malaysia — they are not even aware of the domination so that supporting Mahathir seems the natural thing. Political correctness, says Mario Vargas Llosa, is the enemy of freedom. "It rejects honesty and authenticity…, (an attempt at) the distortion of the truth."

To kill this enemy, cancel your Malaysiakini subscription. Demand for your money back, especially since they won't and won't listen.
***
II. Sell, sell, sell. Sell every fucking thing
For the first time, the DAP shall be defending — no, justifying — the actions of Mahathir Mohamad. In justifying, you can see why Mahathir, too, will destroy the DAP like he had sown the seeds of Malay destruction: After Umno, DAP next.
Here is, thus, a man who, being a lot of noise, could only understand and therefore do things the way he had always done it — a generation ago. But they would lie to say he is a changed man, trying to 'make amends'.
Najib Razak is a liberal to a fault, tolerating the like of PAS, Islamic crackpots and ISIS sympathizers. Being such a liberal, he could change. Not Mahathir.
His most serious adversary had never been Najib the man but his kind of liberalism that also sits comfortably with the Chinese, including Singapore and China. This is a liberalism against all things Mahathir — chummy capitalism (privatization and cronies), skin color racism, uncontested Umno power (ISA, Sabah immigration), political Islam, Malay hegemony (breed, breed, breed, he tells Malays). All this meant that, if he can't kill the man, he kills the party that sustains Najib.
To Mahathirism is now added Malaysian First bigotry. Mario Llosa:
[Nationalism] is incompatible with freedom. You just need to scratch the surface to see that nationalism involves a kind of racism. If you believe that belonging to a certain country or nation or race or religion is a privilege, a value in itself, you believe you are superior to others.
You can, hence, see why Mahathir sits so well with Lim Kit Siang and son: compatible yet contradictory and self-defeating. The serpent gobbles its tail. True, three weeks of Pakatan was not inconsistent: it was Mahathirism reborn. He simply called Lim Kit Siang's bluff:
"I was a changed man, yes, before May 9. Now I have changed — again. Haven't you heard, Kitty Lim? Change is the only constant. Ubah once, ubah twice, ubah always. Got a problem with that, Kitty?"
Give the mamak another (maybe) two years, he could do as much damage as in his previous 22.
To repeat: If you are outside, stay out. Watch as Mahathir goes from Singapore to the East China Sea, he kills, kills, kills. We sell, sell, sell — to help him along with the destruction. (Pssst, we are not yet done.)
Your move next, Mamak. Or, are you still confused by the markets?
***
III. The Racism of the Anti-Racist
Take your pick of the lineup (above), starting from the center. After which, tell me who is "less" racist, counting especially from the time when they were not "at the top" yet?
Mahathir Mohamad began his political career then rose to the top as the top racist. Ditto Muhyiddin Yassin and Lim Guan Eng. After which consider the motherfucker at the extreme right. He has a funny Arab name, Maszlee something.
For Mahathir to be wrong — again — is standard intellectual fare in Malaysian politics. But for him to say that racism is most intense, most malignant at ground level? Saying that means the lower down you go on the social status — the street beggars, the homeless, street sweepers, garbage collectors, coolies, casual laborers and the like — the more racist is the person. Imagine, therefore, the Malay pauper, holding out his begging bowl, shouting "ketuanan", "Malaiyoo bangkit!"
No, the higher up they go, the more schooling they get, the more English and the more Anglophile they pick up, the more racist they become. Want evidences? No need to go far. Look up this man, who likes to think he works for kings and presidents as a Scribe. Just click. We Chinese have a name for such spineless characters: running dog. Or, look up this piece of Anglophile cunt, who imagines herself as a sort of English 'creative writer'.
So, if Mahathir is wrong, why is he blaming others for his racism and deflecting it? For the answer, try perhaps 1981. Or to Lim Kit Siang in 1969.
***
IV. Malay Unity? What Holy Shit…
Sixty years ago, they talk of Malay unity. Sixty years later, they are still talking of unity… Aiyaah, as Anglophiles say.
When only Malays voted for Barisan in GE 12, Umno called for Malay unity. When a third of the Malays didn't vote for Umno in GE 13, they call for Malay unity. When most Malays voted for Umno and PAS in GE14, they still call for Malay unity. These stupid Malaiyoos….
Helen 'Aku Cina' Ang once imagined that PAS and Umno unity could simply rule with a simple majority — if only they were united. Well, what did Malays get for that unity?
Poor Malaiyoos. See the mess in the Malay unity states, Perlis, Kedah, Trengganu? Even Perak.
The Malaiyoo of the Valley who names herself (in the English) 'Annie' is pining after the same Malay unity. And this is at a time when, among Malaiyoos like herself, they can't decide who and what is the Malay (see clips below). Malay unity? As Mahathir would said, 'podah'.
Don't leave new Malaysia yet, Pakatoon. Your Malaysia Baru is going to be fun. These Anglophiles….
Malaiyoos, bangsat Malaise
So how did this Malay unity thing get its start? Short answer, Umno and Mahathir…
The above photo, dated 1999, shows the mamak/Malay poking at the DAP as a bunch of racist Chinese. Archived by the Bar Council, it is suppose to prove to the lawyers that Mahathir is a changed man.
Now, consider the graphics below:
Of course, Lim Guan Eng et al will say they are merely using Mahathir. (So conceited in their stupidity, it never occurred to them it might be other way around.) This is the man who sits at the pinnacle of power, who, on top of his Cabinet, has an army of committees to give him justification to break with Singapore, which he considers as a Chinese proxy. China has since been added to his damnation list so you can see where he's headed in his racism.
For further evidences into what that future will look like, look at Perak: it has already begun with a Mahathir hatchetman.
***
---
Chinese School Art & Intelligence

Jian showed me the two images, above and below.
When I dream, I remember.
Above: The painting is unique in the sense that it inverses everything that is conventionally known in the visual arts: objects cast a shadow on light, not the other way around; the wall substitutes as the front glass door; facing that wall of glass and brick, the girl's back is the front; she loses a flip-flop that causes you to wonder, was she coming in or going out?; and, lastly, notice the paintings. They have nothing.
Below: It is a piece of homework on the theme 'China, My Dream'. Completed by a Primary 2 child (who in Malaysia is still learning ABCs), it is astonishing for (a) its highly regimented syntax, (b) the paired rhythmic lines identical to a couplet; and, above all, (c) an essay construction deploying analogical reasoning, a kind of logic even Malaysian university students have never heard of.
Dating back to the Han era, the Chinese education system is the oldest in any civilization. It is so profound that it typically produces the world's best performing students. But Anglophiles (in all skin colors, from Lisa Ng, Sheridan Mahavera, Khoo Kay Kim and Steven Gan to Guan Eng and Mahathir), people who have never spent a day in a Chinese classroom, spit at us. They call for our schools to be destroyed. Because, so they say, Chinese is not a Malaysian language, although used by local Chinese, whereas English, a colonial, foreign language, should be made compulsory.
With Mahathir's return Anglophile bigotry and demands have grown incessant and louder. Did you hear…?
Jian said she had to read the essay twice. Me too.
***
Lovers then friends
Ten years ago we were strangers on the same street.
Ten years later we are lovers that only friends know how.
十年之前
我不认识你
你不属于我
我们还是一样
陪在一个陌生人左右
走过渐渐熟悉的街头
十年之后
我们是朋友
还可以问候
只是那种温柔
再也找不到拥抱的理由
情人最后难免沦为朋友
***