Northern Summer
Rain came. Yesterday touched 20 C. Flowers showed. The hanfu is back. Another summer has come. Yes, she will take that ring set.
---
*
THE DAY THAT SHOOK TROPICANA
*
The limits of my language mean the limits of my world. Whereof one cannot speak, thereof one must be silent. — Ludwig Wittgenstein 1989-1951
Three strikes and you are out, Danny boy.
You call this 'impeccable'? No, no. Let me show you what's 'ultimate lifestyle'!
Lee Chin, can you please open this door for me. I have long nails. No, no…, not this way. This is how you open a door, my dear girl: you must be 'smart and functional' and you must cut your nails beforehand. Otherwise, you can't go into the bathroom.
Danny! You call this a chair? A dressing table? You motherfucker of all motherrfuckers!
Danny, I'll make you a new showroom for free, available 24 hours to all.
*
The man who smashed his Anglophile world
*
Mr Danny Tan: To Citizens of the World, to Dream Chasers, to the Intrepid. Listen to your Heart, Be Complete, Be Beautiful, Be Fulfilled.

Mr K: Wonderful, wonderful. Thank you, la, Danny. I just want a house.

Danny: Yes, of course. But, can't you hear the bricks sing? The pillars dance. Even the paints smile back at you!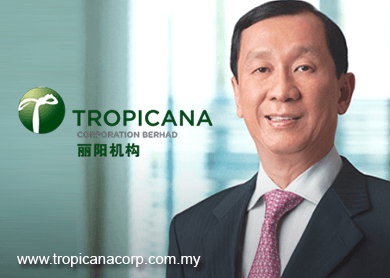 ***
WITTGENSTEIN IN A TROPICANA SALES TALK

Sleek Kuala Lumpur
Chic Tropicana
Savvy Danny
Although the market for The Residences are the Chinese, particularly in Taiwan, Singapore and China, the Tropicana advertising clip for condos is entirely in English. Your first encounter with that world of The Residences are the images. But, instead of your physical senses of sight and sound, language is still the ultimate connection to the world Tropicana had attempted to invent, and still does.
Language because it is the pliable surface layer to that external Tropicana world. This layer is permeable and impermeable; that is, it lets in information and it restricts information. Here, Ludwig Wittgenstein's Tractatus Logicus-Philosophicus applies. You can only know the world outside you to the extent of your language ability. Without language, how can you talk of anything and, therefore, know anything? (In one of the novels of Gabriel Garcia Marquez, he described a world before the arrival of language where the only way to describe a thing, anything, was to point.) From the Tractatus:
The limits of my language mean the limits of my world. Whereof one cannot speak, thereof one must be silent. The world is everything that is the case.
With that primer out of the way, return to the Tropicana clip. Almost certainly manufactured by some Tropicana hanger-on in Malaysia, it employs words like "chic, sleek, 550ft above the city, fun starts here" in between flashes of images that were plagiarized. When is a condo, 'chic'? What is it to be 'sleek' or 'luxurious'.
And the term '550ft above the city'. What is something that's up in the air if not the equal of a pie in the sky?
The cliche 'fun starts here' is the advertiser equivalent of Malaysiakini's Anglo-American propaganda line which says, 'truth begins here'.
Most readers here don't read nor write hanzi, so you will have to take my word for it: Translate word for word the clip into English, it will look stupid. There is no word for 'chic'. Slick can only be rendered as 光润 guangrun which combines the qualities of glossiness, brightness, moist and softness.
The English language, you see, is manipulative of thought and, therefore, very deficient in conveying reality. Not the Chinese language. Being pictorial and ideogramatic it is resistant to such mental manipulation — which, we in China say, 'wash mind' 洗脑 xinao.
Or, to put it in the American vernacular, Malaysian Anglophiles are completely fucked up.
But from where had Danny Tan Chee Sing, owner of Berjaya and Tropicana Corp, acquired this sort of thinking or marketing mentality or, more broadly, culture to even accept the sort of salesman clip? From where had its advertising agency brought in that stupid clip? That is, why do they deceive so much? Deceive because if you go back to the clip, nothing, not the condo, not its existential essence nor the terms of the sale and purchase agreement is self-evident. All that you get is salesman propaganda collapsed into a series of flashing images and words, exactly the way DAP and Pakatan Harapan politicians sell their utopia politics.
One man bought into that propaganda, that pie-in-the-sky utopia, and upon discovering everything was all a lie, he proceeded one day to wreck it to pieces. The clip below follows:
*
Lee Chin is the woman behind K. In your prayers, if you believe in voodoo and if you pray, spare a thought for the poor woman: She's just doing her job, wedged between a sledgehammer and some Danny pie-in-the-sky.
*
DANNY'S PIE IN THE SKY
His grievance — let's call him K, as in Franz Kafka's K — is ostensibly straightforward: K paid about RM2 million for a unit in the condo-and-hotel building complex in Ampang next to the KLCC. That was completed in late 2018. The condos, totaling about 300 units and collectively known as The Residences, sell for between RM1.4 million to RM4 million a piece for an average of RM3 million. Keys were received on March 23 by the registered owner, a woman (K's wife? daughter?). After which K met representatives of Tropicana Corp, the condo developer, to discuss extensive interior defects, ranging from broken floor marble to low (hence cheap) quality interior fixtures including furnishings.
As with such meetings between buyer and developer, almost nothing changed after that, if at all. On April 1, the registered owner filed a report with Tropicana on defective floors. On April 10, K video-filmed a meeting held with Tropicana's representatives inside the condo. With a spray can and sledgehammer he proceeded methodically to wreck the place.
Copies of his videos were spliced into a single clip. Various online platforms picked up the videos, including one by Rojak Pot where some 'Dr Adrian Wong' helpfully posted the full-length clip (above) while proclaiming, apologetically, that he is some fair angel who sides with nobody: All "controversies have two sides", he says. Which is of course a stupid cliche: Truth is always one-sided. Always. The other, flip side is called, False. Sometimes it's call a Lie.
But, what do doctors know….
Several conclusions can be inferred:
One: K is at the end the rope hanging over a cliff. All his protestations have come to naught. Meetings with Tropicana were just that — idle chatter. He will write off his investment and has said so in the clip to that effect. He almost certainly will re-sell it or rent it, but the market is bad: As of this post, 112 units are (still) for sale, 175 going for rent. Average rent a piece: RM5,500. Four years before its completion, Tropicana had been trying to sell the same units, 2015 in Hong Kong and also in Taiwan, in numerous events screening the advertising clip and bragging incoherently about 'style and elevated senses', whatever the fuck that is. Those they invite to their 'product launch' reminds of Jho Low and his retinue of petty bourgeoisie on the Equanimity deck, champagne flowing, lots of bare back girls, English speaking, all pretending to be like some white noveau riche from Europe, and so, like the Danny Tan kids, all Anglophiles, maybe even God-fearing Christians, who had in 'beating the system' (Jho Low) made good by singing the same free market, scam-all-you-can carols you hear from Steven 'Wonder' Gan of Mkini and DAP's Yeo Bee Yin.
Two: Tropicana will not compensate K, neither financially nor make good the defects. (See its written statement below.) In the same way Mahathir Mohamad fixed Najib Razak, the company's refusal to deal with K starts first by appropriating morality to their side: 'extortion', 'traumatized' by K, it says, while proclaiming Tropicana to be a reasonable thing following contractual law.
Tropicana knows this: It has power and influence on its side, especially with Harapan politicians queued up on their aisle. Take the Edge publication, for example, a Harapan sponsor and owned by a former MCA man who, with Anwar Ibrahim patronage, got his big start with a bank license. The Edge devoted its entire report to regurgitating Tropicana's statement, with nothing on how the event came into being, much less add the clip to the report. The editors painted K as an "alleged representative of a unit owner" who went on "a trail of destruction." Those editors, as dim-witted as those in Malaysiakini, couldn't see their contradiction: how could you as a 'representative' — and only an 'alleged' one at that — be 'dissatisfied' over something that isn't established as yours? In Malaysia, stupid tycoons and editors come in pairs and are a dime a dozen.
Three. There will be no (legal) consequences, for Tropicana in particular. K's threat to flush Tropicana's reputation into the sewer is only as good as the summer wind blowing through the forest in my Liaoning. And K knows it: once money changed hands, the lever of power is no longer on his side. So Danny Tan need not bother himself about the clip for the fact that, in an Internet age, reputation is a matter of propaganda. He remains the Anglophile that he his, oblivious and nonchalant to the wreckage around him, and so his attitude towards his customers will remain unchanged. Below, for example, is Tropicana saying the same thing that K is fundamentally angry with:
We remain committed towards continuously delivering quality homes that not only fulfil the lifestyle aspirations but also enhance the quality of life of our customers.
Reread it, and note the same airy, gaseous turn of phrases that filled the Tropicana condo advertisements: 'lifestyle aspirations', 'enhance', 'quality homes', 'quality of life'…. What is a lifestyle aspiration if not aesthetics and comfort? When does life takes on a 'quality'? Whose quality? By whose standards?
That 89% of buyers, say Tropicana, are satisfied with the condos say nothing about their quality. They could simply be satisfied with the treatment — like Lee Chin, docile, obedient, hands clasped, heads nodding, silent, sympathetic — which they had received while complaining and note that Tropicana did not say how many complaints came in.
That the Tan brothers, Danny and Vincent, could understand nothing from the wreck of K's condo says much about their Anglophile culture (referred to in Wittgenstein) and its limitations. They especially reveal their moral value system: to get ahead, fuck you, and fuck everyone. Only say the opposite.
Those are not Chinese values so that when K referred to the Chinese in China, it showed he didn't understand Chinese culture either. He is an Anglo-Malaysian, who fell to Anglophone bourgeois propaganda. He is as Anglophile as Singaporeans, the Dannies, the Vincents, the Mahathirs and the Stevies, in who you find their biblical injunction to avenge a scam.
A Chinese in China who has fallen for the scam is more likely than K to first curse himself for not being able to read the contract and look out for what's unstated, then bitch to the wife, kids, and relatives, later offload the property to some unsuspecting buyer, vowing under his breath never to step ashore in Malaysia. Confucian values have a far more stoic element: look inward; think and act; shit happens — all the time.
These differences in cultural attitudes explain why MCA has acted with docility in spite of 60 years of bullying by Mahathir's Umno. MCA politicians misread the ability of the DAP, once it turned Anglophile, to influence the Chinese mind: that is, democracy requires far, far more effective propaganda than a Confucian society — or authoritarian power because why bother to spread propaganda disinformation, why bother to lie if you already have the means of influence over your subjects?
Such Chinese morality values — honesty, uprightness, and 言而无信 — fills the Bentong clip from beginning to end. Petra Kamarudin, another stupid Anglophile say they are 'angry': Do they sound or look angry? The Chinese will know what to do next.
This is not to say that no Chinese will lie or scam. This is just saying that our values will suppress the negative side whereas Anglophile culture exaggerates even promotes them. Vengeance is mind, says the Bible, and so it's no coincidence that Anglo-Malaysians like citing the dictum of the 'means serving the ends'.
At the fundamental, epistemological level, let's return to Wittgenstein:
Here's Tropicana trying sell something by converting your money — they call it 'investment' — into another form of reality (the condo) that doesn't exist or, if it does, can only materialize years later. No guarantees there. Even so, Tropicana's attempt to conjure an absent reality runs into this problem: How does Danny persuade K to immediately part with 2 million for a non-existent product?
Tropicana turns to fictional language, the only language available, and almost all the words used below to describe the condo are adjectives that attempt to describe a non-thing:
impeccable,
chic,
thrilling,
upscale,
sleek,
smart,
functional,
vogue,
vivacious,
bold,
stylish,
spirited,
mercurial,
passionate,
enough to 'knock you off' 550 feet up in the air.
That, the above, is not a made-up list. It is provided by some Anglophile copywriter and art producer who probably went to school reading Jane Austen then, upon graduation, re-sell the same language to half-wits like Danny Tan who would have read the same sort of condo promotions in England. Re-read the list because the words in combination conjure an imagery you cannot quite place. It's like the Anglophile attempt to imagine pastoral England from Thomas Hardy novels, or a farm girl running off with a Christian pastor, any of which is not in the daily Malaysian experiences of living in coconut trees and out of mosquito swamps.
That is, to rephrase the above, those descriptions are pure inventions and have nothing substantive to do with K's transaction of 2 million ringgit for a condo. He was just taken for a ride, and he didn't know it. Or, if he did, he did so willingly, trusting in the canvas of fictional imagination.
Even that imagination can only go so far, as far as our experiences will allow. Outside of that, outside of the brick and mortar building, the words still say nothing about the condo, not even the location. When is a condo 'passionate'? What is it to be 'vivacious'? Or 'smart'? What's so 'bold' about K's decision to buy a Tropicana unit?
Because all the questions answer to, 'Nothing', then the substitute for specificity and concreteness is language, the same language that Tropicana — and Malaysiakini, too — trolls out daily. K fell for the same world he has grown up in, come to know, and gotten used to. It's the only primeval world there is for him and note that in the clip, between switching from English to Cantonese and back, he uses only English — never Chinese — when describing the sofa, the dressing table, the doors, and the floor. It is the kind of language George Orwell warned about, one that
"make lies sound truthful and (fraud) respectable, and to give an appearance of solidity to pure wind."
***
Hello Joey, how're you doing?
If you know what's good for you, don't mess with us, not in China especially. Listen, obey, keep your head down and you'd be okay. You want a girl on warm summer nights? Go fuck your mama.

The same setting above is found in the launch of Tropicana's condos: lots of oogling, bow ties, some Russian caviar, lots of girls and, above all, Anglo-American whiteness.
China has more than a hundred times as many such 'Residences', with next to no 'showrooms', and yet they don't sell it the way Danny does. Not one. Want to know why?
We don't need to because we don't fucking 'pre-sell' in which Tropicana takes your money and passes all construction, completion and financing risks to you. Then, if that's not bad enough, the tycoons make money from your money — leaving you a supposed RM5,000 sofa set with a RM500 piece of junk made in Tan Kok Wai's backlane Cheras — after which the editors of The Star, Edge and Sun, oogling at all that accumulated wealth, begin to write of business superstars as if the Dannies and Vincies are a wonder specie from heaven. Or maybe not: Maybe Danny's underlings pocketed the sofa difference, and quietly dropped half into Kok Wai's electoral campaign.

Jack Ma prove the Anglophiles wrong: even a Hebei farmer or a Fujian primary school teacher can make more money than all the Malaysian Dannies and Vincies lined up from Johor to Penang, and this rise of the Chinese is due to ingenuity and concern for the public. Not scamming, propaganda and bribing the Connections. Also, compare Tropicana's launch elsewhere to this presentation, in Chinese.

Yes, Tropicana is "impeccable, chic, thrilling, upscale, sleek, smart, functional, vogue, vivacious, bold, stylish, spirited, mercurial, passionate, enough to 'knock you off' 550 feet up in the air." It is heaven on earth; even the pillars dance, the bricks sing, and the paint smiles back at you.

But where, Danny, is the fucking condo?
Why are Malaysians so stupid, taking out 2 million after a piece of propaganda shit when you won't pay 60 bucks for a durian without first smelling its arse?

I told you so, dear reader. The ultimate Malaysian problem, you see, isn't just the Dannies, their underling Ivans and Hannahs, the Syeds and the Kadirs; it's the fucking society, its rules and lies, its conventions, systems and gods to which you are raised to believe and accept and which Harapan won't change because they don't know how and can't know: Change to what?
Why do Anglophiles look up to Joseph Lim, a man who doesn't even know how to tie his tie, or his shoelaces. To see the veracity in that statement, check this out: Father Lim says, I'm proud to be Chinese and then some years later sonny boy replies, But, Daddy, 'I'm not Chinese'.
What does that make Joseph Lim a/l Kit Siang? A virgin birth, like Jesus? A bastard?
Yet, at that moment, one morning in May 2018, everybody from the Prime Minister down is clapping and cheering, and Stevie Wonder Gan declares the next day that Josie has made the world's most profound episcopal statement, enough, so it seems, to shake the planet down to its core. Phew…!

Below, all the Tan Anglophiles, front and back, left and right, the Dannies and the Vincies. In the Chinese new world order, they are so yesterday. Like that Lim uncle and his bastard son from a Johor pig farm.

Sidebar: Some years ago, news in China reported that the local multi-billion dollar McDonald's franchise was sticking rotten meat into its hamburgers. Some people had complained of diarrhea. Police stepped in. The next day they went to the tycoon's office, marched him out through the door into the street, still in handcuffs and leg chains, then shoved him into a waiting police van for the neighborhood to see. (He was never seen again in public.)

Moral of the story: There are no Vincents nor Dannies in China, and the only tycoon that exists is named the Communist Party. Everybody else is equal and must behave accordingly.
Another true story. This is about some top-rated, wealthy, beautiful actress. One day she disappeared without a trace. Months later when she reappeared in public, it was to declare — in writing which she read out — that she would pay all her back taxes, about 6 million ringgit, and promise to make good on all taxes to future income. No more cheating.
Hey, Danny! You coming to China? Ask KFC for some palm oily advice and remember to get some Mandarin tutoring classes. In China, our contracts are in Chinese. On the way, you might want to pick up a book at the airport. It's called the Analects. Or, if you prefer, try the Tractatus. You know how to read, don't you?

In China, you scam, you die.
*
Next two images
Tropicana's dismissive attitude towards K.
***
---
Pusing and pusing: Olang Cina kena tipu!
(Sounds like a Tropicana sales launch.)
Listening to DAP sales talk selling a Tropicana Utopia, the clip above reminds of the Chinese wisdom: 言而无信. It means, literally, 'never trust to speech' — not even for the speaker.
Petra Kamarudin or RPK, from whom the clip was lifted, said the Chinese were 'angry' with Harapan. Did you hear angry words? But, what does a stupid Anglophile in Manchester know?
What you hear instead peppered from beginning to end are morality issues: The reliability of speech rests on a person's trustworthiness not his words. Harapan politicians, DAP ones in particular, failed on both counts: their persons and their words. These things always come together.
*

JOSEPH LIM'S UTOPIA IN A MOSQUITO JUNGLE

It is not a coincidence that only in the English (in Malaysia) that political language should be the same as Tropicana's use of fictional words in its advertisments. Both forms appear daily in Mkini. This deception isn't difficult to detect once you begin to read closely, as a matter of habit, and then question the lines. No wonder Hemingway insisted his novels carry no adjectives for that would require lots of lying.
All this is a roundabout way to say that K's actions showed he was lied to. And self-destruction, or suicide in another word, is the only way out.
His problem isn't ostensibly a matter of getting what he paid for because this way of looking at it begs the question: What was he expecting? Isn't his expectations spelt out and, therefore, limited by the S&P Agreement? Doesn't he know how to read?
But expectations are not the same as contractual law. In some legal remedies, the advertising is considered part of the contract. Not in Malaysia where the contract supersede the expectations, even if the latter was cultivated by misrepresentation. These misrepresentations are everywhere in Tropicana. In combination, it was fraud, identical to the way 1MDB was fashioned and sold to then Najib government.
It is the marketers dictum that they can proclaim their product to be the world's best, and that's not illegal. Buyers beware only because lying is not illegal: Mahathir Mohamad, Lim Guan Eng, Steven Gan, et al, all get away with it, everyday, in the name of freedom of speech and human rights.
That advertising agencies are professional liars paid for the task the Dannies and the Stevies want done in order to extract money from K and others is today a given. It's even respectable. Anglo-America created advertising, which was necessary to democratic politics. The only difference being, nobody nor does Malaysiakini ever call it propaganda: selling to the electorate a pie in the sky (it's call Hope) in return for their vote that will, in turn, give power to Harapan politicians.
It was in the campaigning leading to May 9, 2018, that Harapan propaganda flipped around the above idea: Power that is today accrued by its politicians was portrayed as belonging to the electorate. Post May 9, voters find that to be a lie. And here's a simple test: where is that Harapan pie in the sky? Life hadn't changed an iota, whereas the power to control, to influence and to dictate events, to jail and to set free, rested entirely with Harapan and the institutions its politicians control, the jail, the courts, the police, the contracts and, above all, the money.
In the clip K is expressing a parallel disillusionment voters have with Harapan today (see the Bentong clip above). The only reason they have not descended on Putrajaya with sledgehammers is because, practically, they don't own the government and because the police would be waiting. By any standard, voters were defrauded as K was by Tropicana. But lying is not illegal.
***
---
*
Don't Ever Vote an Umlungu
In South Africa, anybody but a White.
In Malaysia, anybody but an Anglophile. (Itu olang sama sama la)
***