Pendatangs in Xinjiang
Mahathir Mohamad's racism and racial politics in China.
That's a great idea. Now, how come we never thought that before? Make them pay 15% — no, no, 50% — more for everything, houses, even their underwear. All businesses must have minimum 99.5% indigenous shares, in accordance with racial quotas and ethnic composition. University places 0.01%. Employment in government 0.005%. Recruitment to the Royal Chinese Regiment 0.00025%; they can wash toilets, can't they?
*
Hey Annie! Do you think they (those below, walking) are all ever loyal to the People's Republic of China?

If not, where should we dump these unpatriotic Uighur motherfuckers? South China Sea or Straits of Malacca? Their easy camp life is costing us a lot of money, food and board and all.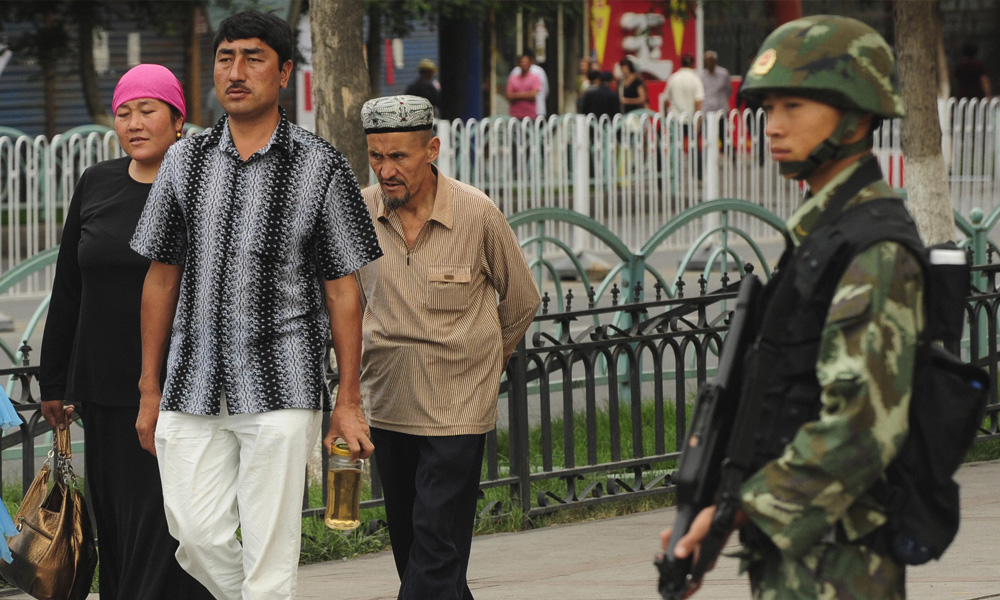 Feeling oppressed, Uighur? Fret not. Saifuddin Abdullah, Rais Hussin, Pakatan Harapan and the DAP Evangelista Regiment are coming to your rescue. (Indeed, they will be in Beijing these few days.) After that you will be relocated to heaven soon. It's called Malaysia. That will be your BRI contribution to cultural exchange with Malaiyoos.

Hey, Comrade: If anyone of them as much as fart, no re-education. Just shoot the motherfucker.

They are on Chinese property, eating out of Chinese soil, under the Chinese sun, living Chinese rights. Lucky that so far they are even allowed to breath, reproduce and make money. Thousands of Chinese under Mamakutty weren't so lucky.
Human rights? When they are dead in Putrajaya they can claim it from their Allah — or Mahathir Mohamad, RIP. Being martyrs and all, they can even demand their rights to 72 virgins from him. Or is it 62? Will someone please check the Quran: I stand corrected. Presumably they will be Malaiyoo virgins, with a sprinkling of mamak girls, but still halal. What does the Holy Book say about them? If you're going to be a martyr and you're eyeing Annie, forget her: she will fail the virgin test.

***