HONG KONG OR DEATH
Another day, another racism, another war against the Chinese.
Dear Mrs Carrie Lam 林鄭月娥 你好,

In the hour of darkness

The Motherland Calls

This millennial generation that you are treating with a pair of gloves is a grave mistake. They are a Fifth Column. They first showed their hands in 2014 and, after that, your predecessor, out of stupidity, treated them simply as a bunch of wayward kids in the Chinese humanist belief that when they grow up, and after they learned to repair a roof, they will see from top of the ladder the world differently beneath. They haven't. So that what happened on July 1 is not a matter of 'lack of consultation' which you delude yourself to believe in so as to excuse a failure to prevent a repeat of the Umbrellas.

Of course, with money, connections and diplomatic support, Anglo-Americans have a hand in this millennial regime change project. That's to be expected. They do it all over the globe, all the time, out of making money, out of ideological convenience and a sense of Christian conviction and superiority — in that order. And they have demonstrated repeatedly, both in word and deed, they want regime change in China so that if Jimmy Lai and Alan Leong went to meet John Bolton with Tsai Ing-wen's agents then that shouldn't surprise anyone. Neither are such meetings out of the ordinary. China has a history of its leaders selling out the country. Remember the fall of the Mings and Chiang Kai-shek?

What is intolerable is your naivety — and, dare I say, stupidity. You say the majority of street marchers are 'peaceful' protestors, let's call them the Group A, whereas those hooligans who broke into and vandalized LegCo are a separate, smaller Group B, as if they are a different human specie altogether.

Suppose you are right. This means that at any time, say, on Chinese New Year eve, Group B can smash their way into LegCo and they will still succeed to take it over. You get the point? Can't you see a simple fact: Group A is the swamp on which Group B thrives, one living off each other, so that in the last five years both have grown better fed and stronger!

And the reason they have grown is because they see themselves, like Anglo-American Christians, the sole proprietors of this society. Yes, they are traitors, receiving money from George Soros and the American NED. But they do so as a part of their lives that's constructed on a platform of racial, condescending religious values and liberal ideology. They see Hong Kong as an Anglophile bastion of a liberal world, sitting and blowing poison gas into the arse of China.

In despising China, by fighting us, they also defend Anglo-American interests and political and commercial ideology. No, they are not merely slaves of America; they see themselves as masters of the Chinese and our country. For them to defend America is to preserve the swamp that Groups A and B thrive on; they see themselves as storm troopers of the new world order in which their imitation White way of life must dominate.

They see themselves as a superior anthropology, a different society in a different country, governed by a different philosophy, rooted in a different set of laws and values. They would like our country to be like Anglo-America, of course, with history rewritten and a different set of entrenched immorality. In such a world — their world — we Chinese have no place. It is either we submit, like the natives of America once did, or we die.

Your task isn't therefore simply to preserve the peace of Hong Kong or to save it. No, it is to defend the Chinese and preserve the land and the life passed on to us by our ancestors.

Let's be clear: We Chinese will not accept them. We will not sit on our hands while you let them walk all over us and our Motherland. We have been in this situation before, wrought by the arrival of the Anglo-Americans. Remember Taiping's Hong Xiuquan 洪秀全, the brother of Jesus Christ? No, they aren't just nuts; they are a cult. All this means that unless you deal with them effectively, once and for all time, we the patriots of China will have to step in and you can kiss goodbye to law and order.

Your ultimate aim, you see, is not to win them over with all your yada, yada about consultation. If that were possible, July 1 LegCo wouldn't have happened. Nor would have Sheung Shui yesterday nor the need for Press conferences after Press conferences. The pertinent groups you need to consult are not kids nor welfare officers. It's Intelligence, the police and national security.

Understand this, Mrs Lam: Bad people exist so this isn't a question of refining your political approaches. You are not dealing with a political problem because if they were to take over your job tomorrow, will we all go home happily ever after? Will they stop being protestors and Shenzhen won't be next?

This is racism we are up against. They won't go away until they see Xi Jinping hang from a tree.

You are, you see, dealing with religious bigotry, the sort you see in the Islamic State, coupled with an unbridled ideological criminality, which is what insurrection and treason amount to. So let me, therefore, be very clear if you still don't get it: Unless you root out and be done with these motherfuckers, we ourselves will finish them off so that, one way or the other, you are looking at civil war. Which, in turn, boils down to, Whose side are you on? Our Motherland or Anglo terrorists.

小弟

PS: Anglo-America controls the media and so control the discourse. Until America is defeated, there is no way in the world you can change that, no matter how many Presidents they change and how many Press conferences you hold. Look at what comes out each time you talk, you explain and you plea. So fuck the media; it is completely unnecessary to you because it's pointless in what you need to achieve. Our civilization and culture never have to depend on the good words of White people and they are never, never, never going to change in that direction either. To understand that, just ask yourself, why not? Sheung Shui yesterday again proved the point. To war against us is their collective raison d'etre.

Learn the lessons of Ukraine: Today metal pipes fashioned into spears against policemen. Next day, they bazooka one of Ukraine's important buildings. They once set a man on fire on the steps of parliament building while cheering: Freedom! VOA, Reuters, the Guardian and BBC wrote about the chants of freedom and never mentioned — not a word — the man being burned alive by the protestors.
The Ukraine Lesson
See the similarities, Mrs Lam?
Today, five years after capturing Parliament and ruling Ukraine, they have used grenade launchers to attack, in turn, those wanting to expose the American-designed regime change project (below). And, of course, the attack wasn't reported in Reuters nor the BBC. Why should they? Anglo-Americans are supposed to be for freedom and democracy.
Fighting western, BBC, CNN propaganda.
***
---
*
The Neo-Racism of HK Anglophiles
picked up from Anglos
*
THE ANGLOS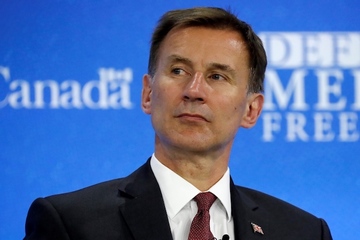 Jeremy Hunt in London
Tim Hamlett in Hong Kong
John Bolton in Washington. No prizes for guessing the man next to him.
*
THE RACISM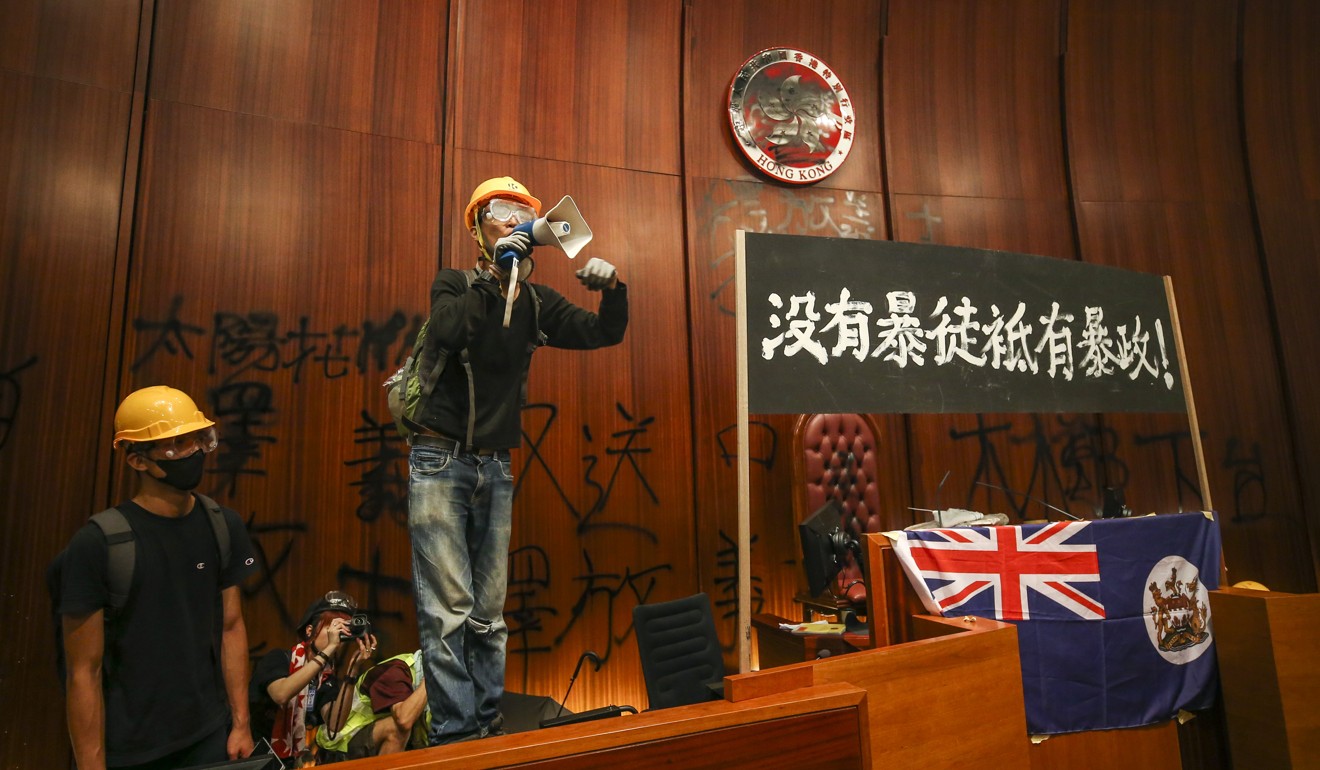 "Listen y'all! We are peaceful, human rights demonstrators, so don't get wrong ideas. Okay? We're not anti-Chinese. We have many Chinese friends. We want only democracy. Commies won't give us democracy, we'll rule without it."
Point taken. After Sheung Shui, then Shenzhen and then Guangzhou! Onward! Onward to Beijing!
But … wait a minute: You guys couldn't even keep Central!
What..? You want more money? Greedy Hongkies!
*
THE ANGLOPHILES
"Don't call me Moo…! My name is Claudia. Claudia Bowring! This is my husband…"

"…May Jesus bless his eternal soul."
"My name is Andy Leong. Call me Andy…
"…See the man behind me, on the wall? He was one of the first settlers of Hong Kong. I inherited this place from him. So, tell me, are we not the indigenous Anglophile people? Why should Chinese rule? Shouldn't we rule ourselves? Shame on the Chinese!"
*
ANGLOPHILE PROPAGANDISTS
"HR Press Awards? What do you think we are? Running workdogs? Please… We demand more pay — and the Nobel Peace Prize!"
Jessie 'Buffoon Tooth' Pang of Reuters
Frances 'I'm not Chinese' Hui (of Boston la!)
Other than Jesus Christ, what does Frances and Jessie Pang have in common with most regime change plotters: They work the same turf called Media.
*
ANGLOPHILE WORK FORCES
"Taking a break? Anything yet from Uncle Sam?"
---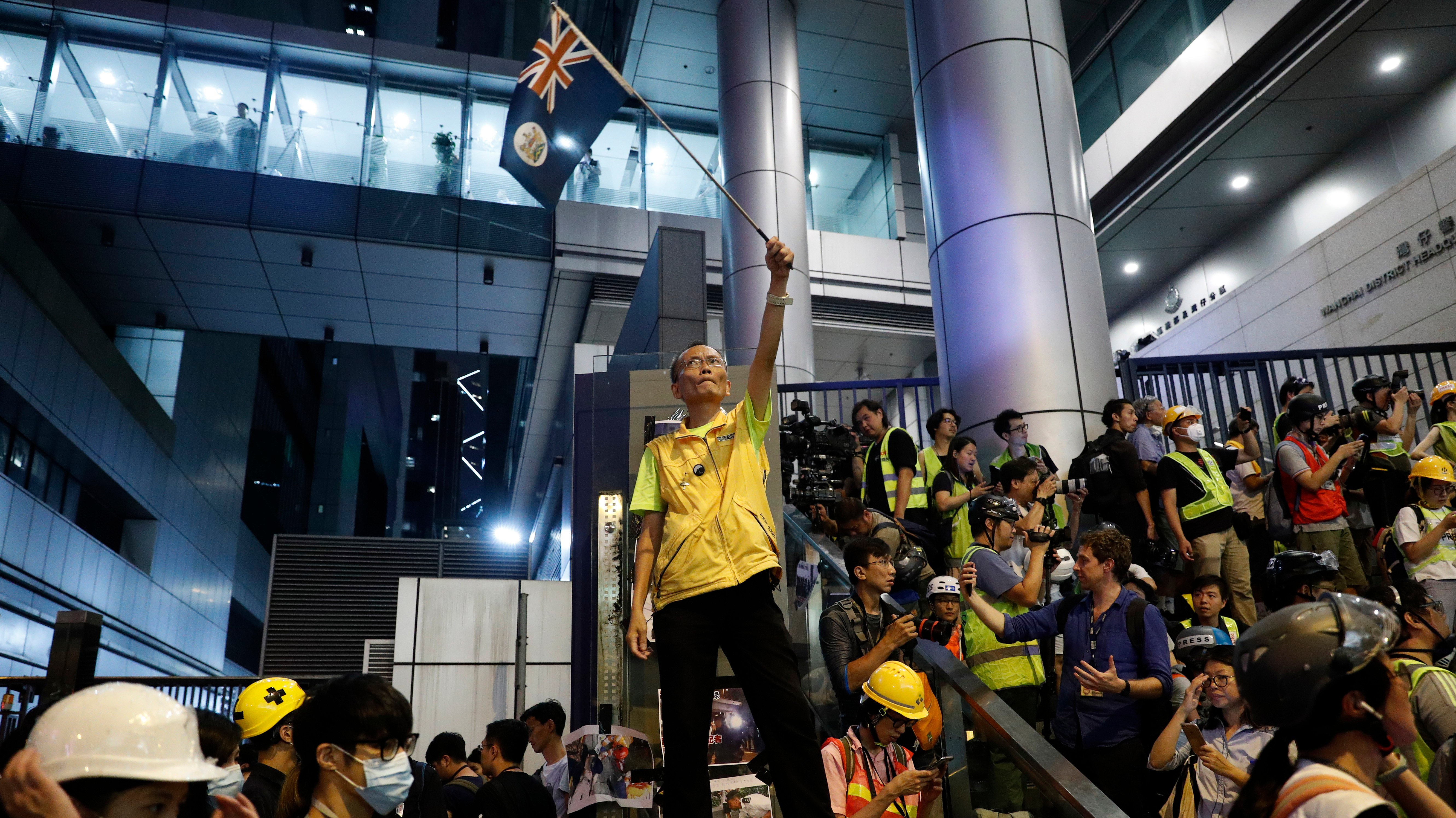 Above: July 1 inside HK's parliament building.
---
Between above and below, spot the Yellow Man difference? No difference?
Really, those Anglophile minders should increase the regime change budget so that Yellow Flag Man can at least afford a change of those sweaty clothes.
---
Below: July 13, two weeks later, two hours from HK's parliament — in Sheung Shui, the last HK district before entering Shenzhen. Yellow Man turned up on a hot Saturday late noon with a few hundred others to chase away the mainland Chinese.
FLAG MAN, YELLOW MAN
Notice above, on his right hand. Then after switching to left hand, below. This is obviously tiring work for an old man.
So, for his troubles, does he get minimum wage?
At least he's a dedicated, loyal worker, smiling even under so much work stress.
(Psst…heard that the going rate per head for doing work other than march is HK$800 per session, HK$1,200 if overnight.)
While Yellow Man flies the flag, his co-workers below are busy closing down a street of Sheung Shui, July 13.
---
SPONTANEOUSLY ORGANIZED
Busy, busy, busy…
As water-filled barricades are dragged and pushed in from a nearby construction site, they are lined up across a Sheung Shui street then tied together as above. Even bus stop signs are used. Note the standard work issue: yellow hard hats, gloves, goggles, mask — especially mask — and … umbrellas!
For the above, make a guess:
(a) Girlfriend in hotpants helping hardworking fattie boyfriend?
(b) Shielding him from… police peppers?
(c) From the 'cruel' burning sun?
On all counts: wrong, wrong, wrong. There were no cops anywhere for a mile around. The answer: Cameras!
See the next scene when the RT camera focuses on the group: Immediately, a second umbrella springs open and more are brought in.
What a lovely spontaneous and peaceful and democratic demonstration…
But, why do we keep thinking they are merely against a piece of paper called a Bill?
***
---
*
THE POWER IS SHIFTING…
*
*
From the Anglo-American ashes of the desert, will come a new power.
*
The theoretical backing: Why Anglo-American liberalism must be crushed.
***