TAKING LEAVE FROM RIOTING…
And gosh..! Mr Simon Cheng Man-kit goes missing!
Over Mr Cheng they'd riot, of course. It would be in solidarity with him and against Chinese oppression.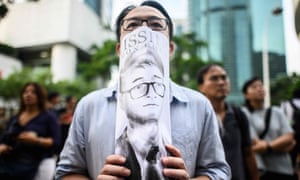 *
Anyone know where is Mr Simon Cheng?
Kidnapped by the Commies?
*
But good news!
Lucky thing and thank Jesus we found him — in a Commie Lo Wu brothel — and that in time, too,  to stop the riots.
*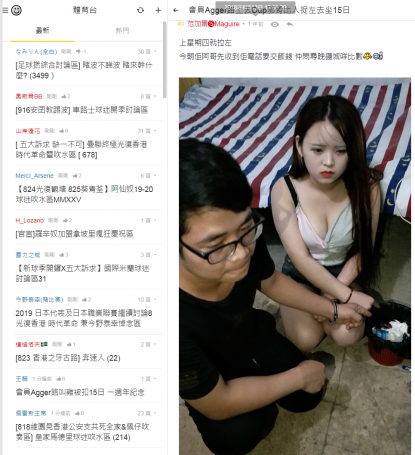 *
See the little thing circled in red in the trash can, image right corner? That's Cheng Man-kit's condom — blueberry flavor probably — with his last drop of cum just in.
But pity the girl and spare a thought for her. See the stoicism in her face: She is probably no more than 15, 16 so Mr Simon 'God Save the Queen' Cheng could have been been charged with statutory rape. The girl is likely to have come from a very, very poor family, perpetually hungry, never enough to eat in a northern mountain village a thousand miles away where winters even freeze your bones. She just want to make some money to send home and had to receive an Annie motherfucker she never knew went round town throwing bricks at Chinese stores and burning China's flags.
My bet: They will quietly let the girl go. For her, forget the rule of law; we Chinese are that sort of people, humane, and compatriots in my Motherland know right from wrong, separating the wheat from the chaff. (Neither the images nor the YouTube video published here will embarrass her. They are not accessible at where she comes from.)

*
With mystery solved, and with our Man in China found at last, ever wonder what happened to the "Family's Statement", which the Anglophile rag sheet the South China Morning Post turned into an international affair of biblical proportions. (Canada banned all staff travel to the China mainland: It didn't say if the ban is applicable only to husbands and boyfriends.)
As for the statement: With the help of the writing skills of SCMP editors the family will probably amend it.
"This is a Commie sex trap, a conspiracy against one of God's Chosen Ones. We protest in the strongest possible terms at such despicable attempts to smear the good name of Her Majesty's Consulate General of the United Kingdom, the Cheng family and of our beloved Son. We strongly urge the world to stand with Hong Kong."
What's puzzling is this: Is there something wrong with the cunt of Mr Simon Cheng's Taiwanese girlfriend Miss Li? If the in-between the legs of Miss Li doesn't work, why pay for sex? He has only to call up democracy and freedom backer Annie to receive his dick.
Answer: Don't bother with Annie; coming to age 40, she is used-up, and fucked up through and through.
Other than Annie and brothels, there are, besides, juicier options — from the marchers (where else?). Below is one … and these are fresh off the classrooms, grown and cultivated in Hong Kong. Virgins! Age 14!
***
---
Update
This is fun, a collateral damage classic…
Caught in Friendly Fire
I told you so, these are stupid motherfuckers: Where does he want to go with the fire?
*
This one, dear reader, is bonus:
Watch what happens when Annie's courageous, never-surrender, never-say-die, never-roll-over freedom fighter is unmasked…
***