Prelude
Democracy's Handiwork in a Single Night, 2019 Oct 4
The images shown above constitute only a fraction of Freedom's destruction. This post is in four parts…
*
---
Part 1: HONG KONG IN DIRE EMERGENCY
*
Notice on the Emergency Law banning masking the face in public places, and circulated to schools on Oct 4, effective Oct 5 at 00:00 hours. Penalty: 12 months imprisonment, fine HK$25,000.

On the same day, Oct 4, Tsang Chi-kin (pix. below) was charged in court on three counts, including rioting. He faces 14 years in jail and won't be taking his university entrance exam, the DSE.
*
Is that all you can do, Carrie?
Carrie Lam, RESIGN!
*
---
Part 2: THE ISIS REPUBLIC OF HONG KONG
The Declaration of Independence
*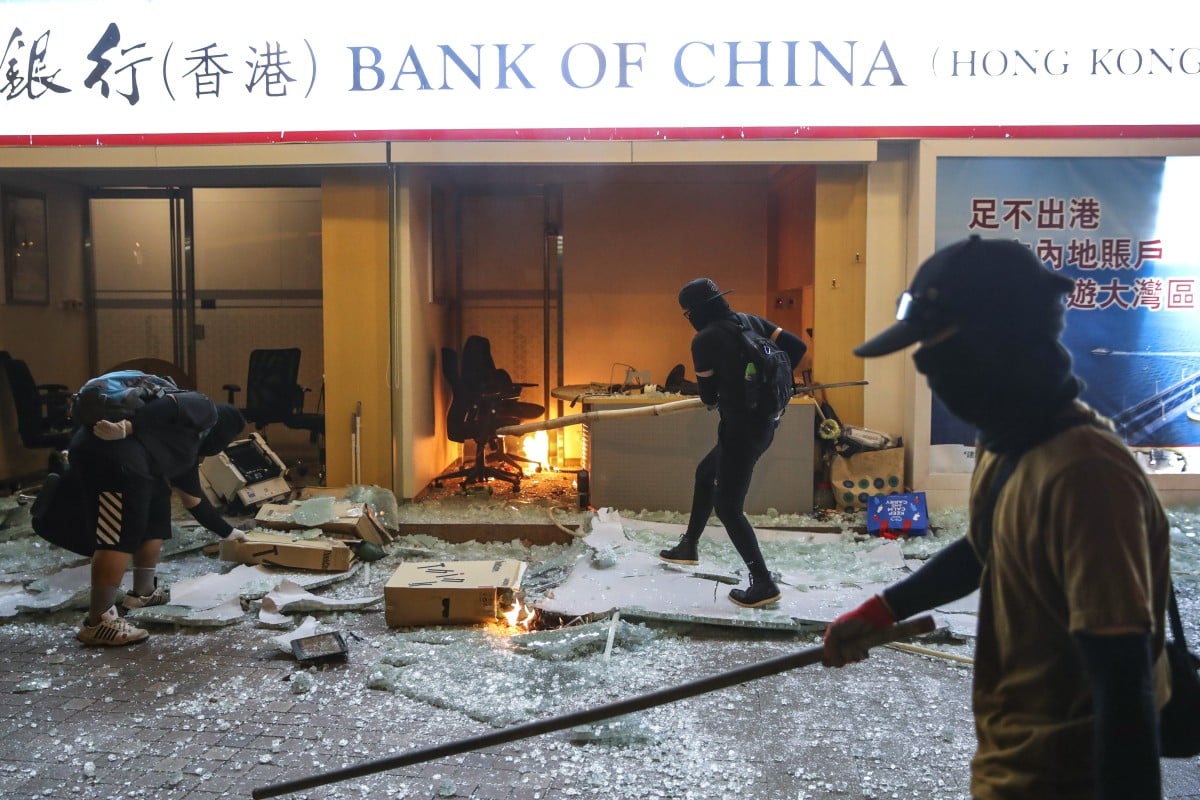 The man being burned alive is an off-duty policeman. They got his gun.
*
After setting alight seven banks, three MTR subway stations, plus more than two dozen shops, assaulting six persons, including burning one alive, and after wrecking dozens of ATMs, offices of unions and MTR offices, the Democrats of Hong Kong announced their creation of the 'Republic of Hong Kong (RHK)' which in its 'Declaration of Independence' says inter alia that 'all men are created equal' and 'entitled to the individual pursuit of happiness' for all. (See Part 3, below, for partial transcript of Declaration in Chinese)
***
---
Part 3: ISIS RHK Child Soldiers
The Hunt in 72 Seconds
Above, Tsang Chi-kin who went hunting for a policeman to kill. He is a Form 5 student of the Tsuen Wan Public Ho Chuen Yiu Memorial College. At age 18, Hong Kong students would be in their first year in university, not Form 5. This means he had been retained in school after failing his exams.
Below are images of the school, website, and its principal Tse Yun Ming who has little to say other than placate even more alumni radicals who turned up the day after the shooting.
Tsang Chi-kin wasn't the only rioter the school has produced so that beneath the facade of a happy family (see propaganda images), the school doubled as an ISIS-style training camp.
Two former students of the school were with Tsang on Oct 1 hunting for prey to kill.
Day after the shooting more alumni members (in face masks) turned up at school to pressure principal Tse to condemn the police for their (you won't believe this) "violence".
Small wonder, everyone in Hong Kong is saying, 'there is something wrong with education.'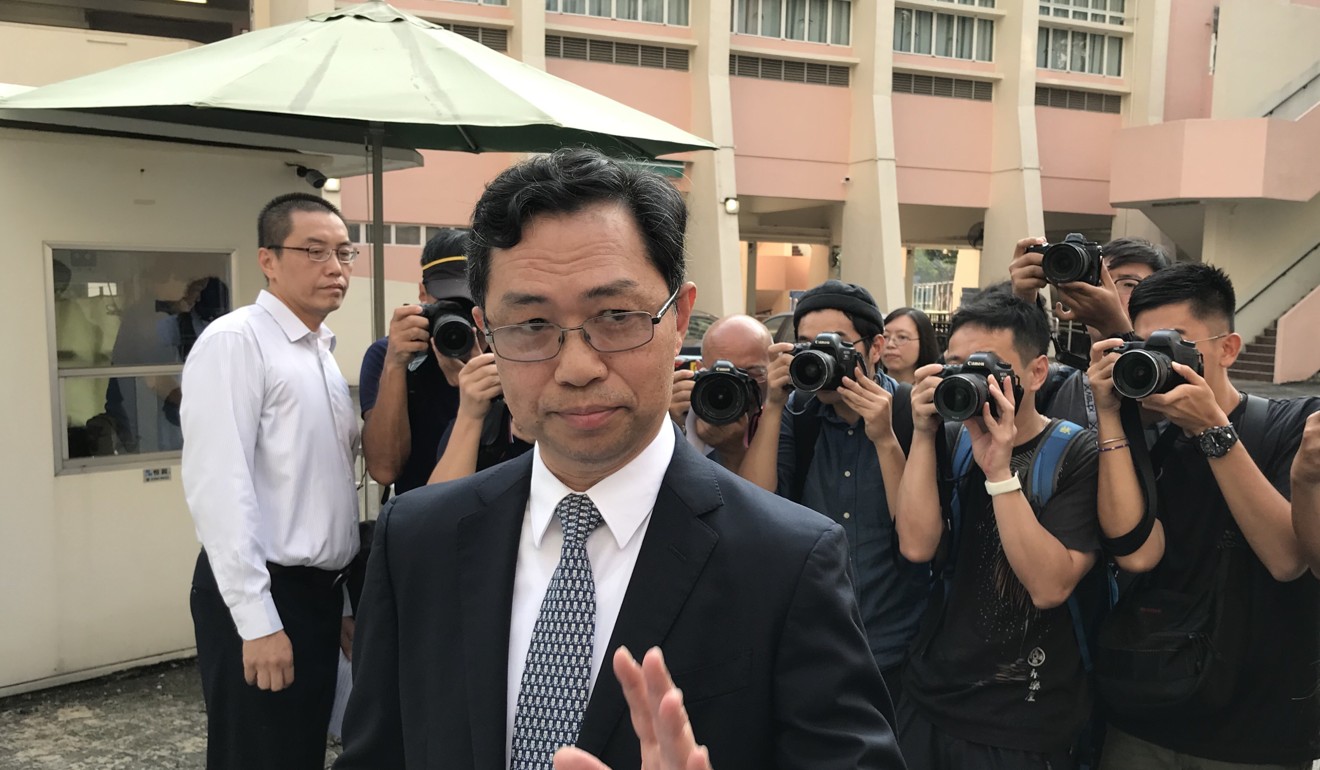 *
Below, like hyenas, Tsang Chi-kin and a dozen descended on a policeman as if their prey. In that mob, pay attention to him.
LIKE HYENAS THEY HUNTED…
*
The first dead victim of the Black Shirts… but the Media blacks it out, conveniently.
Above the body is the bridge from which she jumped (?), fell (?) or push (?). Nobody knows, but this place is the MTR subway station in Tsuen Wan, a town east of HK island and which had been frequently used (13 times in the last 30 days) as a site-target for riots.
The station is often closed because rioters burned and destroyed its ticket vending machines and turnstile gates. Two days later, after the woman's death, the MTR subway station was again attacked.
Yesterday, on the night of Oct 4, they declared Hong Kong as an independent republic also at Tsuen Wan, near the dead woman.
Below, the role of the Church in creating the RHK…
*
Below, is what the Media circulate instead about Tsuen Wan and Tsang. That is,
Tsang Chi-kin is the Victim
In above screenshot of the opening line in an AP report, the police is portrayed instead as the aggressor. Below, caricature of the police being pasted throughout Hong Kong.

*
Such propaganda, aided greatly by news disinformation, in all its forms, is endemic all through the mainstream Media. Examples:
EXHIBIT A: ATTACK IS MADE UP AS 'CLASH'

The frame title above is from the South China Morning Post, a virulent and pro-colonial Anglophile newspaper: Tsang Chi-kin was shot not during a 'clash'. He was shot when attacking the police.
*
EXHIBIT B: SELFISHNESS IS MADE SELFLESS

This screenshot above is from the HK government information service called RTHK which, run by colonial legacy editors favoring opposition political parties, has been a target of severe criticism in Hong Kong for its outright lies and bias in favor of the rioters and rioting.
There was no 'apparent attempt to help'. The RTHK statement is patently false, no matter from which angle you watch videos of the shooting. The lie is two-fold
(a) the man wasn't a protestor, he wasn't protesting anything; he was out to kill a policeman, and,
(b) he went to recover a weapon Tsang had dropped. Watch the clip again in slow motion (below), the man picking up the metal rod until he was brought down.
*
EXHIBIT C: LAW & ORDER CONCOCTED AS SUPPRESSION
This disinformation circulated also in Malaysia by The Mole is disingenuous. Instead of putting the ban in a situational or global context, the BBC justifies the wearing of the masks by saying they are used to prevent 'identification and arrest'. This is plain propaganda to forestall the ban. How so:
Face masks ban is standard worldwide, prohibited in such places as airports and inside banking halls. In the US, protest marchers are prohibited by law to use masks so that following US law seems perfectly in step with 1-country, 2-system.
In all peaceful marches in Hong Kong, past and present, nobody — absolutely nobody — wears mask, goggles and hardhat to prevent identification. These are worn each time, they riot so that the purpose of the mask (and other things) isn't to prevent identification. Instead, the mask allows the rioters to get away even with murder. This is so plainly evident in each riot which then means that the BBC editors were deliberately apologizing for the rioters.
The effect from the sum of this Media propaganda disinformation is profound and deeply felt: Readers believe what the editors falsely (only sometimes inaccurately) circulate as 'news'.
***
---
Part 4: HONG KONG VS TIANANMEN
WORDS OF A STUPID, OLD MOTHERFUCKER
These words were taken from here. They reveal the intellectual level of Mahathir Mohamad, one of the world's most stupid prime ministers who, like countless Malaysian bloggers, such as this, knows nothing and understand nothing.

"The fact is that she (Carrie Lam) is in a dilemma. She has to obey the masters (but) at the same time, she has to ask her conscience; her conscience says that the people of Hong Kong are right in rejecting the law (There is no such law. Instead it is, in short, the Fugitive Bill. Words become law only after a bill is tabled and passed in legislature.)

But she knows the consequence of rejecting the law (sic)… It happened in China, in the Tiananmen matter. The people who demonstrated (were) also the relatives of the soldiers in that area so what they did was they bring in soldiers from other areas and they took the action, harsh action to put an end to the demonstration.

I think in the end, that is what China will do, but for the administrator (Carrie Lam), I think (the) best thing is to resign."
***
Above, identical to HK today, the student mob attack on the police in Tiananmen in 1989 May 28. June 5 body count: injured 1,300, dead 23, vehicles used 1280, military vehicles 1,000.
*
The western and its Anglophile media would hail Lee Cheuk-yan 李卓人 as their 'democratic' hero, devoting buckets of ink on him, but never breathes a word about his American sources of financial, diplomatic, and ideological support –to this date — all swirling beneath the placard, marching slogan, 'Freedom, Democracy, Human Rights'.
*
李卓人

The HK Man in Tiananmen, 1989 June

Clip immediately below, but in Chinese: It talks of a Hong Kong 'pro-democracy' politician today was present among the Chinese students in Beijing in 1989 June 4 (abbreviated as 604), how through HK politicians namely Lee Cheuk-yan spread US$10 million to buy the students, and how subsequently the US and western media manipulated then packaged the break-up of the Tiananmen occupation as a massacre.
The situation in HK today is near identical and, again, Chinese governments (both in HK and Beijing) are utterly incompetent in manipulating public opinion, unlike the West.
Result: Hong Kong's riots are still written about, in HK and abroad, as a pro-democracy, anti-China event, in spite of the overwhelming evidences and facts to the contrary. One striking similarity: the attack, lynching and killing by student mobs of the police while they were bused into Tiananmen — unarmed. Some died, numbers unknown. After that the tanks and the armed PLA soldiers went in. Another similarity: Like Tiananmen, HK is sold countless times as a 'peaceful, pro-democracy' event.
All this is to explain why the shooting of Tsang Chi-kin is important to the plotters in HK.
Disclosure: The presenter of the video below was a former propagandist for the HK plotters up until early 2018. His YouTube channel, since renamed Ho C K, Johnathan (何志光), carried even the same pro-HK independence title 'Hong Kong Localism Power' (an example of 'Localism' Facebook propaganda). He is also a Christian, who studied in the local Bible school to qualify as a preacher.

Other, and today's Hong Kong politicians involved in Tiananmen and post-Tiananmen on America's behalf:
林子健

Lam Tsz Kin

黃毓民 Wong Yuk-man
黃洋達

Wong Yeung-tat

陳志全

Chan Chi-chuen
*
Tiananmen Addendum
The Tiananmen man above: Money went from the US to Lee Cheuk-yan to the students. Total sum US$10 million.
THE ICONIC PROPAGANDA PHOTO
Above and below: If the PLA were out to massacre the students at Tiananmen why didn't they kill 'Tank Man'? Why not? What happened after the standstill?
*
何志光 Public Confession, immediately below.
How the NED/CIA penetrated and therefore influenced Hong Kong society. (All in Chinese.)
A personal testimony: American interference, past and present, via HK's 'pan-democratic' camp.
Post Tiananmen Hong Kong
***