Above, the Honorable Katie Hill, profession US House of Representatives. Below, her ass.
*
Katie's insignia, above, inscribed next to her cunt…
The point in this post isn't in the sexual and moral perfidies of American politicians and lawmakers. That thing is a dime a dozen. (See, for example, ex-Secretary of Defence Patrick Shanahan, beating wife and son beating him. Or Vice-President Joe Biden blackmailing foreign governments and, in return, take bribes for his son Hunter Biden, a drug addict sacked and booted out of the army.)
No, it's none of the above but this…
White Anglo-Americans determine for the world all the rules of behavior according to their individual set of Christian moral ethos. They then break those rules from which they had make themselves exempt and, after which, with propaganda, they publish violations of those rules as if those are international, criminal offenses with which the US have the sole right to punish with sanctions and war, or threats thereof.
Their bigotry, racism and hypocrisy is one thing. But, they are also looked up to in places from Sydney to Kuala Lumpur, Hong Kong and Timbuktu, and their values and ways of behavior are emulated by the like of Anglophile liberal progressives, Elizabeth Wong, Hannah Yeoh, Annie Lady of the Valley, Joshua Wong and Albert Ho of Hong Kong, Zairil Khir Johari of Penang, Anwar Ibrahim, et al. (See Black Shirt images at the end of post.)
From the American Spectator, Oct 29, 2019
*
THE NAKED DEMOCRAT
*
The Gods of the Copybook Headings always have the last laugh, and those familiar with Rudyard Kipling's poetry must have smiled at the sudden downfall of California Rep. Katie Hill.

On the first Feminian Sandstones we were promised the Fuller Life
(Which started by loving our neighbour and ended by loving his wife) …

They probably don't teach Kipling in public schools nowadays, and progressive Democrats like Ms. Hill would almost certainly condemn the great British poet as a racist and imperialist. Nevertheless, the common-sense verities once taught to every grammar school student remain as relevant as today's headlines. When we forget those ancient lessons, bad things happen, and we have only ourselves to blame.

When Katie Hill ran for Congress in 2018, her open bisexuality was part of her campaign message. Indeed, so often did Ms. Hill proclaim herself to be bisexual that some of her rivals suggested she was exploiting this to gain endorsements (and money) from the LGBT organizations that exercise a powerful influence in Democratic Party politics. During the 2018 midterm campaign, when feminists and gay-rights activists were among the loudest voices of the anti-Trump mob, the Democrats nominated lesbian or bisexual women in several key races. What the New York Times celebrated as the "Rainbow Wave" didn't actually elect that many lesbians or bisexual women — Hill was one of only three such first-time House candidates, along with Sharice Davids (KS-3) and Angie Craig (MN-2) to win seats in 2018 — but still this was a "record number" that "made history," as every journalist in America seemed to feel compelled to write. At no point in the enthusiastic media coverage of Ms. Hill's campaign against Republican Steve Knight in California's 25th District, however, did any reporter ask, "Exactly what does 'bisexual' mean?"

You see, Ms. Hill was also quite publicly married to a man, and, we might at least hope, this rendered her bisexuality moot. While the venerable Book of Common Prayer ceremony is less common than it once was, when my wife and I got married 30 years ago, our wedding vows included the phrase "forsaking all others," a mutual vow of monogamy that has traditionally defined marriage as an institution. Alas, reverence for traditions and institutions isn't what it once was, and Ms. Hill and her husband evidently were as "progressive" in their lifestyle as they were in their politics — if you know what I mean, and I think you do.

The arrangement between Ms. Hill and her husband, Kenny Heslep, was apparently what is nowadays called "polyamory," but used to be called "swinging" or "wife-swapping." Some might just call it "screwing around," although in my Bible Belt upbringing, it was more bluntly called sin. The details of the Hill–Heslep marriage are about as sordid as anyone familiar with Bill Clinton's adulterous habits might imagine a Democrat's marriage to be. Heslep is in the midst of divorcing Ms. Hill, whom he first began dating in 2004, when she was 18 and he was 22, and it appears the scorned husband has a grudge against his ex, to put it mildly.

The scandal that caused Ms. Hill to resign from Congress was first reported by Jennifer Van Laar, deputy managing editor of RedState. Her reporting on this tawdry scandal was rather cautious and circumspect given the salacious nature of the subject matter. Exactly how cautious Ms. Van Laar had been became apparent when the London Daily Mail got hold of some of the photographic evidence in the scandal and published it in the gleefully uninhibited manner that has made Britain's Fleet Street tabloid press so notorious. Now that everyone with an internet connection can be presumed to have seen the aforesaid evidence, it may be gratuitous or redundant to describe it. But just in case some American Spectator readers have avoided clicking those links, I'll say that the representative from California's 25th District (a) had her nude buttocks displayed on "wife sharing" sites, (b) has published photos of an Iron Cross tattoo near her genital region, and (c) could be seen entirely naked brushing the hair of a young female campaign staffer.

Also, there was (d) a photo of Ms. Hill passionately kissing that staffer, identified as Morgan Desjardins, who was a 22-year-old recent graduate of the University of California-Davis when she … uh, joined the campaign, so to speak. It seems that Ms. Desjardins was not the first young woman to add a trois to the Hill–Heslep ménage. "I can absolutely confirm stuff like this went on even back then," one of the couple's former tenants told the Daily Mail. What he meant by "back then," Michael Pace explained, was 2010, when Ms. Hill and her husband were newlyweds and Pace was renting a room in the couple's California home. "I left the house after six months because of all the weird sexual stuff going on in the open," said Pace, explaining that Ms. Hill and Heslep at the time were in a three-way arrangement with a 21-year-old female. "I walked in on the three of them in some very weird situations a few times so I know there was a sexual relationship going on."

This is what is so problematic about the mainstream media's lack of curiosity toward Ms. Hill's self-proclaimed bisexuality. It would be one thing, perhaps, for an unmarried person in public life to make such a declaration, but when someone in a seemingly conventional marriage calls themselves "bisexual," exactly what does that word mean? Or to put it another way, when someone feels a need to publicly declare their "bisexual" identity, do they mean this to describe their mere feelings of attraction, or are they instead describing their sexual behavior? Of course, we are not mind-readers and cannot know what someone else might fondly imagine in their erotic fantasy life, and so when a public figure proclaims a "bisexual" identity, we can presume them to mean that they have, on prior occasions, engaged in sexual activity with both male and female partners. What the case of Katie Hill brings into clear focus is that human sexual behavior tends to be a matter of habit, and once such habits are firmly established, they usually predict future behavior. Thus, when Ms. Hill campaigned for Congress making no secret of her bisexuality, she wasn't just admitting she might have had few prior same-sex dalliances, she was telling voters that her marriage to Kenny Heslep was an illusion, a façade of normality concealing some profoundly deviant behavior.

No one reading this lurid saga would wish to play the part of a 21st-century Pharisee, hypocritically casting stones at a pitiful sinner. Yet it must be remembered that after Jesus spared the life of the woman caught in adultery, he admonished her, "Go and sin no more." Forgiveness and repentance are correlated in the Christian understanding of sin and salvation, and the penitent turning away from a sinful past expresses gratitude for divine mercy. Perhaps few voters in California's 25th District takes the Gospel seriously, but even if they don't think of Ms. Hill's behavior in terms of sin — such an old-fashioned, judgmental word! — nevertheless it's difficult to imagine that 53 percent of voters in her district meant to approve of what her avowed "bisexuality" meant in practice. Not even California Democrats have become that decadent, have they?

It seems almost superfluous to mention, among the many unflattering revelations about Katie Hill, the reports that she's under psychiatric treatment (apparently for bipolar disorder) and the text messages indicating concerns that the congresswoman's mental illness might be aggravated by her alcohol intake. "Naked Bisexual Democrat Is Also a Mentally Ill Drunk (Allegedly)," I headlined an item on my personal blog last week. Still, my real grievance is with those reporters who never bothered to ask what would seem to me the most obvious question: "Exactly what does 'bisexual' mean?"

As we now know, thanks to Jennifer Van Laar's reporting, it meant that Ms. Hill and her husband were having a three-way affair with a college-age girl who was on the candidate's campaign payroll. This might never have become public had it not been for Heslep's suspicion that Ms. Hill was violating what must have been an implicit agreement in their "bisexual" marriage: She could have her girlfriends, so long as her husband could join the fun, but as for his wife having another male partner — no, that wasn't something the congresswoman's husband could accept.

According to Kenny Heslep, at some point last year, his wife secretly began an affair with Graham Kelly, who was finance director of Ms. Hill's campaign and followed her to D.C. to join her congressional staff as legislative director. This alleged dalliance on the heterosexual side of her bisexuality was not only the straw that broke the camel's back in Ms. Hill's marriage, but it also put her on the wrong side of House ethics rules, which forbid sexual activity between members of Congress and their staff employees. Of course, the Democrat propaganda operatives in the #FakeNews media want to ignore this. "Media Tries To Suggest Katie Hill Did Nothing Wrong, Even Though Congress Passed Bill Last Year Banning What She Did," to quote a headline at the Daily Wire.

As might be expected in an era when "social justice" has become the new religion of the Left, Ms. Hill made her forced exit from Congress an excuse to claim victimhood. The California Democrat bemoaned the "appalling invasion of my privacy," blaming her "abusive husband" and "hateful political operatives" who she said had "weaponized" her "private photos of personal moments" as part of "a smear campaign" against her. In other words, the truth hurts.

If she was a victim of anything, Katie Hill was a victim of her own foolishness — a sort of foolishness that unfortunately has become quite common among young people. Such "private photos of personal moments" are part of a widespread culture of "sexting" and nude "selfies" that has sprung up in an age where every cell phone comes equipped with a digital camera. Exchanging explicit photos is now Standard Operating Procedure for the sexually adventurous, and the term "revenge porn" has entered the lexicon to describe what (predictably) happens when these photos, intended to be private, are made public by embittered ex-partners. But common sense (which has now become very rare) would tell us that it's unrealistic to expect "private" nude photos would always remain private, especially if the photos are of someone in a highly public career like politics. Didn't Katie Hill learn any lessons from the Anthony Weiner scandal?

No, of course not. Fools never learn their lessons, no matter how obvious the lessons might be. As Kipling put it, "the burnt Fool's bandaged finger goes wabbling back to the Fire." Ms. Hill seems to have learned nothing from her experience, releasing a defiant YouTube video statement and vowing on Twitter that "the fight continues," whatever that means. The Gods of the Copybook Headings could not be reached for comment.
*
The 'Combing Continues', says US Lawmaker…
Starting as philanderer, then betraying her husband, lesbian girlfriend, and her voters and next breaking the rules of the legislature — and shameless on all five counts — the (former) US legislator Katie Hill proceed to say this on her Twitter, 'She is the victim!'

Katie Hill, husband, and their girlfriend in between:
Do they fuck together? How and how often? Who gets the dick?

Please use the comments section for a personal, no-holds barred discussion. Privacy guaranteed.

***
---
COMBING CONTINUED (IN HK)
Lessons Learned: Emulating America are the Hong Kong Democrat politicians, bureaucrats and their Black Shirts.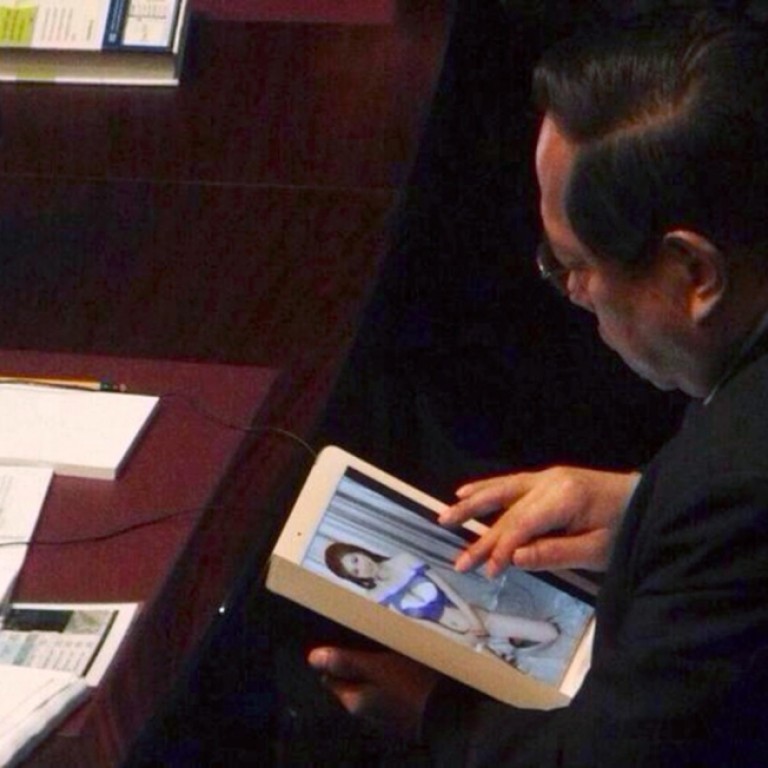 Inside the legislature hall, Albert Ho, ex-chairman of the Democratic Party, is busy making laws.

*
Simon Cheng of the Hong Kong British Consulate but ensconced inside a brothel room in Shenzhen. He never told anyone where he went. Hence, the 'Missing' notice, below, meaning it's China's fault. The Black Shirts rioted — imagine — over that poster!

*
Madame F. Democracy
*
The duo above are the duo below and one of the duo below is one of the four further below. Or maybe all four, with three waiting their turn, with their phone cameras.
Unlike the American Katie Hill husband-lesbian discrimination case, all in Hong Kong have equal rights, equal opportunities and equal access to the same vagina hole.

*
Say 'Hi' to Katie! Not forgetting Annie, of course.

*
After a long, hard night of rioting, they couldn't wait to find a bed…
American riot training in Hong Kong: Does the course include fucking compatriots?
***