The Lie that Leaps out of Malaysiakini
The headline below and its description are obviously intended for the Tg Piai by-election. But they are a lie.
The numbers in themselves aren't wrong.
But once strung together with the words ("debt, repayment, assets, recovery, interest…"), that is, in some juxtaposition or context, they become instantaneously false — at all levels, in particular in their: (a) accounting, (b) commercial economics, (c) logical rationale and, above all, (d) in the truth of the situation.
What's wrong with those numbers? Plus the overall 'story'? What is Lim Guan Eng's lie that's been spread by Steven Gan's Malaysiakini?
Reporter-motherfuckers cut from the same bigoted Anglophile cloth are a dime a dozen, they having control of and therefore manipulating cyberspace (this mealy-mouth pug face, for example; or see Claudia Bowring, below, yet another ex-reporter).
*
---
Immediately below is HK Freedom of the Press. In Singapore, how would the police deal with that freedom. Jail them with freedom of imprisonment for 10 years?
Below: In a room full of reporters, the Seven Reporters who insist only they are right and only they know the truth. Steven Gan calls this sort of Anglo-American conduct, Freedom of Press.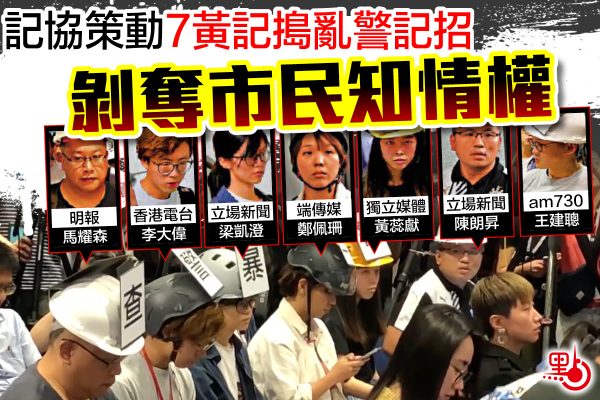 *
---
*
The Coming Death of Claudia 'Mommy' Bowring
She has two more months to live…
Hooray! Hooray! Hooray!
Claudia Bowring, above, will be dead this month or next!
Skeptical? Notice the dates from the image above.
And with that, here's the mathematical proof:

1937+7+7 = 20+14. (14 means certain death — in 20 years)
2019-1937=82 years later.
2019-1957=62. (1957 is the Claudia's year of birth)
Still don't believe?
Try a less scientific method: The Prince Edward station ghost is fulfillment of her own premonition and Claudia had been responsible for raking it. See clip immediately below….
Above, the MTR station before the riots. Below, after 831.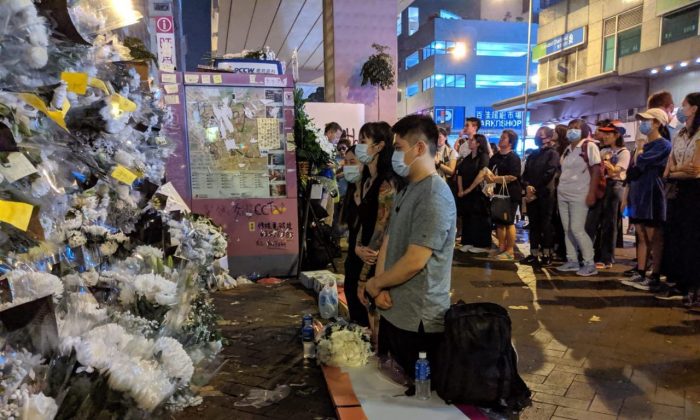 Proof below: The Ghost of Prince Edward claiming the soul of Claudia Bowring.
*
Mo steps closer to Satan — on a November Halloween!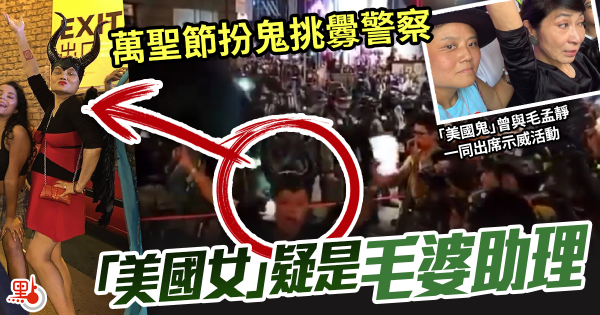 疑似「泛暴派」議員毛孟靜的助理公然挑釁警方被捕!亂港分子借上月底趁萬聖節去中環蘭桂坊一帶搞事,其中一名頭戴黑色長角、打扮成「黑魔后」的女子,在警方防線前不斷用英文辱罵警察,煽動他人叫囂,並一再自稱「I am American.」(我是美國人)。警方見警告無效,便果斷執法,將「美國鬼」迅速制服。
「美國鬼」搞事視頻在網上瘋傳,而該人亦明顯不是第一次以出位言行挑釁警方,一名警員上前說:「我認得你!」並警告對方立即停止叫囂。細心網民發現,該女子疑是毛孟靜的助理,她的社交平台上亦有她與毛孟靜肩並肩出席示威活動的親密合照。有市網民直斥「上樑不正下樑歪,議員在背後撐暴,助理就出來搞事!」截至目前,毛孟靜尚未就事件作出回應。(more…)
*
---
AN ATTEMPT AT ASSASSINATION
In their 'struggle' for American free elections, Annie's Freedom Fighters set fire, now deploy assassins.
立法會議員何君堯今早(6日)在屯門湖翠路遇襲受傷,送院時清醒,何君堯心口受刀刺傷,正在醫院急救室處理中,暫未知情況。事件中另有2人受傷。
何君堯今早9時前於屯門湖翠路擺街站,期間1名男子持刀襲擊何及其助理,施襲男之後被人制服,並聲稱受傷,連同何及助理,3人齊送屯門醫院。
何君堯出選區議會屯門樂翠區,同區參選人有民主黨的盧俊宇及報稱無黨派的蔣靖雯。
When the assassin step up with flowers, something is wrong? What is it? The answer, is in the Chinese culture, concerning flowers.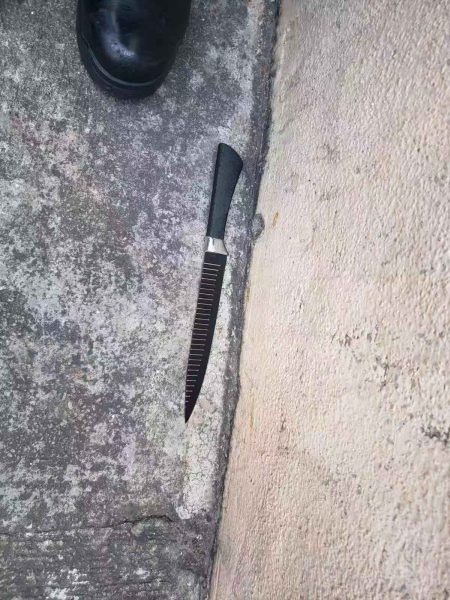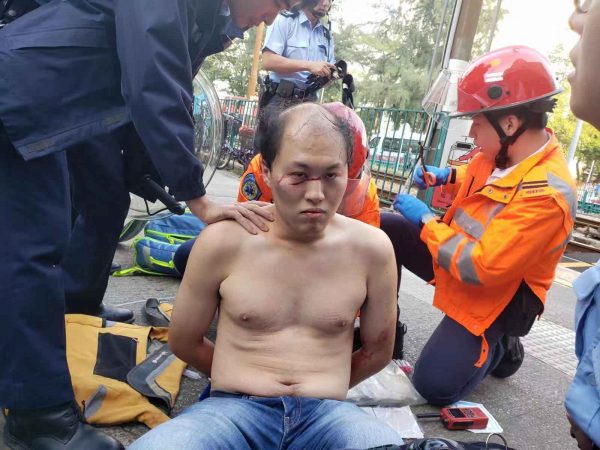 Above, Annie's Freedom Fighter: Why is he looking so glum? No fucks for 5 months? Look up Annie Lady of the Valley. She welcomes you — comfort and support for the 'struggle', you see. For bonus, she has a Taiwanese mother, also available.
何君堯 survived the attack. His message…
首先感謝各位關心我的支持者、朋友和媒體,本人今早在屯門樂翠區進行街站宣傳,期間遭受兇徒蓄意持刀襲擊。過程中,我的左上胸被刀刺中,已即時送到急症室接受醫護人員治理。目前我沒有生命危險,正在留院接受手術治療。另外有兩位同事,一位手部受刀傷,一位雙手及手臂受傷。 兇徒亦已被拘捕。感謝醫院及警方對我及我們團隊的幫助。

最近建制派已經被黑色勢力的威嚇所籠罩,辦事處和宣傳品被刑事毀壞、候選人被抹黑,今早甚至是香港區議會直選上黑色的一天,候選人竟然受到兇徒蓄意的襲擊,競選秩序已經蕩然無存。

人間正道是滄桑,今天,我何君堯雖然受傷了,雖然這個競選氣候已經不公和失去秩序了,但我仍然會無畏無懼。因為香港已經亂夠了,正如我的選舉口號:穩定勝於一切,我們要止暴制亂,讓香港社會回復安寧!

何君堯
More than 100 offices of the Chinese legislators and district councillors have been set on fire and destroyed since June. More than a dozen of candidates have been waylaid.
Democracy, Annie? Want to join the 'struggle'?
---
What you get in riot training
Go straight to 1:50
*
Police 'Brutality #1'

Watch what happens to the girl's face. And upon seeing it, guess what Reuters and CNN will be reporting the next day?
*
Police 'Brutality #2'
Watch what happens to the police. Compare what you see to Malaysiakini's report over this fight, as well as the clip above. They took place at the same time in the same shopping mall.

Now, consider: What would have happened if other cops hadn't come in time?
To answer that, see the clip below of a passer-by also surrounded by the Black Shirts, in the same situation.
(You may have to sign in because Google, the anti-Chinese owners of YouTube, have censored it in order to hide the atrocities of the HK Black Shirts.
That was one of countless incidences never reported. Below is another example, happening to a lone woman who openly declared she is Chinese. She survived the attack, but parts of her hair were ripped from her skull and her face splattered in black paint from a canister spray.
These, incidentally, are Annie Freedom Fighters, fighting for democracy, freedom and justice.
*
Police 'Brutality #3'
Right from the beginning of the clip you see a phalanx of reporters/cameramen advancing on riot policemen. Behind these 'journalists' are the Black Shirt rioters.
The clip below follows from that above. It shows a cop cornering one of the cameraman. Why him? To answer that watch for the thing that fell out in the melee (circled). Guess what was it?
This is the Freedom of the Press that the Annie Freedom Fighters and Reuters, CNN, BBC and Malaysiakini are clamoring over. Moral message of this segment?
*
---
Fifty Ways to Kill Cockcroaches
*
Hat tip: VeronBenny and Cockroach Atrocities. Because of the numerous Black Shirt atrocities, and because YouTube doesn't want the world to see them, half of their videos are censored.

*
---
Next two videos are precious
(…true reporting, which you will never, never, never see in Malaysiakini, CNN, Reuters, others. You will need to understand Chinese to capture the realism in the essence of the videography. Narration is reduced to the absolute, necessary minimum. Visit this channel for the full range of videos — and the truth.)
*
***
---
ODE TO MY MOTHERLAND
《歌唱祖国》
*
Autumn's Come, My Wondrous Motherland
***