Preface
This is a long essay, more than 5,000 words. It is organized in an inductive logical structure, meaning you actually have to begin from the beginning in order to follow the train of logic to arrive at the conclusion. Throughout, sub-headings (in bold) will allow you to break up your reading, if necessary.
*
HK BLACK SHIRTS SHOW UP IN SINGAPORE
& 1001 PLOTS AGAINST HK, CHINA
*
Not yet dead Jimmy…
the Pondan of Tsimshatsui, glorified in the Anglophile SCMP as the democratic Savior of Hong Kong.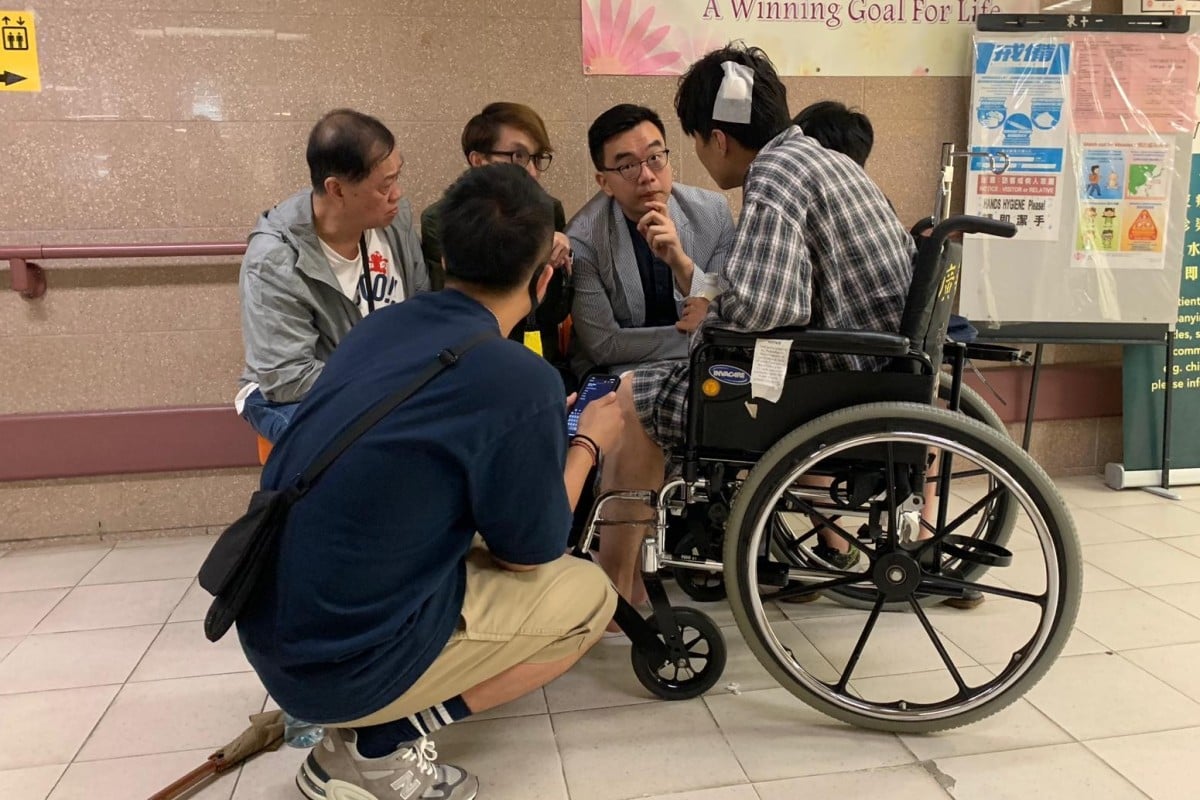 Pondan among Muslims
Jimmy Sham, images above: Two men were with him that night. They didn't stop the attack nor call the ambulance immediately after. Instead they set up the body as if staging a shoot, snapped, then circulated to the newspapers.
To see the staging, notice how Jimmy's fingers are used to keep balance with the body, although he was supposed to be unconscious, and see that his bag is used as pillow. Within a day and a half, fit as a fiddle, he is talking the next riot strategy with others in the (government) hospital, his wound photographed in a different part of the head.
It was a set up from the beginning (see, for eg., the video with the girl given fake blood) that the Media willingly spread, along side the propaganda of police brutality.
Only in Hong Kong, nothing happens, everybody gets away with all that; the government treats the wounds of its enemies; more plots are hatched daily, and more riots, more bombs, more blood, real blood, and even far, far more propaganda, Reuters churning out daily propaganda to say the Black Shirts are demanding freedoms that's supposed to have been 'eroded' (sic!).
Singapore imports a non-existent religious conflict drummed by a Pondan (Jimmy Sham, top) owing Muslims money and was attacked by them with hammers. The Anglophone media then helped him spread the propaganda that it was the police who were behind the attack.
After which Pondan turns up near the mosque to throw gasoline bombs at a police station. Next minute, after the water cannon truck had passed, he organizes the cleaning of the mosque that Pondan told his Black Shirts the night before not to destroy but to bring them onto his side.
---
《朋友一個》A Friend
朋友只得一個 在我心中已全足夠
繁華市人面是冷酷 但真摯是你心意
朋友你的關注 是冷風中暖流一縷
濃情意熊熊像火焰 令溫暖熱燙心窩
那怕冷風吹擊 可抵擋火煎雨打
也因身邊有人伴我走 友愛我心珍惜
不輕輕把它放走 即使以後分手
心中也熱愛你 (這心也熱愛你)
*
In never ending memories…
*
The Sorrows of Young Werther
*
Chan Yin-lam, dead at age 15: Even the oceans could not fill the tears that came before and after.
She were at one rally in June, one in July, and that's true, but she never went again and never needed the freedom they hoisted on her. She only wanted to be an artist, a good artist. This meant that while self-righteous Anglophiles sing 'Glory to Hong Kong' and Christian politicians preach freedom and democracy, it is others — ordinary Chinese — who must die for their plots and their American causes.
Against so many plots, against so many attacks, against the fire and brimstone, against so many enemies — Singapore the latest — any other city, any other place, any other people would have been reduced to ashes. Something keeps Hong Kong intact and its sanity. Ask, what?
When Chan began school in the Hong Kong Institute of Design in September, during which she would have nothing more to do with the riots, Black Shirt school mates pressured and harassed her not to stop. Within 14 days of classes starting she was dead from drowning in the nearby sea.
The image above was captured on the night of Nov. 7 near the institute.
Even when she is dead, they won't leave her alone, the Black Shirts using her as an excuse for more rioting and for news propaganda about police brutality, the Annie 'Freedom Fighters'. Annie, apa mau tipu lagi?
That borrowed Malay phrase, so succinct, strikes at the heart of the causes of the HK riots: Tipu. It means, 'cheat' which in the English has no force of revulsion, much like the words 'freedom' and 'democracy' — cheat-slogans in a dog and pony show for the benefit of the Ango-American Media and world.
*
---
Under siege, HK pays the price for being Chinese
Black Shirts in S'pore &
Why Mugam goes after a HK Cook
*
This is Day 153 in the HK Riots

The Black Shirt Mosque
For more than an hour on an early Sunday afternoon, October 20, the Black Shirts had laid siege to the Tsimshatsui police station, tearing at its gate, vandalizing police signs and every few minutes lobbing gasoline bombs into its main, public entrance — all told three dozen bottles. When, at last, the water cannon truck arrived, it quickly relieve the besieged station from the rioting mob. After which the riot police emerge out of the gates to disperse the rest. The truck first swept away the core group of Black Shirts at the steps fronting Nathan Road then passed a mosque, a farther 150 meters away.
On websites the same day and in print the next, the Anglophone media went to town with such headlines: Police target mosque (Hong Kong Free Press, Reuters), 'Police spray on mosque' (AlJazeera), 'Hong Kong police douse mosque' (Global News Canada), 'Police fire at Hong Kong mosque' (UPI).
Only the front steps and the metal rails separating the mosque compound from the pedestrian pavement were washed in a blue dye. But the Media's inference and its intent were clear: Police, rather than the Black Shirts, acted with malice and had deliberately went after Muslims because they are Muslims.
Here is Reuters: "It was unnecessary to drag this place of worship into this conflict between the government and the people," said Arabi Mohideen, 60.

Reuters again: "(The mosque) is a symbol of peace," said Waqar Haider, an interpreter for South Asian residents and worshipper at the mosque. "It shouldn't have happened…South Asians have not been involved in any protesting — anti-Hong Kong or pro-Hong Kong. We're just living peacefully."
'Drag' Islam into the conflict: Why drag? Who's dragging, and what for? South Asians were never involved: What were they doing with the pondan Jimmy Sham? Sucking his dick — peacefully?

Here is the Anglophile SCMP toadying to the Black Shirt Andy Chan.
Reuters's deliberate act of pouring fuel into the flame is not a coincidence — that is, it was by chance their reporters happened on the peace-loving Waqar or Arabi Muslim, motherfucking brown skin racist thambis who feel they are racially superior to Chinese because they speak a White man's language called English.
Minutes after the water truck passed the mosque, Black Shirt gangs descended on the mosque, climbing the metal fence, polishing it (yes, polish) with rags washed in pails of water. They so happen to bring along these things to the riots. (Either the reporters are stupid or the Media is a part of the plot. Choose the latter.)
Just the night before, Black Shirts were at nearby Chungking Mansions on Nathan Road, the main place where South Asians (and, these days, Africans too) spent their evenings drinking, pimping, peddling fake phones, selling tailor services and accosting White tourists for money. There, Jimmy Sham's friends met the like of Waqar and Arabi Muslim. Muslims, they are told, would be safe from the Black Shirts. A spokesman among them reiterated the Facebook circular urging its members not to attack any South Asians. The 'matter' — meaning, money — had been settled with Jimmy and the 'Civic Human Rights Front', issuer of the circular, doesn't consider South Asians as enemies.
In their turn, Muslims say they would station several people at Chungking to 'defend' it. They never say, against who but everybody understood it to mean the 'police'. The precedent cause of this exchange was that, three days earlier, four South Asian 'looking' men were seen by witnesses hammering Jimmy's head, convenor of the Civic Front, that grandiose, American-styled politically correct name for the coalition of Black Shirt organizers which include the Democratic Party, second largest in Hong Kong, and the Hong Kong Association of Journalists.
*
This HK Tea Shop Man is a threat to S'pore security?
華記,记住无为,无为
Above: 華記/华记 (or wah-kee/huaji), the Hong Kong real estate salesman and restaurant owner entered Singapore on Oct 10, summoned to the police station the next day, served with a notice he is under investigation for security offenses, passport confiscated and he has since been prohibited from leaving.
Other consequences: Many of his videos on his YouTube channel were blocked after which he gave up all further broadcast. Although new to YouTube — the account was set up as an aftermath of the riots primarily to expose Black Shirt violence and propaganda — he has chalked up more than 150,000 subscribers and an aggregate of more than a million views.

*
Singapore does a Canada Meng Wanzhou

Alex Yueng never said a word about the mosque on his YouTube broadcast although, surely, the news would have reached Singapore, especially in its Anglophile, maligned and distorted form.
Yueng owns and runs a small restaurant chain called 華記/华记 (or wah-kee/huaji) and a real estate agency. On his YouTube channel he points daily to the inhumanity of the Black Shirts and the cruelty in their tactics and speeches. Rattled by the lawlessness in HK, by the inadequacy of internal security, especially the required state obligation and guarantee to protect private property and personal safety, he began looking at other countries to park his assets and also perhaps to migrate his business.
He arrived in Singapore on Oct 10, intending to stay until Oct 12 (two nights and three days) on a scouting mission for property, meeting real estate agents and looking for business ventures with Hong Kong residents in Singapore. The night of Day Two on his arrival, he was summoned to the police station, his passport confiscated.

Today, almost a month since his planned departure date, Yeung is still in Singapore. Two weeks into over-staying, he announced on his Oct 21 YouTube he intend to cease his broadcast for an indefinite period. (This was, as is so often in Chinese culture and habits of thought, a way of mitigating or downplaying one's personal misfortunes.)
In the preceding 36 hours Yeung had released an unusual number of clips, six are still up, all lifted from elsewhere including one from Black Shirts that threatened to fix him; others showing intense Black Shirt violence, street beatings, arson and gasoline bombs, all of which are today's daily features of Hong Kong life that since June have spiraled into unmitigated anarchy. All were subsequently censored by YouTube for showing violence.
On the night of Nov 4, on his YouTube channel, Yeung told what had happened to him, answering questions by friends why out of the blue, like Huawei's Meng Wanzhou stopping over in Vancouver, he wasn't allowed to leave Singapore. The answer that came back is this: Complaints had been made against him, police are investigating, and until the investigations are completed and decision made he is prohibited from leaving.
The implications are legal: if the investigations take ten years, Yeung stays in Singapore for ten years. If he is eventually detained, without charges proven against him, he faces, he said, five years jail under Singapore's security laws (as opposed to the criminal Penal Code). For the moment, skip the question of charges. What political offense could land him up to five years imprisonment?
The operative word is, 'security'. Here, we have it: A lone restaurant cook and part-time rental salesman travels from Hong Kong to Singapore and is suddenly found to be a potential threat to Singapore's national security! What could Singapore have on him to fix him? Who complained? What has the complaint to do with national security? What national security? Singapore's democracy? How? Black Shirts in Singapore. Secret messages in fortune cookies? Or selling Canton, communist-style noodles?
CIA threatens HK Coup-style in Singapore?
In Singapore's national security claim, the only applicable law is the Internal Security Act (ISA).
Like the one in Malaysia, this deals with treason or subversion offenses or both. Part XII of Singapore's ISA reiterates the motive of a person or persons arrested under the law, or to be arrested. Quote:
(1) If an act recites that action has been taken or threatened by any substantial body of persons, whether inside or outside Singapore —

(a) to cause, or to cause a substantial number of citizens to fear, organised violence against persons or property;
(b) to excite disaffection against the President or the Government;
(c) to promote feelings of ill-will and hostility between different races or other classes of the population likely to cause violence;
(d) to procure the alteration, otherwise than by lawful means, of anything by law established; or
(e) which is prejudicial to the security of Singapore.
Ruling out (b) and (d) because they are improbable leaves (a) and (c) and they, in their turn, leads to (e).
Digression: See how Singaporeans produce trite law in trite English, these Anglophiles thinking the world of pastoral villages with Thomas Hardy preachers running off with the neighbor's maid. They copy English colonial tyranny. Reread (e) and compare that to the rest. It's call a tautology, which is like saying 2 and 2 is 4. That, like saying a bachelor is an unmarried man, traps any arrested suspect in a double whammer: a person would be automatically guilty of (e) once arrested on suspicion of any of the above, from (a) to (d). Or, to restate, suspicion on any part from (a) to (d) proves itself in (e). You get the point? In Chinese law, you will never find this sort of mendacity or deceit that attempts to prove a charge or attempts to entrap people by relying on verbiage — that is, English language shit.
Singapore's Shanmugam goes after a HK Salesman
Back to our narrative: What could have possibly trigger (a), which is, the act of causing or fear the causing of 'organised violence'? Notice the word, 'fear'? It meant that the speculation of a future event, whether it will happen being inconsequential, is enough to trigger ISA use. Worse off than premonition this is a judgment stacked on stitching together arguments, not unlike arguing for the possibility of being hit by a bus tomorrow. It meant that a few Hong Kong residents in Singapore could, in effect, go to the police with the story of the Hong Kong riots, and Yeung being an agent of the Communist Party of China (more on this later) has come to Singapore on a spy-and-revenge mission.
Pug face Chinaman Oei: "Call me Martin," and he can't even string together two proper sentences — in English! What a piece of narcissistic dick.

*
Exhibit A: Indeed, a day after his arrival, a number of residents from Hong Kong met him, probably even recorded, on video or tape or both, their conversations, and they took group photographs. After which, says Yeung in his YouTube broadcast they went to the police with those materials as evidences apparently.
Exhibit B: Martin Oei. A self-confessed Hong Kong Black Shirt, and classic as an Anglophile apologist for neo-colonialism, Oei had worked as a reporter in Singapore (those motherfucking reporters again). In this, for example, Oei linked him to Muslims in the region, to Islamic jihad, to bringing outside politics into Singapore, and praised Yeung's immediate arrest, bragging about it as necessary for 'peace and stability' (sic!) and warning others against taking the side of the Hong Kong government and Beijing.
Exhibit C: Oei bringing in Islam, although completely unrelated to Yeung's Singapore trip, revisits the events at the Hong Kong mosque on Oct 20. Even in Oei's fabricated form, mere talk of Islam triggers sub-clause (c), to 'promote feelings of ill-will'. That is, in saying the same thing, mere talk — a complaint — strikes at the heart of sub-clause (c). A hole is dug, Oei and friends kick Yeung in, leaving it to a Singapore Minister to shoot him while still in the hole.
By now, you can, inside your thoughts, begin to picture a crystallizing image of Yeung's arrest in Singapore.
This fuzzy imagery is bizarre and is, indeed, as absurd and irrational as to the arguments the Black Shirts used in justifying inflicting mayhem. But, face it, that is the effect of the English language on thought, rationality and reality: something can be made where none exists. The Bible is an example: people long ago concocted some stories, write them down, stitched them into a book, and today that compendium of fiction is considered holy and 'the Word of God'. Ship the same thought process into this part of the world, you produce a motherfucker like Oei — the effect from decades of Anglophile cultural and mental colonization, never mind if he is just a monkey perched on a tree shrieking calls about enemies of freedom.
The logic of the law that lead to Yeung's arrest lies not its capacity for rationality or irrationality, nor in its truth or falsity, but in its functional use so that in an Anglophile society such as Singapore, such as its Minister for Home Affairs K Shanmugam, Anglophiles have no other way to think, to reason and so for injustice to seep through. Black can be made white; wrong, right; false, true. You want to fix up somebody? Here are the ISA words for use. Parallel words like 'freedom' and 'democracy' are used in the riots. You want to destroy Hong Kong? Here they are, choice words for deploying to rile up stupid students and naive kids.
Black Shirts, Anglophiles and Singaporeans move about in the culture of White man's ways, stemming from the Hobbesian idea that life is 'solitary, poor, nasty, brutish and short,' and of one against all. So they make the most of it, calculating, plotting and scheming.
This is completely at odds with Chinese thought as well as in our treatment of lives.
While Anglophone legalism tailored event/facts to fit into stamped words on paper — square pegs in round holes — we first cast aside the law in order to see events/facts, standing alone, for what they are, independently. The charge comes after the fact, not before. (For 2,000 years, Chinese culture hated legalism, which is what rule-of-law means, as a social organizing principle; it prefers Confucianism.)
Exhibit D:
Below, is a piece of video evidence that Singapore's ISA Minister K Shanmugam could use to fix Alex Yeung. It is a video clip of Yeung himself and a group celebrating the 70th Anniversary of the PRC. Although the event took place in Hong Kong and filmed there before leaving, Yeung uploaded it on his YouTube, Oct 13, three days after his arrival in Singapore.
Yeung didn't explain why he posted it in Singapore and why belated. But one could surmise this: He felt that, after a separation of time and space, he could mitigate against any intention of the Black Shirts to go after him.

In Hong Kong, the Black Shirts prowling the streets daily will lynch you — alive — for carrying the Chinese flag, even to speak in Mandarin (this happened to a JP Morgan Chinese banker while out for his lunch break). Yeung's restaurants have been a target of vandalism. On the street alone, Yeung hides his face behind a mask and wear black clothes.
*
---
If you hadn't been following what's been going on, you'd find the media statement below queer, coming out of the blue and released Nov 7. But, for the moment, take it for what it says (click to enlarge). You can also find it here.
---
Singapore Black Shirts
Never mind that the PRC event was held in Hong Kong. Never mind that it had nothing to do with Singapore. Never mind it does not violate the intent (or 'spirit') of the ISA. Those are not arguments that can be fought over in court anyway: there won't be any because ISA detention has no trial, therefore, known as 'preventive detention'. (This again illustrates, for the umpteenth time, why Hong Kong, China by extension, is one of the world's freest societies, freer than Singapore and Malaysia, freer than America or Britain.)
The 'substantive' part of the ISA (that is, its main plank) is broken up as follows (taken from the law):
I. Prohibition of organisations and associations of a political or quasi-military character and uniforms, etc.
II. Powers of preventive detention.
III. Special powers relating to subversive publications, etc.
IV. Control of entertainments and exhibitions.
V. Other powers for the prevention of subversion.
VI. Miscellaneous.
Sub-clause I, is pertinent to Yeung's case. Under it, the relevant Minister is entitled to prohibit any bodies to be used,
"for the purpose of enabling them to be employed for the use or display of physical force in promoting any political or other object, or in such a manner as to arouse reasonable apprehension that they are organised or trained or equipped for that purpose."
In that part, the only object that can 'arouse reasonable apprehension' and which is banned outright is this emblem or symbol or device existing…
"in the form of a 5-pointed red star or a hammer and sickle in circumstances which raise a reasonable presumption that the emblem or device was intended or was likely to be used in a manner prejudicial to the interests of Singapore or to promote or foster a purpose prejudicial to or incompatible with peace, welfare or good order in Singapore"
The above is the only emblem/symbol in the world banned in Singapore. But not, for example, the ISIS flag. Thus, on the point of law alone — words on paper — Alex Yeung is guilty as hell (see above clip again).
Such is rule-of-law tyranny. The difference between Yeung (others) and the Black Shirt motherfuckers like Martin Oei or Jimmy Sham or Claudia Bowring are plain for all to see. Yet, it is Yeung who Singapore goes after while the Black Shirts get away with their mayhem they caused. The differences between them, therefore, isn't in the truth (who is causing the upheaval) nor in their respective ethical qualities (hence, intent).
In Singapore, as in the West, notions of 'freedom' are never presented in terms of actual outcomes but in their abstract ends, wrapped in legal jargon: Black Shirts declare themselves 'democrats', therefore, all the plunder they have helped direct can amount nothing. Yeung, on the other hand, displays a legally prohibited item and is immediately cast as an enemy. An emblem becomes a proof of threat, not the Black Shirt riot outcomes.

*
The Stoicism of Marcus Aurelius Yeung

This matter of the law out of the way, we come now to Yeung's future, which is in the hands of Singapore's Home Minister K Shanmugam. Mugam runs internal security. Before that, return for a moment to Yeung's confession video. In it, he has resigned to the fact that his future is today not in his control: "If it (jail) comes, it comes." (See Nov. 4 video clip at the end of essay.)
This Daoist stoicism, typical in Chinese thought, mirrors the ancient Greek Stoic philosophy (for example, in Marcus Aurelius, the last of Rome's good rulers; Aurelius appears is the opening parts of the movie The Gladiator):
What's to be done: China steps in
But Yeung's stoicism is misplaced. If so, then the option to change his fate are two-fold:
One, begin with the premise that Yeung has done no harm. In his case, therefore, right or wrong is not a point of law nor of ethics because the ISA has removed both legs in its Anglophone jurisprudence.
If not law, not ethics, then whether or not Yeung is guilty or not guilty of a foreign, national security charge is a question of power. To imagine what that means, picture an American being arrested under an ISA charge: Put your hand to your heart and answer this, Would K Shanmugam dare?
This is, however, not the sort of power being fought out between a Singaporean individual and the Singapore state that characterizes ISA cases. Yeung is not a Singaporean and has no backing of Singapore society. Rather, it's between the state of China and Singapore, he being a Chinese citizen and the backdrop of his case concerns the Hong Kong riots.
Yeung has refused to seek China embassy help, by making the case, from a Chinese ethical argument, that he should involve no family members (the state of China being the patriarch) in his own personal battles. Again Yeung is both naive and logically wrong. Wrong because he has hurt nobody. Naive because he assumes, falsely, Singapore is an independent, sovereign state and that, in a matter such as this, no other powers are involved. Three quick facts dispels this naivety: (a) behind the Hong Kong riots is America, and (b) behind Singapore's rule of law is America, (c) behind the Black Shirts is America.
As in Meng Wanzhou, abducted out of the blue in Vancouver, China has the duty to intervene so as protect her own people against such arbitrary and mendacious conduct coming from Mugam's Home Ministry. If not, China fails in its duty as the patriarch of the Chinese people.
Two, quietly and nicely persuade Singapore to change the terms of Yeung's prosecution and detention. Try him in a court on charges other than the ISA even if the proceedings are held in camera. In this way Singapore can appease the Americans, get a face-saving way out, and avoid a full blown international crisis. This is a decision for Lee Hsien Loong. If Lee refuses, go back to the above, One.
There are several ways to secure Yeung's release and, let's be realistic: Anglo-American power must be met with power. It's the only thing they understand — or appreciate. As in the Canadian abduction of Meng Wanzhou, China must meet Yeung's case with an identical and, at minimum, an equally strong response: Grab not a Singaporean but half a dozen of them, even if of Chinese ethnicity, people from the Singapore foreign and home ministries. But, best of all, a couple of senior executives from Temasik stopping in Suzhou.
Singapore must be told from the outset: play all you like your role as America's running dog, but this is the red line you will never, never cross. If no Chinese is safe in Singapore, no Singaporeans will be safe outside it. Yeung must understand this: if he is not let go then other Chinese will face the same problem, that is, Mugam can grab any Chinese he fancies. And the ISA has no legal recourse; you can't sue (assuming you can afford it) for habeas corpus.
America's Taiwanese poodle dog in SEA

There are long terms implications in Yeung's case. Because a Chinese is today never, never safe in the West, first in Canada and America, and now in the Anglophile world such as Singapore that is under America's thumb, it behooves on China to draft a policy response: What to do?
This is to let the world know: Don't play dirty, don't mess with us; we know all the tricks. China will protect its people; the Chinese must be made to feel safe, wherever we go, and not be subject to arbitrary threats in whatever form or shape. The Chinese state duty to its people is a given in our familial law and in our culture.
Prime Minister Lee Hsien Loong ought to know his Home Ministry is detaining a Chinese national on trumped up charges. Assuming he isn't carrying out America's orders, what does he want with China? Want, because what's a person like Yeung to Lee, a cook and salesman who the world never knew exist not even in the Mainland, not even after imprisonment in Singapore. A nobody, unlike Meng Wanzhou of Huawei, makes for a easy target by K Shanmugam?
Black Shirts can beat, kill, rob, burn and destroy and yet they have the protection of Taiwan, America and now Singapore as well? The fact, therefore, of Yeung's detention means Lee Hsien Loong has picked a side between the Black Shirts and Hong Kong, between the Pondan of Nathan Road and the Tsimshatsui police, between America and China, and between evil and good.
America has openly demanded from the rest of the world, Europeans in particular, to pick a side. Publicly, however, Lee avoids this matter in an interview with CNN. This presumes Singapore is a sovereign country, with a spine, able and willing to act independently. But is it?
Like a Siamese twin, Singapore is joined to America at the hips, excepting for this difference: the twins are not equal. Wherever America goes, Singapore follows.
Of its S$491 billion GDP size, almost 40 percent are in business and financial services, and of which 79 percent are tied to America, directly and indirectly via banks, insurers, freight, legal services, and investment finance (especially hedge funds, public and private equity). You can see why, therefore, 1MDB's money was routed from New York to Singapore; the latter making money from every dollar exchanged. The US dollar is pivotal to Singapore's economic and financial health. Singapore Airlines make money serving America from all the students and business people travelling from Indonesia and Malaysia. It's manufacturing of goods, again tied to the US market, is 22 percent of GDP overall. America can sanction Iran and nobody starves. America sanction Singapore, the first thing to go down the drain is the Singapore dollar and after that it won't even have money to pay for Johor's water. It is that vulnerable. Where the Singapore dollar goes, so goes its sovereignty and independence.
Thambi to Chinaman : Anglophile to Anglophile.
But, little does Lee Hsien Loong realize that America is Singapore's biggest national security threat, and that's understating a fact.

*
Singapore in America's pockets

Some years ago, a newspaper article jumped out of its pages: it was about a Singaporean minister — or was it the Speaker? — urging members of parliament to build a 'first class' (sic!) Parliament by improving on their intellectual skills and adopting a certain attitude towards debate. Example of first class? The US Congress. Don't laugh, because this is not an exaggeration.
The point in the above harks back to Lee's non-committal answer about taking sides because he might as well be forthright to tell America: You already have our souls, need you ask?
But, here's the problem: Does Lee even know his mind is colonized, fed as he is, like millions of other kids in Singapore and Hong Kong, in a diet of scones and marmalade, of Judeo-Christian absolutist obedience (Nietzsche calls it 'slave morality'), of pastoral Jane Austen farms and docile Thomas Hardy sheep led to slaughter?
In the week Yeung was being investigated under the ISA and refused exit, Lee had on three occasions (between Oct 10 in Japan and Oct 17 with Forbes) talked about China and Hong Kong. Again and again he touches on Singaporean sovereignty without mentioning the word, not once. His answer, if he'd give one, would be self-evident after all.
Lee sounds like he was addressing China (the 'region', he calls it) as if we Chinese are a stupid lot and he and his administration can only conduct foreign relations via CNN and Forbes magazine. The salient fact in Lee's reiteration about Hong Kong isn't in the said remarks, Black Shirts are out to undermine the government, the economic dislocations and so on — we know all that. Excepting this: Lee made a comparison between Hong Kong and Singapore. If the same Black Shirt riots took place in Singapore, he said, the city would be finished.
Who is he saying that to? It can't be China or Hong Kong or Malaysia. If not those governments, then Uncle Sam? The Hong Kong riots were, after all, plotted, engineered, financed and launched out of Washington, the acts of subversion which it even passes into law (The Hong Kong Human Rights and Democracy Act) then smirks about it: "So what!"
America pulling in the reins on Lee Hsien Loong's tail raises a further question: Why? The answer can be found in the question by CNN's Fareed Zakaria, an Indian thambi-migrant to America then growing up to become a colonialist, foreign mouthpiece for the neo-conservatives and liberals. No White American can do the task better than Fareed to represent White liberals in the Anglophone world: He speaka English; he is brown; he is Anglophile. He thinks a world of the Whitey, like countless Indian brown skins, but better because he wears journalist credentials, posing as an 'independent', freedom watchdog, much like Malaysiakini's Steven Gan and Bersih's Ambiga.
Fareed's point blank question to Lee was, Whose side are you on., China or America?
Now, Lee is no Duterte of the Philippines, willing, able and with the gumption to carve out a new set of foreign relations with Russia and China.
The problem with Lee isn't therefore in taking sides, and so risk Singapore's prosperity, but it is not in being fair, honest and sincere, not even to himself. China, after all, is perfectly willing to live with whatever it is Lee decides. The Chinese lived next door to South Korea and Japan. We lived with the Philippines, pre-Duterte, for 70 years.
Chinese culture and habits of dialectical thought don't teach us to see a problem in taking sides, choosing between black versus white, good versus evil in relationships, personal or international. On the other hand, Anglo-American territorial imperialism, intellectual upbringing, and its ethical and religious culture repeatedly demand unwavering obedience and allegiance:
Thou shalt have no other god before me! — Exodus 20:2, Deuteronomy 5:6
Anglophile Lee, not unlike common Singaporeans, faces a daily existential angst: he runs a state but not a nation. This is a country with a hodgepodge of transferred identities, of bought, corrupted personalities, speaking neither the Queen's English nor Chinese nor Malaiyoo but Singlish in a mish-mesh of values even they themselves don't know what. Without roots, Singapore is a people who can be bought and sold. The only question left to answer, is how much.
Lee's evasion to Fareed's question exemplifies a sort of bargain: pussy-footing in a barrage of verbiage (he talked about Europe and Australia) amounting to nothing. His words reflect the Anglophile character of a man who can't see the daoist intermingling quality in relationships, in events and in facts: That is, without darkness there is no thing called light; high is defined by the low; without the emptiness of a jar, the clay for making it is useless. (See below in Alan Watts clips on 'wuwei'  无为 and 'Do you do it or does it do you…')
In his meandering thoughts, much like when Mahathir Mohamad speaks, he couldn't bring himself to speak a plain truth to Fareed, Uncle Sam's propaganda chief: "We are already on your side. You own our soul so that if Singapore goes, America goes with it. There will be no America in Southeast Asia nor the South China Sea. If America destroys Singapore, it destroys itself."
Singapore is America's stooge — and that is a fact. Only Lee, like his grossly overrated father, pretends to be independent and sovereign and, yet, this fools nobody. It's called a delusion.
Delusional Alice Wu & Her Singapore Prophet
Filipinos are willing eat grass instead of having to bow daily to wash the feet of America. Lee will feed of the bread scraps below the table serving American burgers. You read and see this contradictory, two-sided delusional Anglophile culture daily, every hour of the day. In Alice Wu, for example, commenting on Lee's remarks, she is ecstatic:
At last, a prophet from Singapore!

After listening to Lee, Alice urges Beijing and Hong Kong: "Both sides must accept that all of this pain has accumulated over decades of sweeping political issues and difficult dialogue under the carpet."
The editors of SCMP might think that profound and not preachy. But, wait a minute, what gobbledygook stuff is that — pain, sweeping political issues, dialogue under the carpet? They sound like intellectual masturbation, Anglophile-style.
Wu, like Lee, cannot bring herself to stare at and acknowledge the evidences and the truth piling up daily in Hong Kong: the destruction have their direct origins — materially, financially, culturally, politically, ideologically, religiously, even in the ruins of the destruction — in Anglo-America. They are subvented into the colonized Anglophile mind and heart, so what if Wu claims to be some high flying "political consultant".
The plain fact states this, right from the start: Hong Kong is not about freedom or democracy but about grabbing power and corralling the riches of the city to one side. If America's Black Shirts had wanted 1-country, 2-system, then it will be made to work and the riots won't happen. If not, then not.
The rest of the propaganda is just garnishing. Problems exists, of course, but if they were humanly created they can be humanly untangled. Reason follows the Will.
Singapore chooses to be Yankee; Hong Kong, Chinese
America had also demanded Hong Kong to choose: the US or China. The Chinese of Hong Kong chose to remain to be true to themselves, Chinese, and the riots is the price we pay. So what?
For Lee to say the Black Shirts want to "undermine" Hong Kong and "bring down" its government is neither a statement of profundity nor truth. It is a lie, like the Anglophile life is a pretense. America wants to (hopefully) bring down the Hong Kong government, and not the Black Shirts, a fact that the US Congress and Nancy Pelosi don't even bother to hide. Black Shirts are one lot of stooges, like Singapore is a poodle.
Acknowledging that status, or reality, one makes a giant leap nearer to the solution: To remain as poodle or not. If yes, how so. If not, how not.
The Chinese decision has, in the last five months, produced 3,000 ruined lives, almost 500 of them kids, many as young as 12, with another 200 in hospital. The Black Shirt riots that followed have, in their turn, led Yeung to Singapore. If he were not in Singapore, he wouldn't be under Lee's thump. The like of Anglophile Lee Hsien Loong and Alice Wu are not new in the world. It's their bigotry, greed, pretensions and hypocrisy that make everyone sick, very sick.
Beijing, being Chinese like Yeung, was never exposed to, experience much less, this level of perversion. Even today, my Mainland compatriots cannot fathom such conduct and attitudes in an Anglophile world. It is the reason why there, in the Mainland, the Chinese look on at the destruction in Hong Kong then turn (to me) to ask with incredulity in the eyes:
"Black Shirts or white, they are Chinese. How can they?"
Yes, they can because they are not Chinese other than in skin and name. Still, the Chinese learned a moral lesson: Our worse enemies are among us, namely the Anglophiles. Their only worldview see things from the prism of skin color — racism.
Singapore's choice (Hong Kong has already decided) is not between America or China. No, it is between right and wrong, between true and false, between two cultures, and between decency and indecency. This, in the collective, is commonly known as, integrity.
Even assuming Lee manages to cross that ethical dilemma, he and Singaporeans will be face to face with another fundamental problem: What do they know about what's right and wrong? By what standard will they use? How can Lee tell the difference, an Anglophile, after all, with neither culture nor knowledge to guide his life and decisions?
Result: Lee farts and farts, pussyfooting in front of that thambi Fareed. And now bullying a hapless Chinese.
To America and Lee Hsien Loong:

"Hong Kong will survive then bounce back. We have for 5,000 years — as an unbroken Chinese nation. Imagine!"
*
For this post, acknowledgement:
Nov. 4
Nov. 5
Nov. 6
Postscript…
Nov 7 (in Beijing, with English substitles)
***
---
華記…
道可道,
非常道。
名可名,
非常名。
三十輻,共一轂,當其無,有車之用。埏埴以為器,當其無,有器之用。鑿戶牖以為室,當其無,有室之用。故有之以為利,無之以為用。 — 《道德經》
*
Alan Watts

wuwei  无为
*
2. Do you do it or does it do you…
***
---
Huanghe, Mother of China

《天路》The Road in Heaven

*
《无奈》
*
*
《陪著你走》

***