How Terror-Students Seized HK
Hong Kong has 300,000 university students, with the largest student populations in the Chinese University of Hong Kong (CUHK, 100,000+) and Hong Kong University (HKU, 100,000). The bulk of the student populations have in the past three days returned home or fled back to, for example, Mainland China and Taiwan (see earlier posts and image below).
In CUHK, about 800 Black Shirt students remained behind and campus authorities, from the President down, have surrendered the university to them. Repeat CUHK's case at seven other universities across Hong Kong, a picture of what's happened should emerge.
While CUHK student-terrorists control the north, up to the Shenzhen Mainland boundary; students of Polytechnic University, third largest, control Kowloon central, including HK's primary toll road that cuts across it. HKU students have, on their part, seized parts of the HK island, including all the roads passing the campus and they occupy the main business, financial district of Central for three straight days.
On campus, not all Black Shirts are students. Take CUHK itself, for example. After police broke up a Black Shirt mob on campus, two of the five arrested were young unemployed persons.
In short, about 4,000 students, mostly from CUHK, HKU and Polytech, with a fucked-up ideology and with outside financial backing, are enough to seize Hong Kong physically. All kindergartens and schools have been closed until further notice because of inaccessibility. The residential and commercial districts of, for example, Mongkok and Tsimshatsui and Tsuen Wan have been taken over by other Black Shirts from the 'pan-democrat' political parties.
All told, the 4,000 student-terrorists plus 1,000 to 2,000 Black Shirt 'democrats' hold the key parts of Hong Kong at ransom.
However, newspapers and the international Media (including Malaysiakini and especially Radio-Television Hong Kong) spread the fictional narrative that the students are simply dug in to 'protect' or to 'guard' the university from police attacks without those reports ever stating, Why would the police want to attack the universities when they haven't doesn't so for decades?
RTHK and SCMP Anglophile commentators, including some thambi called Michael Chugani, have vowed to defend the universities to the death. It is propaganda show time again…
But, what is the narrative line the Press would sell on behalf of the Black Shirts? I'd wager anyone 1 million dollar this: Defense of academic freedom.
What do the terrorists want? Make a guess. Freedom? Elections? Or, to really answer that, look again — carefully this time — at the image on top (taken at CUHK).
Rest of this post in Chinese.
Image above clip: Chinese students being evacuated. Picture on Nov 11, next door to CUHK. The students have to be smuggled out of campus, literally, in the middle of the night. (See clip above of the man who organized the smuggling. In Cantonese. He is a lawyer and parliamentarian.)
The sea route is used because the main north-south rail and road lines have been crippled and are controlled by the student-terrorists. To see the importance of the physical infrastructure: shelves at grocery and food shops are starting to empty. For example, there was no bread yesterday. Milk is scarce and prices have shot up 50 percent.

*
This is a small update: Hong Kong's primary Internet node, that is, the concentration of its main, physical infrastructure is located in CUHK's basement complex. A part of that is in image below. The student terrorists have control of the node. Wait now for Google, Facebook and CIA to walk right in.
You have connections in Hong Kong?
*
---
CUHK: Students take over, convert into terror camp
*
視頻探秘|中大變暴徒「軍事基地」
一連幾日,香港中文大學都淪為暴亂戰場,黑衣暴徒企圖霸佔中大二號橋,以破壞、癱瘓吐露港公路及東鐵線,不惜造成嚴重的意外和傷亡。校內處處可見鐵通、汽油彈、弓箭、磚頭、鐵錘,甚至有人拍到一班暴徒在校園內分工合作製造汽油彈等爆炸武器。現時中大校園被暴徒佔據,路障遍佈,任何人進入中大都要通過暴徒設立的哨卡搜身、盤問,多個入口設置了「CU入境」招牌。一些暴徒在校園內訓練,一些繼續製造武器,一些在運送物資……整個中大已變成暴徒的「軍事基地」,為暴徒不斷提供參與暴亂的培訓和武器。 (more)
***
CUHK terrorists seize weapons; control road, rail choke points in Hong Kong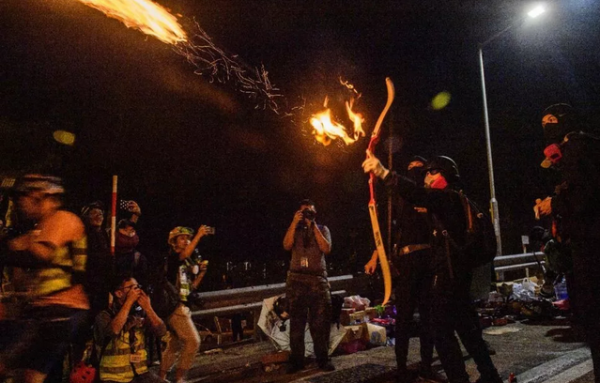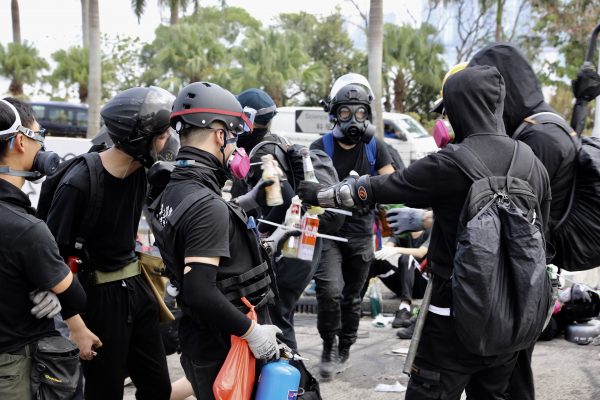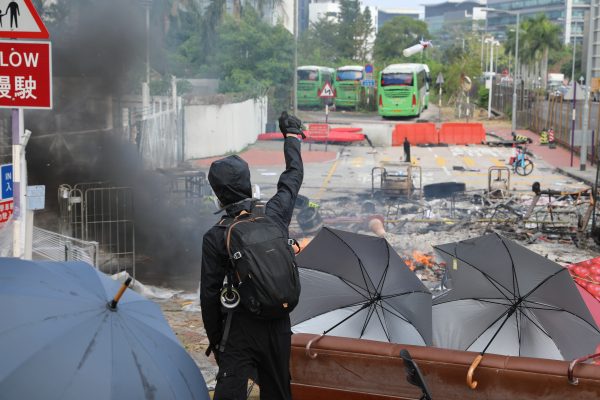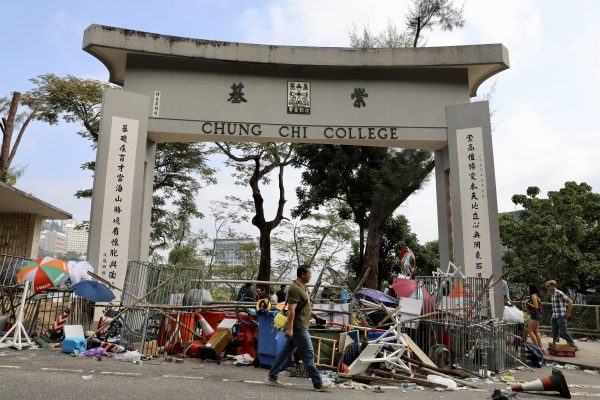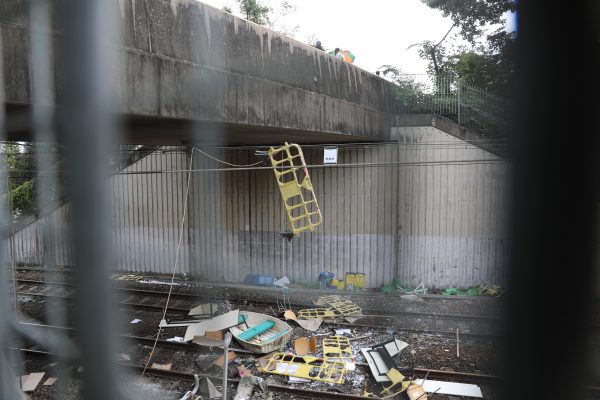 *
Clip below: Supplies distribution by students inside campus.
With the universities in terrorist control, they can pretty much do anything, use anything they like on campus. Because all schools are closed, they have lots of time. Much money came in recently, and the Black Shirts are prepared for a city assault. Note the gasoline bomb bottles, cartons after cartons.
Also see earlier clips in which supplies are organized, brought in from outside, then packaged as ready for use.
***
---
Polytech University: Students seize campus, toll road, train hub

*
暴徒堵紅隧 入理大需查證
暴徒持續企圖癱瘓香港,今日(14日)上午,紅隧九龍往香港方向近理工大學,有暴徒再用大量雜物阻塞,收費站亦有被焚燒的痕跡,此前被打爛的玻璃用膠紙封起來。東鐵紅磡站往理大方向出口亦被大量雜物堵塞,連結的天橋被用傘、門、木板搭起一排「防禦工事」,有黑衣人不時透過縫隙查看情況。現時黑衣人在紅隧口附近康泰徑用鐵欄、磚頭設置路障,一箱箱物資由人鏈運入校內。傳目前進入理大有黑衣人查看證件。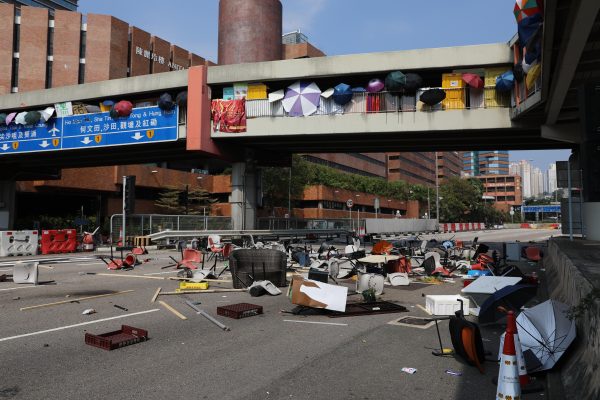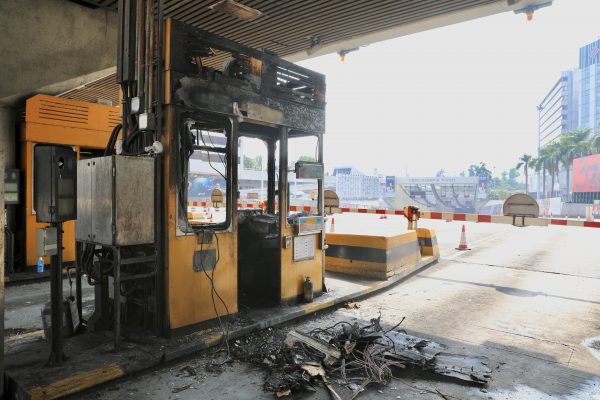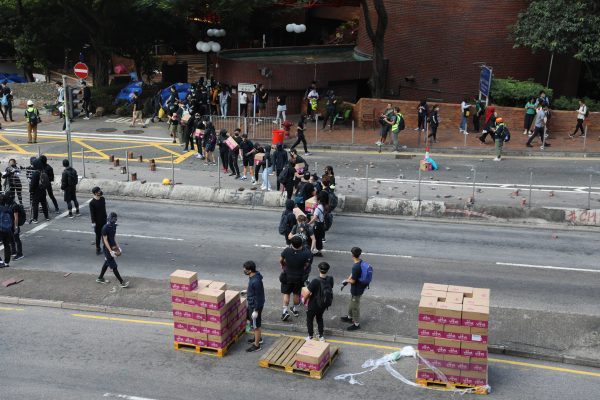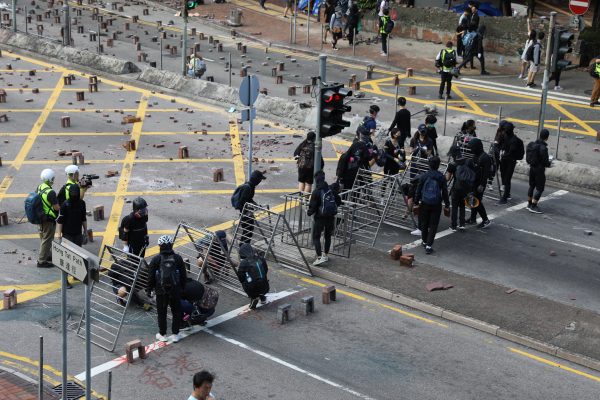 *
*
***