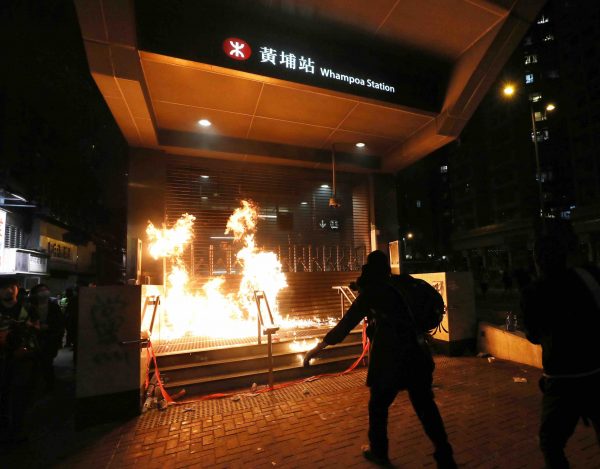 In 5,000 years, indeed, since the dawn of civilization, the Chinese have been so bereft and deprived of freedom and democracy that these ideas, values, must now be whacked into our heads (above): "Take that, Chinky!" shouts Lady Annie from the sidewalk. "It's for your own good. Merdeka!"
*
Democracy Rules

HONG KONG IS FREE!
*
The clip above is not going to stay up long on YouTube. When that happens, you'd see nothing or near impossible conditions would be imposed for access. Facebook and Google, YouTube's owner, are censoring all China related material, anything that damages the pro-US propaganda narrative (Pompeo: 'We lie, we steal, we cheat'), that they are freedom saints sent from heaven to rescue those shackled Chinks — exactly the way Lady Annie paints it, plus Stevie Gan, Reuters, et al.

Pro-US means anti-China: In the Anglophone world, Anglo-America is at the top of the pecking order; Chinese at the bottom.

*
The clip was shot — and narrated — by one of the pro-US Black Shirt democrats.
Narration translation? No, you don't want to know…
The time was around 00:30 Dec 1. Location, Mongkok, outside MTR metro station.
The man was one of three caught on camera who were attacked, all in hospital as a result. There are more.
The first-aid motherfucker?
Don't be stupid, or else that'd show shuzheng has failed. Ask yourself the following: Where had he come from? Is he real? Who send him? How had he known? What was he doing there at that hour? Who pays him? Hongkees don't do things for the love of mankind, that is, for free.
***
---
UPDATE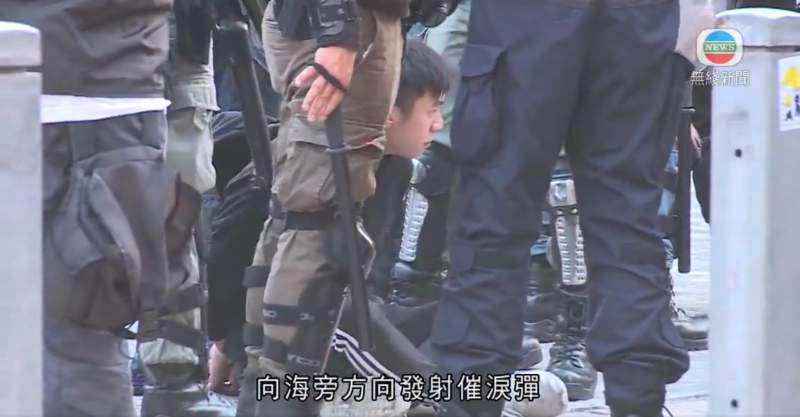 Catch and Let Go
The above is a TV screenshot capture:  A man caught rioting, throwing bricks and rampaging through the streets, and at that time, Dec 1, in Tsimshatshui.
But, why show him? Because this is the third time, the third arrest, the same motherfucker.
Third time, you'd ask? Because, when police present fuckers like him before the court, the magistrates keep letting them back on the streets, usually on a bail of HK$1,000 each (less than RM 500), no plea taken, and the cases postponed for re-mention — not even trial — on dates four-to-six months later. HK$1,000 isn't enough to pay for the goggles and tear gas mask he wears.
All that, you see, is suppose to mean judiciary independence.
Democracy. Human Rights. Freedom: all the wonderful western things that Lady Annie says the Chinese have been deprived for 5,000 years. Yes, five thousand — that is, until the White man came along with Lady Annie in tow.
Pity us, the Chinese, enslaved since the dawn of civilization.
Jian, my Love, we are emigrating to Hong Kong, Land of the Free.

*
警方於梳士巴利花園制服部分暴徒
大批示威者今日(1日)下午聚集尖沙咀一帶,計劃由尖沙咀鐘樓起步,途經梳士巴利道,遊行至紅磡體育館。下午約五時,數百名暴徒在梳士巴利道近帝國中心一帶投擲多枚煙霧餅,造成公眾恐慌,現場非常混亂及危險。警方隨即使用最低武力,包括施放催淚煙,以停止違法行為。
另外,示威遊行進行期間,亦有部份激進示威者沿梳士巴利道,經過麼地道花園時,向警方投擲磚頭。警方因應現場情況,使用包括催淚煙等最低武力驅散。
警方譴責暴徒罔顧在場人士的人身安全,警告暴徒立即停止違法行為。警方呼籲市民切勿前往該區,又提醒附近一帶居民留意最新情況,如有需要,應關好窗戶,並留在室內安全地方。
---
*
Something about the above should tell you why that's an important achievement.
Jian was here! Minus 22, would you believe?

***