With their hands folded, watching China suffer in glee
REMEMBER THE TIME THE WEST ATTACKED CHINA
…daily. Even Human Rights Int'l and Mike Pompeo got into the act, while CNN, NYT, VOA, Bloomberg, WSJ, Reuters, BBC, Mkini distributed their bigotry and racism among their bigoted Anglophile and White readers. Now…?
*
*
Never mind the West didn't help, they try to get in the way
Now, they know what we Chinese went through…
***
---
*
PULLING OUT OF WUHAN
They had saved tens of thousands, realistically a number that could be 100,000.
What will be China like without them?
感谢 一万感谢
*
From Anhui, Xinjiang, Hunan, Guangdong, Guizhou, Shanxi, Jiangsu…
They say they missed seeing the cherry blossoms. So they will come back this time next year for the flowers.

*
From Shanghai…
From Sichuan…
From Ningxia…
*
From Tianjin…
From Hainan…
*
At their age, one 76, the other 83, the chance is 1-in-2. This means for the old couple who were admitted together, only one will leave hospital alive. But on Mar 16, they walked out together. Our nurses and doctors did it again, who, unlike barbaric White man countries, won't consider the old as useless better be dead soon.
On the contrary…
IN TOGETHER, OUT TOGETHER!
***
---
*
US BLAME-CHINA CAMPAIGN
*
DECEMBER 2018
Nothing

*
AUGUST 2019
The army lab, which tests biological warfare including SARS, is in Maryland military base (map above) from which some personnel were dispatched to Wuhan for the international Military Games in late October. They stayed until second week of November — for sight seeing.
*
OCTOBER 2019
October 18, America's CDC with Johns Hopkins Center simulated a pandemic exercise Event 201, at the time calling to hire "quarantine officials" in November for the "worldwide outbreak" in December.
*
NOVEMBER 2019
Nothing… yet.
*
DECEMBER 2019
First sign of Covid-19 spread but called ILI, the same time cluster cases appeared in Wuhan, a month after its military left.
*
ONE WEEK LATER, ALSO DECEMBER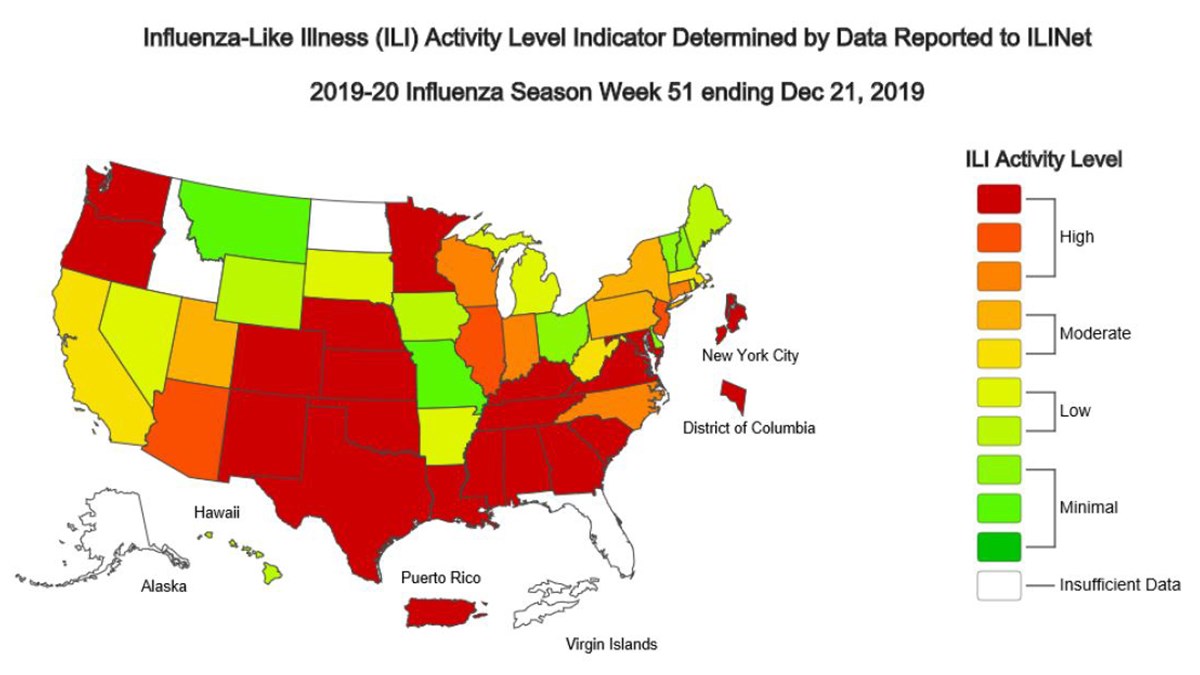 *
JANUARY 2020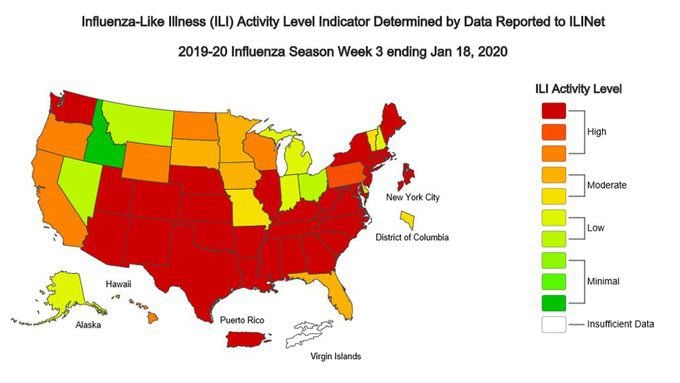 *
FEBRUARY 2020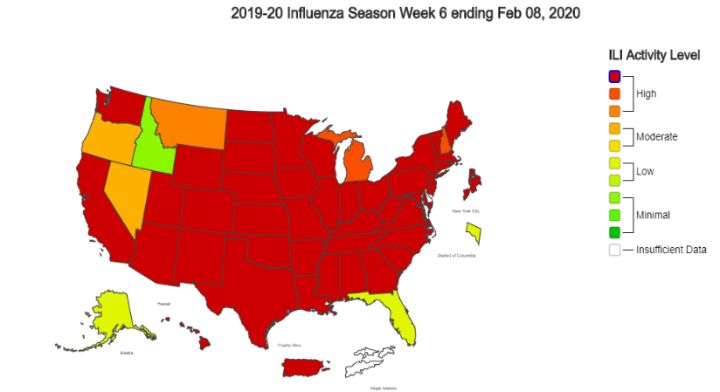 *
The distribution map above is the last one from CDC. After February, with as many as 36,000 deaths (number also reported by Trump in a tweet) and up to 46 million infections, it stopped publishing case data.
*
MARCH 2020
In late February when the US officially recorded about 300 Covid-19 cases, Trump was tweeting not to worry. It is just the ILI flu season, which is worse, with 36,000 deaths. He didn't say what did 36,000 died of. They assumed it was H1N1 because the dead were never tested.
Today — from 300 to almost 10,000 in under three weeks! — and closing fast as top of the league table, the entire US government and Press are mobilized to blame China. (See segment below about Chinese screw the Anglophiles. It shows the distrust people have in the Anglo-American governments.)
*
MARCH 2020
It's from the CDC itself: Clip below is further confirmation that the CDC hid the Covid-19 cases as ILI. They tested some dead people they thought died of flu, but found they had Covid-19!
Hence, while the US hid the actual Covid cases by calling them as a part of 'influenza-like illnesses' (or ILI, total 20-46 million) — thus taking the virus all over the world, starting with China where the military had sent a contingent for the Wuhan October games — it starts a blame campaign….
*
Above shows how many they actually tested for 'flu-like illness': no more than 9%! (During the Covid-19 epidemic in China, 1.2 million tests were done weekly! In three months, China would have done at least 15 million!)
At 9% of 46 million suspected cases, 41.9 million are floating around as carriers. How many of the 41.9 million are Covid-19? Nobody knows. Who went to China? To Europe? The world? The US army alone has 350,000 soldiers in Europe bases, not counting civilian staff and contractors. Small wonder, Europe is in such dire straits.
*
MARCH 2020
So to further hide the fact of Covid-19 origins, they, from Trump down, blame China: As we Chinese say, it is like looking at and pointing to the apricot tree to scold the plum tree.
Stepping up on the blame China campaign…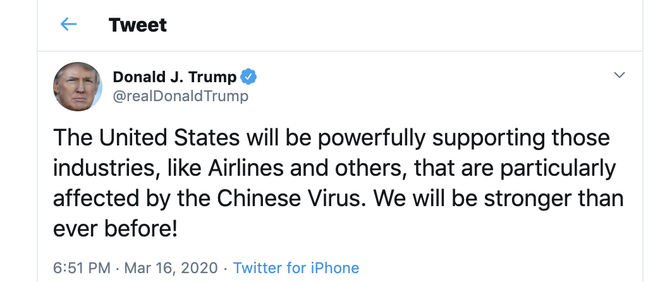 *
MARCH 2020
Pointing to the apricot tree to scold the plum tree
Trump's Fox News & Mike Pompeo into it as well

*
 The US-paid brown-skin thambis of India called WION are also recruited for smear job. Are they still shitting on the streets of Calcutta?

*
Even that Malaiyoo Mohammed motherfucker named Ahirudin Attan aka Rocky Bru has joined Indians, Fox News and Pompeo in blaming China.
Where it all begun?
How does Ahi know that it didn't begin in Maryland or the US?
Pompeo told him while Ahi was sucking his penis? Ahi is a doctor at the army base? He is a medical scientists and have lived everywhere, met every virus? Or is he just the army base animal keeper? How much is he paid for that hit piece? Or is that part of the NED contract?
Ex-reporters with a lot of cum like Ahi in Malaysia are a dime a dozen:
"Come on, Malaysia. We can do it. Just stay put."
What's that suppose to mean? Ahi gets a hard-on thinking of Pompeo's White dick, and masturbates on his keyboard for the words.

Last time, and for years, he was cock sure, like Mahathir, Umno made the Chinese rich. Which, inversely, has to mean that Umno made the Malays poor. To that, he's got to nothing say. These stupid fucking Prophet Mohammed Malaiyoos…. with brains the size of his mother's cunt hole (image below).
***
---
*
When they are incompetent, they look for scapegoats: How to distribute blame..
Europe goes after Russia, US after China
*
US infection worse than it appears
This is what electoral democracy produces: A government that kills you.
Change government in five years?
You are dead!
Italy mortality: 7 percent
China mortality: 0.7 percent
***
---
*
CHINESE SCREW THE ANGLOPHILES
China's handling of Covid-19 is so superior and stands in stark contrast to the duplicitous, money-grubbing ways of US and UK that thousands of Chinese Anglophile residents in those countries are returning to China in a flood the past two weeks. Here is an example: some Canadian White motherfucker with a Chinese wife, who calls himself gweilo60, and scams money off his stupid YouTube Anglophile followers.
Over past ten days, more than 60 arriving via Beijing airport, the main international flight entry point, were tested positive and are under treatment — all free. The rest are still in luxurious hotels under quarantine, also at Chinese expense. There is now a dedicated Covid hospital in Beijing just in case (second clip below).
But, typical of and copied from Anglo-American, White man Christian culture and their narcissistic selfishness, many of them hide and falsely state their travel history, health condition and tracing contacts. In numerous cases discovered at the Beijing airport, we find that they had taken massive quantities of temperature suppression drugs like Panadol before boarding their planes in the US or UK.
We are going after these motherfuckers and putting them in jail. So far we got nine. Wait now for Reuters, BBC and Anglophile underlings to declare we are suppressing freedom.
*
If you're Chinese Anglophile abroad and reading this, let it be a warning!
If White people and democracies are so great, stay away from China. Don't mess with us. We'll cut off your motherfucking balls and nail them on the bedroom walls of Donald Trump.
Here's a tip for those wanting to escape US and UK: Go and hide in Hong Kong. They are not so strict at the airport, and besides they are Anglophiles, a democracy; and you are very welcome to poison — and hopefully, pray to Jesus — kill the entire city population. We Chinese don't care for Hong Kong. It's only 7 million and, besides, they are already a poisoned lot.
*
ANGLOS, STAY AWAY FROM MY CHINA!
***
---
*
The End of the European Union
EU COLLAPSES
…and so easily — by a microscopic string of protein. Hurray!
Germany, UK next to impode
*
*
WE WILL RISE ABOVE ANGLO AMERICA
and show Europe how to beat the motherfuckers
---
*
MH17 SHOW TRIAL
America's anti-Russia campaign continues in Holland…
***