He is the one, circled. The new HK national security law is also applicable in mainland China. Maximum penalty: death.

*
ALWAYS GO FOR THE BIG FISH
…the bigger the better.
They, the big fishes below, passed off the chance. Now, those 15 Anglophiles, all Christians, won't be leaving Hong Kong…
*
---
*
This is what you won't read in Mkini/Reuters
Through a number of corporate vehicles registered in Hong Kong, a wealthy, English-speaking overseas Chinese businessman (pix at top) with a Belize passport had been funneling money to HK Anglophile rioters, Long Hair 長毛 in particular. Last week, before the security law was disclosed, he came into mainland China from Hong Kong. We picked him up at the airport. An Extradition Law could have dealt with him. But, in the circumstances, we had to wait nine months for him to return.
Now, he is finished.
We won't shoot him. That sort of death is too easy. He and the rest of his family, including his mistress, will suffer immeasurably: imagine neither alive nor dead.
Here's a lesson Anglophiles never learn:
Don't mess with us. You think are superior to Chinese, civilized, cultured? You think are God-chosen? Leave then, for your land of milk and honey. Go to America. We'll even buy you an air-ticket, one way.
泛民金主,內地落網,長毛勾結外國罪證大曝光?
彭定康玩嘢阻國安法,被踢爆想回朝,再做港督?
*
Here, too, is what you won't read in Mkini:
Hongkees itching to exterminate Yankees in HK.
And a message to the businessmen and Citibank, HSBC bankers:
If you are CIA, or even remotely related, but using business, finance and media as cover, we suggest you leave. Two months at most, counting from May 22: that's all you got. This goes for Reuters editors as well, and those motherfuckers at the British colonial outfit known as the Whiteman Foreign Correspondents Club, FCC. Outside China, including HK, they can shit all they want about US freedom propaganda. We know who you are, where you eat, and who you shit with.


You've been warned many, many times through this site. Want to call our bluff?
*
---
*
*
We'll avenge — lawfully, of course — their pain and deaths, the stoning, the acid, the fires we Chinese endured everyday for 10 months.

With acid, Anglophiles always go after women who can't fight back.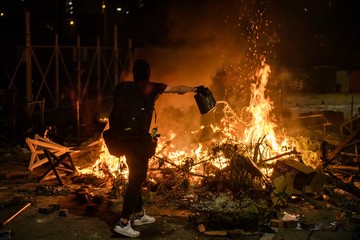 ***
---
*
Jesus of the Medieval Witches
Mike Pompeo: How to turn stone into bread, water into wine
*
The New God Named Pompeo
*
*
*
***