Xenophobic and racist Anglophile First
A case in point…
Pendatang! Balik Cina — Again — But Spoken in English

Anglophile First: See why a DAP Malaysia is going to be a fucked-up country, like is PAP Singapore.
The source of that man's attitude (in the clip above) — berating, bullying, moralizing, inhumane, irrational — isn't rooted in law nor in state policies but in his culture and value system that the Singaporean motherfucker had imported then raised to accept without question. He isn't the first, of course (see below), and won't be the last.
DAP Malaysia actively promotes this sort of thinking, values and culture: Malaysian First, which is anti-Malay, anti-Chinese, anti-natives because, in Hannah Yeoh's words, we have 'no class'. And we Chinese have been getting it from them, whether in Malaysia or Singapore. Such are the beginnings of fascism.
But we Chinese, China, will get even; we always do. Besides, it's in the Nature of things….
*
---
*
The world's most potent revolutionary and anarchist propaganda — and highly deceptive, too. Yet Che Guevara is not even Cuban, he is Irish descent, his father surname Lynch being from the Cork, and Che himself living a while in Limerick. The Che poster had come from one of the two frames immediately above and note who preceded Castro and Che? Jean-Paul Sartre and Simone de Beauvoir.
Hannah Savior Yeoh and Chairman Commie Lim
In February 1970 16-year-old Zhang Hongbing slipped a note under an officer's door in his Anhui village, accusing his mother of criticizing the Cultural Revolution and Mao Zedong. After which, the mother was bound, dragged out, beaten then executed. In 2016, Zhang, 72 by then, wrote and published the same account in his blog to explain her death and his betrayal: "I want to make people in China to think."
If you are wondering about the relationship in the above image and the one below, it's this: they carry the same propaganda.
In Harapan, DAP people in particular, so skilled in lying and deception, fought, lived by and had thrived on propaganda: they had won GE14 on propaganda and now rule by propaganda.
Everything else, such as the police and MACC raids, exist purely to explain and to justify the propaganda message: they are Saviors. They had even converted a 12-year-old named Ervin Devadasan to their cause, Ervin being as classic as Anglophile like is Shay Adora Ram.
And here's the thing: Having 'rescued', 'saved' the country, the DAP (and Pakatan) will feel justified to drive and to own it. On that plank, when propaganda turns to action and because of a Malay backlash, the result will convulse the country.
Wait till Umno and PAS get their act together….
We haven't yet the seen the backs of racism that the DAP itself practises in its inverted form: the Anglophile and the Jesus Christ supremacy inside them.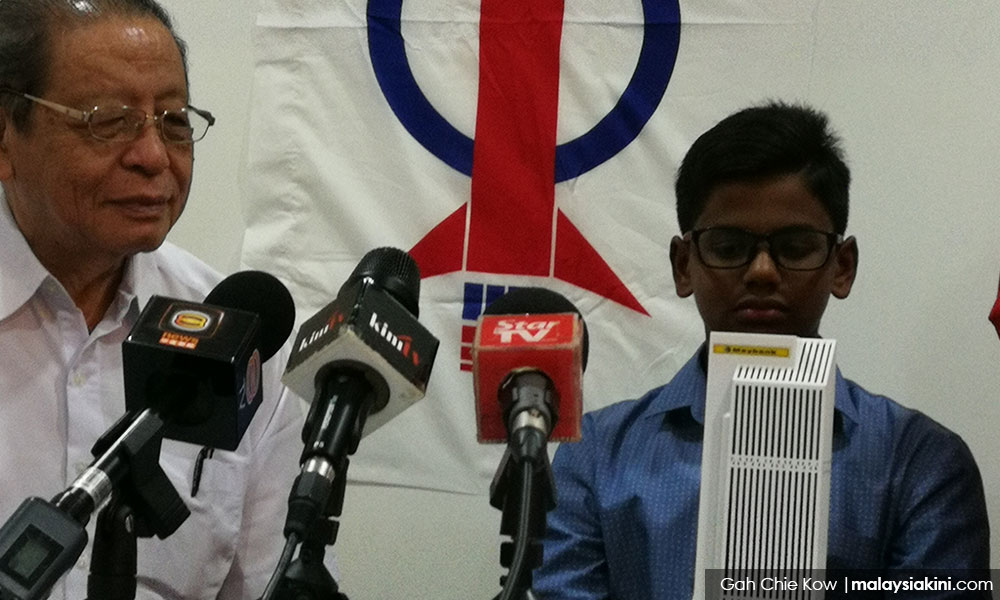 For 60 years or more, all government propaganda messages rested on situating a Malay, usually some Umno crony, as an exemplar of the penultimate Malaysian character, quality and patriotism; that person is never, for example, a Chinese. (Recall Mahathir's towering Malays?) Today, on the same pivotal position, the ultimate, devoted Malaysian carries a name like Ervin, black skin, white inside, all white, like Shay Adora is white, like Hannah Yeoh, like Joseph Lim Guan Eng, like Lisa Ng and Sheridan Mahavera.
Shay Adora's turn will come; she is still growing up.
*
What's Wrong with the Pakatan Government?
The question above is found in the answers to the following questions:
What lays at the root of the decision by DAP Minister Kulasegaran to want to deport all the foreign cooks? Why did he stop at cooks only?
What's to be gained by Hannah Yeoh using — no, exploiting  — a kid, lifting him onto a national pedestal, identical in the way she exploited her 6-day-old daughter to claim a non-existent ethnic root?
Why did Mahathir claim that Malaysia has too much debt, 1 trillion too much, then turns around to say the country needed to borrow from Japan, justifying, at the same time, to keep giving fish to fishermen?
Why did Mahathir, Lim Guan Eng et al keep lying about the one trillion ringgit?
What motivates Jagdeep Singh to wall up migrant workers in Penang into designated areas only, in essence, a policy identical to Nazi policy towards Jews and the Chinese Exclusion Act in the US?
In all the questions, above, Malaysian nationalism is the central plank. In power now, they crank up that message.
Pakatan's entire propaganda efforts would leave and demand this choice from the Malays: either you are Malay or Malaysian. And if you are Malay you can't be true Malaysian. Or, if you are true Malaysian, you can't be Malay.
***
Anglophieng Revisited
Here, you've an Anglophile, with an Aussie diploma, who once counted beans for a living, so listen to him, in Malay, trying to make sense of truth and reality.
A Spade is a Spade when Guan Eng says it is
Guan Eng [in translation] within 50 seconds can go from claim (in italics, bold and parenthesized, below) to fact to contradiction then to contrary-claim and back to contradiction, onward to repeating false equivalence, after which, if you were to sum them up has only one noun-adjectival word. It is call a lie:
… The debt position of the federal government is an amount exceeding 1 trillion ringgit (claim). Obviously, Moody's saying that the federal government debt at this point is 687 billion (fact). True, we don't dispute that (first contradiction). But we estimate that the savings (contrary-claim) of the federal government from debts (second contradiction) … For example, the case of 1MDB (false equivalence in an example)….
Small wonder, Malaysia is so fucked up, sucking up to Mahathir, Guan Eng, et al. And reporters, Malaysiakini in particular, see nothing wrong with that statement… and so continue day-in, day-out to troll out trash and those motherfuckers proclaiming them as saviors and gods (the same thing they say for 2,000 years about that other fucker named Jesus Motherfucking Christ). It is his 'right', they'd say. It's transparency, accountability, they'd say.
Also note the man to his left smirking, and who, once in the business pages, would hail him as a successful, clever man all because he's got more money than you.
---
The Truth of the Matter
Lim Guan Eng (and Mahathir Mohamad) get away with what they say by the mere act of repetition, which is the cliche excuse given to lies by Malaysiakini. But how does repetition turn a lie into truth?
It can't. No, rather, lies become lies after first accruing some certainty: it must, those motherfucking editors say to us, contain a germ of truth. Thus, on this germ, grows a kernel of impenetrability so nobody truly understands what it is, in the end, Guan Eng is saying about the 'debt'.
This is where economics come in. Without, first, the comprehending the economics contain in the statement — the government debt is now 1 trillion — how could Malaysiakini tell if Guan Eng is telling it right? But to get to the bottom of the matter, for the economics to be explained, 1 trillion cannot be done without the tables, graphs and especially the mathematics.
It would be like talking your way through a painting without ever showing the water-color painting, photo above: try imaging it purely with words. You'd be wrong ten times out of ten.
(Truth? It is the cover of a new book Acts of Infidelity, Picador, by Sweden's Lena Andersson who tells of a respectable playwright (Andersson herself is a novelist) entering into a relationship that's today called a mistress. To pour scorn on the Chinese as low-class, Anglophiles and moral motherfuckers like Hannah Yeoh call the mistress, a concubine. Andersson wanted an answer to the question, once the sex is taken out, satisfied, what is a lover for in this age?)
In the remaining part of this post, talking of 1 trillion, financial economics and analytic logic are used, generously.
*
Why do the Fuckers keep lying about the Trillion?
Begin with Anil Netto, a quack economist:
"The federal government's domestic debt has soared from RM217bn in 2006 to RM438bn in 2011."
Notice the word, 'soared'. After which he goes on, dousing petrol into the 'soaring' debt numbers:
"The government, however, says nothing to worry, the total federal government debt is only 53.5 per cent of GDP, still below the critical threshold of 55 per cent. But see how even that ratio has been rising over the years."
After which, he reproduced the graph below:
What's wrong with it?
For the answer, see the next graph below, taken from some birdy named Hornbill who, though, is less hostile to Najib (pay attention to the green line, at 60 to 100% of GDP that ran for half of Mahathir's era):
Both charts are factual, but none is true. Not true because debt and GDP are apple and orange comparisons.
Total federal government debt is total stock of monies owed by Putrajaya whereas GDP is not a stock concept but a flow — how many stalks of rice ripened yesterday and harvested, chapatis made and eaten tomorrow — hence, GDP changes by the minute.
Debt-to-GDP is hardly the stuff of economics, it is not even worth discussing, but it is useful for rating agencies (Moody's etc) and central banks as a measure (notice the word, 'a') of the government's ability to pay. But, in the hands of motherfuckers like Lim Guan Eng and Mahathir Mohamad, they'd use it to decide if Malaysia is going to be 'bankrupt'.
In corporate or stock market terms, debt level is called 'leverage' or 'gearing'. Hence, debt-to-income ratio is a company's ability to pay for every dollar earned over a period. In an indirect way, the ratio measures how much money could be earned for every dollar borrowed, though those earnings won't come three, five years later when a factory, paid with a bank loan today, is completed and therefore could start to produce goods after which they are sold (insyaallah) and earn money to repay the loan. Hopefully, net of these repayments, there is leftover as profit.
Exactly the same is the debt-to-GDP concept, measured sometimes in percentage terms, and mostly as multiple (or fraction) of the other. At a macroeconomic level, however, the ratio is almost useless because, unlike corporate, the government can print money.
Still, we'll talk about it here because of morons like Anil Netto, since joined by the Lady of the Valley (who can bear to see a graph, which gives her a kepala spin), each of them, one piling on top of the other in a doomsday propaganda started by Mahathir, now spread by Malaysiakini and Stevie 'Wonder' Gan.
Now, look at the Japan numbers:
Holy Jesus shit…! 200%, then 250.
These are numbers that Gan, to serve the propaganda, won't show. This is because the graph demonstrates two things:
(a) you don't need Moody's to tell you Mahathir is spreading lies,
(b) that the ratio in Malaysia doesn't really, really, really matter.
So long as you afford to repay, who cares if it is 1000% of GDP. And if you have no money to repay then print money or sell bonds. In Japan, they print yen; in US dollars.
Here then we arrive at the crux of the matter in Mahathir's lies:
what's debt; (Which seems like a redundant question till you learn about its economics.)
is a government guarantee given on a loan a debt;
the differences between federal, national, and household debt; and
does it matter in distinguishing different kinds of debt, or debt that's external or domestic.
We'll deal with them together but in random order — the end result from our quest is still the same.
Because Mahathir and Pakatan tied up government debt with bankruptcy (this stupidity came from the other motherfucker named Lim Kit Siang), quickly scan through the column headings above: debt is broken into external and domestic.
This is big deal because money owed to, say, Japan is different from owing Maybank. Owing Maybank, the government has the power to print ringgit to settle its debt. Owing Japan, it can't print yen. Malaysia has to earn yen to pay back yen. So, how to get hold of yen? In that situation, Bank Negara comes in.
In other words, ringgit debt won't bankrupt Malaysia but foreign debt will. Many Latin America in the 1980s, (see Chile, table above), Philippines in the 1990s, Greece and Iceland in 2000s, defaulted on their debt.
Most of those debt — and this is point of departure in discussing debt — were owed by the government (see Greece, below) not by individuals and companies. What is the federal government external debt today? Answer: Around 200 bn out of 687 bn, that is, under 20% of GDP. In comparison Bank Negara's international reserves is more than 400 bn.
If by breaking down the concept of debt, the federal government's position isn't in dire straits, why then did the motherfuckers Mahathir/Guan Eng keep drumming it up?
To answer that question, first resolve: Is it 1 trillion or 686 bn?
(This segment to be continued…)
***
Letters from a Stoic
There are more things … likely to frighten us than there are to crush us; we suffer more often in imagination than in reality.
From the Daoist Seneca

It is likely that some troubles will befall us; but it is not a present fact. How often has the unexpected happened! How often has the expected never come to pass! And even though it is ordained to be, what does it avail to run out to meet your suffering? You will suffer soon enough, when it arrives; so look forward meanwhile to better things. What shall you gain by doing this? Time. There will be many happenings meanwhile which will serve to postpone, or end, or pass on to another person, the trials which are near or even in your very presence. A fire has opened the way to flight. Men have been let down softly by a catastrophe. Sometimes the sword has been checked even at the victim's throat. Men have survived their own executioners. Even bad fortune is fickle. Perhaps it will come, perhaps not; in the meantime it is not. So look forward to better things.
***
Not-so-impenetrable Joycean Speak

Ulysses:
the day I got him to propose to me . . . first I gave him the bit of seedcake out of my mouth… he said I was a flower of the mountain… yes so we are flowers all a womans body yes that was one true thing he said in his life and the sun shines for you today yes that was why I liked him because I saw he understood or felt what a woman is and I knew I could always get round him and I gave him all the pleasure I could leading him on till he asked me to say yes and I wouldn't answer first only looked out over the sea and the sky. . .
***
Un-Joyce
Those who are to be judges, must also be performers (i.e artists.) Those who are to perform, should judge less. — Adapted from Aristotle, in Politics
***
One of the finest films to come out of the Chinese society, arts, consciousness and our humanity. Accept it as true because it is.
***