Behind the Mask
Spring came then the rent fell due, and Jian returned to Panjin after completing her assignments. But it is I who feels the pangs of remorse. How else is a confession exorcised if not here?
Panjin faces the Yellow Sea. From here it is nearer to North Korea than to Beijing, faster to get to Vladivostok in the east than to Shanghai in the south. The Japanese took its province of Liaoning, bombed and occupied Shenyang in 1931 on the excuse of the Mukden 'Incident'. Later, they would again passed Panjin then moved on Beijing. Thus had begun the Japanese conquest and seizure of China. They never could go far, not even 14 years later when WWII ended. In that time, the Japs killed and starved to death more than 30 million of us. Deployed against Shenyang, 160,000 on our side, were just 60,000 Jap troops; yet we lost. It won't happen again.
Next day, Jian is still distraught, feeling a sense of incompetence, she tells me. Life has become unbearable but she doesn't know how to respond. In return I offered only silence, without even the words of comfort. When will you come, she asked. Summer when the grass (below) turns red, I replied. We'll walk the beach and watch the cranes.
It is a promise I don't know if I will keep, or can keep. Perhaps this is the reason for the remorse.
Xi Jinping has spoken of war and our readiness for that eventuality. If, indeed, war comes then we must continue to endure our separation. For now, we keep our masks on as if time and space pass by for no reason other than they have to.
We search for motives when there are none to be found.
In Crime and Punishment, Dostoyevsky devoted much of the plot not on the murder of the pawnbroker who prefaces the novel. Instead the book went on a quest, searching for Raskolnikov's motive. But, who should deserve their respective fates: Raskolnikov for the murder or the greedy pawnbroker, murdered because she lends money at extortionate rates?
Dostoyevsky explored two kinds of people, the law abiding and the law breaker.
On that premise, you can see why those out to create a new world order (the absurd class called the 'New Malay'), people like Mahathir Mohamad, are no less guilty of breaking the law. They have to: When new ways of thought and edicts are introduced to replace existing ones, the old ways must first be broken and stamped out. This explains Mahathir's constant railing against the Malays in a senseless attempt to dispose their traditions and conduct and then overlay that with new models of behavior, new laws on old ones, the things we'd call 'values'.
Be wary therefore when Mahathir accuses Najib Razak of being a criminal and a thief. Mahathir is no less a law-breaker than Najib; the former, who, behind the mask of serving a greater good — Save Malaysia — is willing to kill the pawnbroker.
Had Mahathir himself not broken every law? Had he not wage war against the same people he said he now want rescued? Who then is more dangerous: Raskolnikov or the pawnbroker? Man with mask or thief?
More dangerous than a kleptocrat is a snarling, rabid dog — Mahathir —  who, having trampled on the old and birthed all the new, has produced the Malaysian society one sees today: retrograde in every facet of life that opposition politicians and a chanting lynch mob now blame a thief as the cause of the malaise. It doesn't make sense. Najib's ways might lead to discomfort, even disdain from the world, but Mahathir's way leads to destruction and war.
*
The Cranes are Back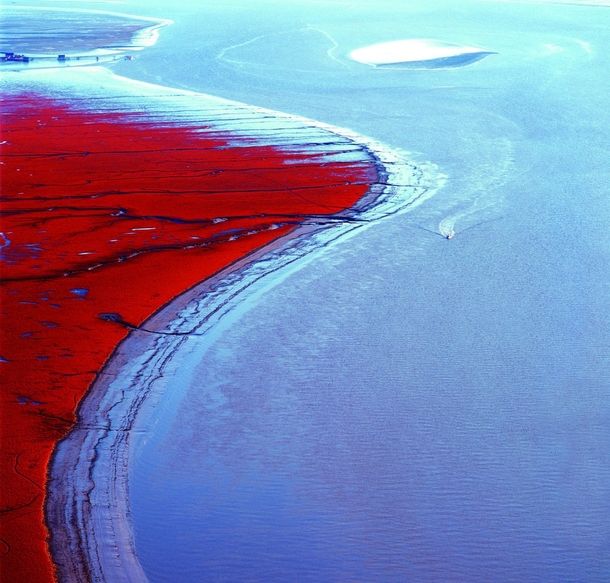 This (above, below) is the incredible, surreal Red Beach of Panjin. It is formed by the Suaeda salsa (碱蓬草) specie of marsh grass that starts to grow in April then deepen in red as it matures and as the growth cycle moves into summer before its decline in Fall. This specie is found no where else. The red-crowned crane (further below), which the Japanese airline JAL uses as its logo, reproduces here. I am told they have started to fly in, to feed and then to breed. Together Jian and I will watch.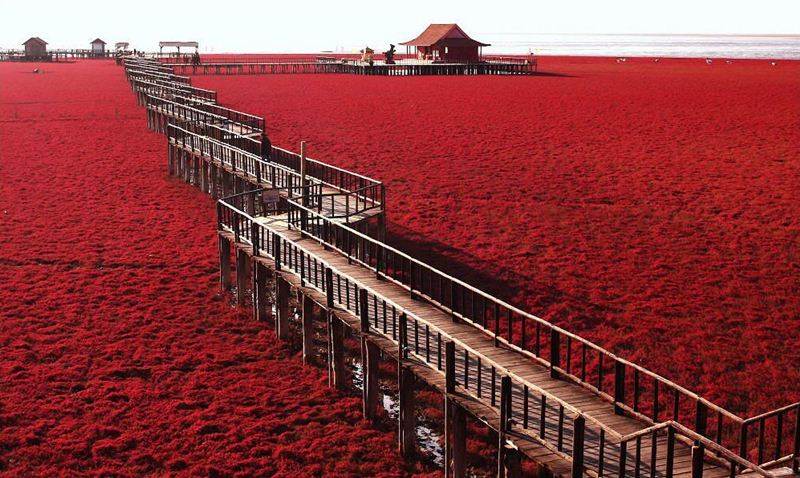 ***
殇 Mourning before death
*
The Face Masks the Heart
With colleagues on summer fashion assignments: why is the face so good at masking the turmoils of the heart?
Clothes, bags, accessories are sale items.

***