Archive for the 'Reportage' Category
Bonus Post below
US ASSET: YELLOW CHINKY WONG
If you think the books are for reading, ask yourself this: how many have they read?
As they gang rape small girls, age 15 and 16, they'd surround themselves with artifacts of high western culture, just as they present themselves to the Malaysiakini-type Media and the world as being civilized, clever, influential and therefore powerful.
Jeffrey Epstein, since murdered in his American prison cell: His ranch above, with close-up, was the Auschwitz destination for girls trafficked within Britain and the USA and back and forth.
An Auschwitz in the middle of the desert, there was no where for the girls to run.
The island, too (below), was another destination place for the girls trafficked for sex to serve Bill and Hillary Clinton (the later is a LGBT), Prince Andrew, other politicians and two Goldman Sachs top executives. It, too, has no where to hide or run.
That Auschwitz is lovingly called Little St. James, a part of in the US-owned Virgin Islands
*
To the world, the Clintons and their Anglo-Saxony stock talk about the Anglo-American values of freedom, democracy, human rights, religious freedom. And the world accept these as true and virtuous.
Yet, in their private lives…
Above and below: Inside the rooms of the New Mexico Auschwitz for small girls, and under the gaze of Jesus Christ and the Church, they'd fuck and fuck and fuck.

After Epstein's murder, but categorized as suicide, the powerful are never prosecuted, and also because they are White, Anglo-American, and Christian.
Even Simon Cheng has learned from the BBC and Prince Andrew, that is, the use of media propaganda: Instead of accepting responsibility for screwing minors, although in a brothel, he deflects the subject of his statutory rape and claims Chinese brutality in detaining him.
The girl is only 15.
*
For more on Bill and Hillary and others staying at Auschwitz for girls, see this, this and this.
*
*
***
And now to the family of Nancy Pelosi, Hillary's close ally in the House, like the Joe Biden family, involved in domestic abuse, prostitution, drugs, fraud, shady deals, money laundering through Ukraine…
White politicians are so full of shit. But, of course, nothing will happen to them. Democracy, you see.
---
*
THE BAD & THE UGLY FOURSOME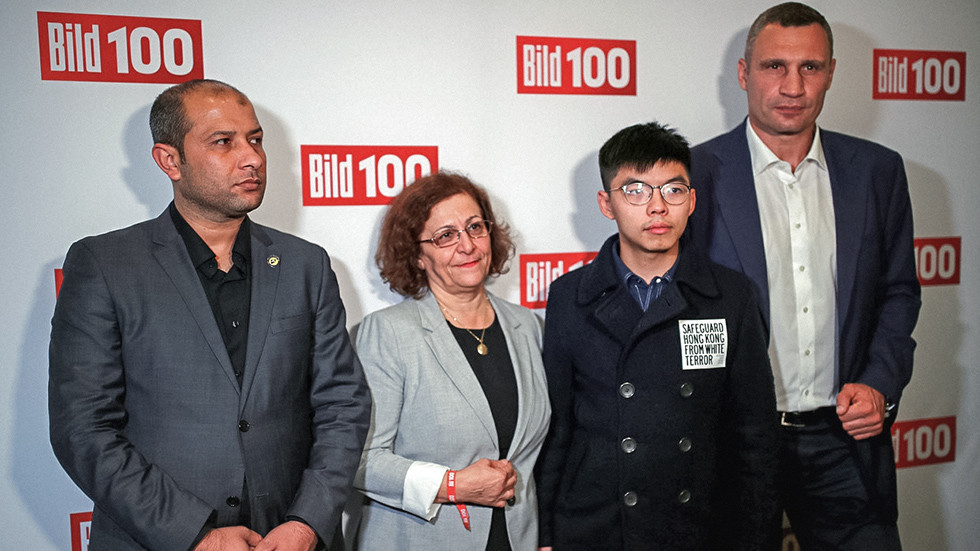 Joshua Wong posed with the "White Helmets" head Raed Al Saleh (L), Kiev Mayor Vitali Klitschko (R) and Iranian-Austrian political activist Mina Ahadi. Full report here, and reproduced below, titled Color revolutionaries of the world, unite! Hong Kong protest leader pictured with White Helmets boss.
For more on Chinky Wong, see Juan Guaido, Joshua Wong – New Generation of Pro-Western "Saints". And this: Hong Kong Protest Leader Hangs Out with White Helmets Boss.
*
US ASSET: YELLOW HELMET CHINKY WONG
Hong Kong protest figurehead Joshua Wong, who has been rocking up to 'pro-democracy' meetings with various Western officials in recent weeks, has been spotted hanging out with the chairman of the White Helmets in Berlin.
Wong attended the 'Bild 100' summer party in Berlin this week, where he seems to have bumped into White Helmets boss Raed Al Saleh. That's a tad awkward, since the Syrian first-responders group operates solely in areas controlled by anti-government fighters and has been heavily suspected of links to Al Qaeda and US-sponsored jihadist militias – a fact that did not go unnoticed on Twitter.
The White Helmets is a dead giveaway that this is a Propaganda Construct.

— Martin Larner (@MartinLarner) September 10, 2019
There was another familiar face in the snaps, too: Mayor of Kiev Vitaly Klitschko, who was, for a time, himself a Western favorite when Ukraine was in Washington's regime-change crosshairs.
But Wong has had some questionable high-level meetings, too. He also met German Foreign Minister Heiko Maas at the event – with that tete-a-tete quickly slammed by Beijing.
These meetings come on the heels of photos showing Wong speaking to Julie Eadeh, an official from the US consulate general in Hong Kong, which raised more suspicions that Washington had a hand in the recent violent anti-China protests.
Skip back a little further in time and there are also pictures of Wong with Venezuela coup plotter, Republican Sen. Marco Rubio.
Light reminder of Hong Kong riot leader Joshua Wong's rendezvous w/chief world coup plotter Marco Rubio.Left: At the Congressional Commission on China, a U.S. body which 'monitors human rights & rule of law in China'Right: Meeting to discuss HK Human Rights & Democracy Act. pic.twitter.com/B65a0sGhQl

— Camila (@camilateleSUR) September 9, 2019
But Wong doesn't discriminate. It seems he'll meet with any American willing to meet him. He was also pictured with Democratic Party leader Nancy Pelosi back in 2015, at the ripe old age of 18.
If he wants to avoid the appearance of being used as a US regime-change asset, Wong certainly seems to be going about things the wrong way.
*

A Conversation
Joshua Chinko Chinky Wong vs Raed Mohd Prophet s.a.w Al Saleh
*
Raed 'White Helmet' Al Saleh: Hello Chinky. Long time no see. How's Hong Kong doing?

Joshua Chinky Wong: You no call me Chinky. No good lah. Myself also Yellow Helmet like you.

Okay you're not Chinky. Can I call you Shorty? You Chinkies are too sensitive.

Of course we sensitive. We fight for freedom. Fight for democracy.

Ya, ya, ya…. We fight for money. You don't? We haven't been paid. You?

You stupid. We Chinese clever. We first ask for money 70 percent advance. Why you so stupid?

You don't call us stupid. We're not capitalist like Chinkies. Even fight also want to make money.

No money, how? See, no money, what happen to your White Helmets?

They took our helmets. Paint yellow and gave to you. Motherfucking Yankees.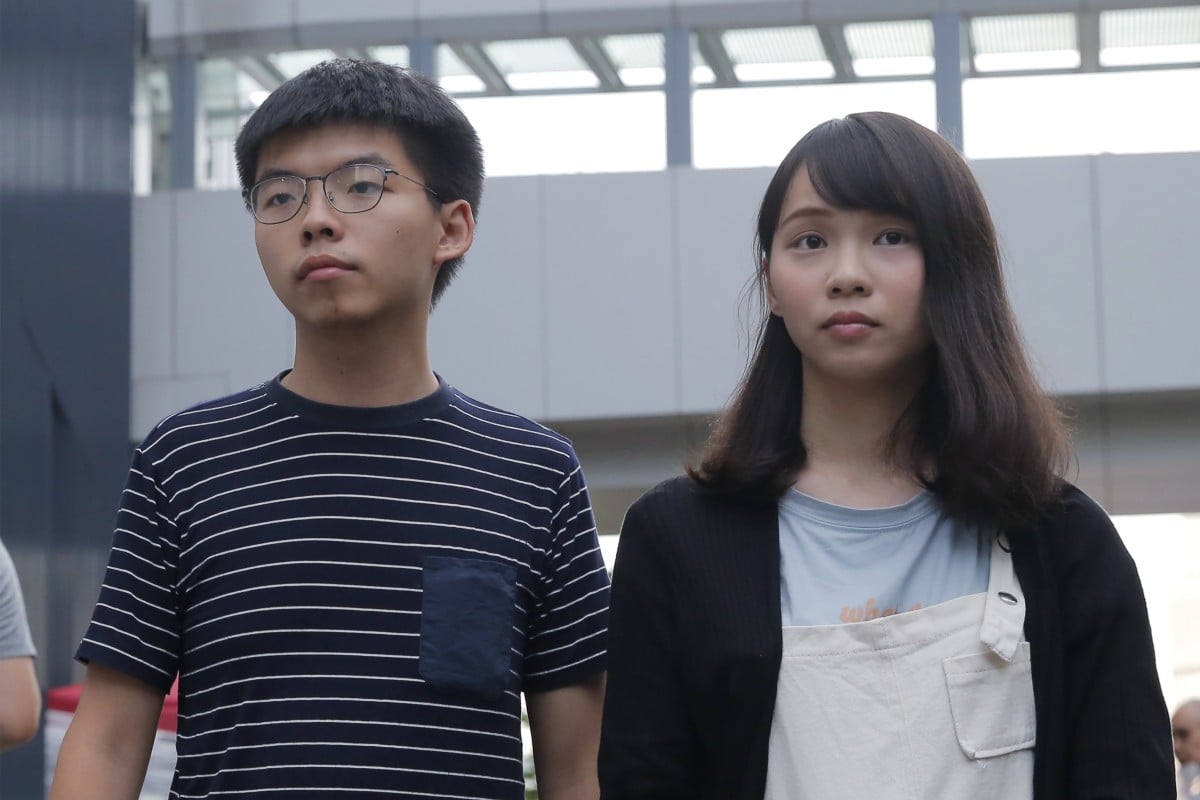 Al Saleh Postscript:
Hei Chinky. I see you got nice Chinky girl. Is she fuckable?
***
---
*
*
APARTHEID AMERICA
*
The history that White lover Annies and the Stevie Anglophiles prefer not to know…
*
America the Imperialist: 850 bases worldwide
The red dots in Malaya and China represent Singapore and Hong Kong.
In 1997, however, America lost Hong Kong. After Duterte became President in 2016, it lost three in the Philippines. If Mahathir Mohamad could give them Tawau in Sabah or Miri or Kuching, better yet all three, perhaps America would leave Hong Kong alone.
*
The coming of Apartheid Hong Kong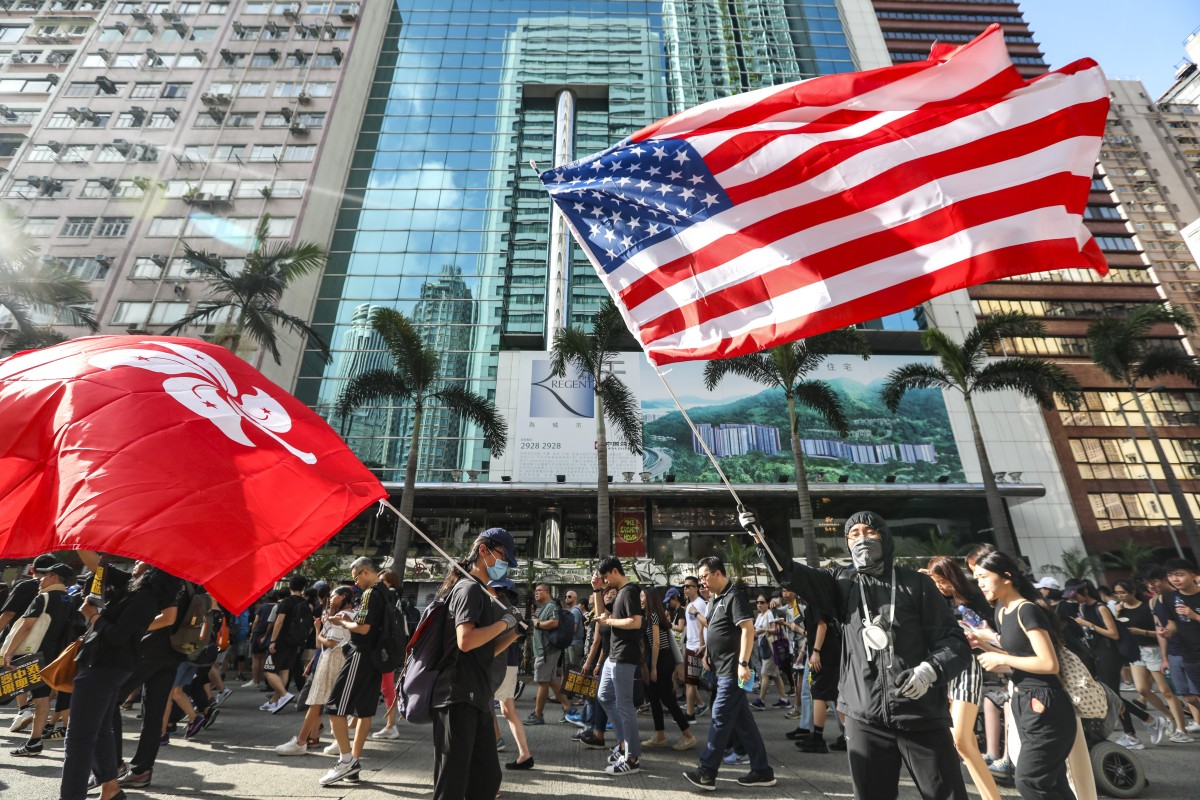 ***