The Master Bedroom Salesman Who Knocked…
*
Datuk Choy Wai Ceong
waiceong.choy@masteron.com.my
20.177.131.18
Hi…I hv been reading your blog wit interest. I am not a politician but a businessman.

Is there a way we can exchange views ?

:)

Sent from my Samsung Galaxy smartphone.
"Hiya", My name is Latuk Choy
Day One
I m not chinese educated but would like very much to understand the chinese world view better that i do now…prehaps you can assist ..
Day Two
My professional life was in selling furniture world wide for 10 years whereby I travelled to many many parts of the world and another 20+ years in the Malaysian property market.
Day Three
We hv thought of investing in china and now the main criteria for us in site assessment will be the " wen hua" in the Chinese sense of each locale.. Shanghai / Shenzhen /Dongguan ..are all obvious choices….whereas the boondocks such as Hefei /Anhui… Chengdu or even /Fuzhou…to avoid…

To use a western mindset's commentary of these places will be to label them as backward or uncivilised….haha
*
Haha, indeed. 'Backward' and 'uncivilised'?
Boondocks like the Asal people in Kelantan and Pahang and Johor and Sarawak? Why, they are expendable if you needed their land for chairs and your Master beds.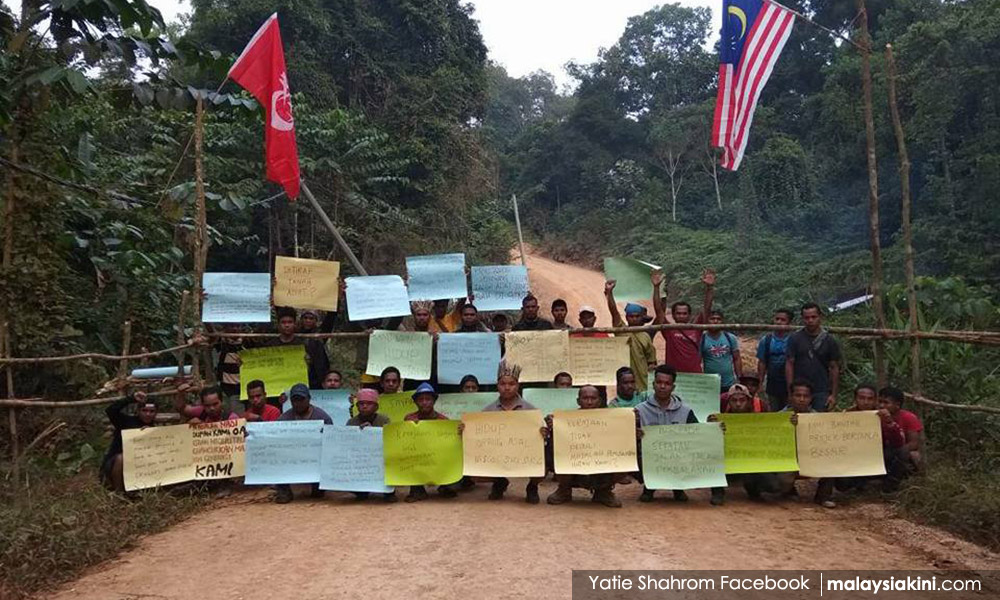 These are the Temiars and the land is theirs. But Malays grabbed it, with lots of help from the English, simply by putting words to paper — it is 'law', they say — then label the law 'Federal Constitution' (all in capitals) and through which Malays call themselves bumis. Entire peoples have been defrauded in this way.
*
Want to come to China for the same, the land? Pick your site, Latuk. We'll be waiting…, and it won't be just blockades, unlike the Temiars who have nothing and so are pushed around.
Go plunder elsewhere, Latuk. Try Taiwan. They sell a lot chairs.

Or, perhaps you'd think that Mahathir can connect you in China? Surely, you know nothing, understand nothing, and see nothing. Balik kampung. Go back to your boondocks PJ, boy. At age 50 plus, you learned nothing. And, if you have nothing else better to do with papa's money, go suck a lollipop. Tons of it.

***
---
*
I cry over my husband, whose head is lost
*
Anglophiles, like the Latuk Banana above, have no identity — imagining themselves to be like the butler Stevens in Ishiguro's 'The Remains of the Day', people who can't even fake their identities well enough. They feed off what they read and they read only in the English, in the Latuk's case, English law. Or, Lady Chatterley's Lover in some La Salle school. After which, they grow incapable of being straight.
As Ketuanan Malaiyoo would cripple the Malays, so English would cripple the rest. You see the consequences daily in Mahathir or the DAP, most recently from Anthony 'Walk-the-Talk' Loke who brags about his conduct, humiliating another man, publicly, openly, while his boss in Beijing goes on yada, yada about 'Asian values'. (And the rest of Malaysiakini cheers Walk-the-Talk Loke: What a fine, upright Christian, they say.)
Butler Stevens will be nothing without those (on sale) country mansions and an English class system, all the external props. Which is just as well. The Latuk is nothing without father's money, some stupid Malay name titles, and, especially, his English. He will be just a "stump".
Here is this comment about an identical situation a few oceans away, in Uganda, not surprisingly:
I've always loved this brilliant evocation of the life of Lawino (above, in Song of Lawino by Okot p'Bitek), a traditional Acholi woman in Uganda, struggling to make sense of the world of her husband, Ocol, alienated by his colonial education, and infatuated with a "new woman," who, like him, has a life shaped by modern literacy.

Listen, my clansmen,
I cry over my husband
Whose head is lost.
Ocol has lost his head
In the forest of books.

And the reading
Has killed my man,
In the ways of his people
He has become
A stump.

Lawino laments her husband's shift to Western values, becoming a Christian, getting a Western education at Makerere University, changing his name, trading in the traditional sense of time (he now schedules his life according to a grandfather clock whose "large single testicle / Dangles below") and reading books instead of listening to stories. She is embedded in the ways he now considers backward. Okot p'Bitek's book-length poem captures a moment when a husband's focus on reinventing his social identity denies his first wife's individuality, and so he moves on.
***
---
*

I Cried in the Offices of Playboy
Reproduced from Buzzfeed
By Ling Ma
…I've held other jobs, worse jobs. The worst job was at a firm where I was routinely fat-shamed for my lunch options by a colleague. What are you, a Chinese mother? was a thought that I had, but kept to myself, so that I could eat my chicken pad thai in peace. Another time, I ended up helping a supervisor create a Match.com profile for herself. How I ended up working with said supervisor on her online dating persona so late at night, well past office hours, probably had to do with being complimented: "But you're so good with words." The ability to speak up for myself, to demarcate my time, my labor, my skills as my own, eluded me. It took me years to understand that the responsibility of enforcing professional boundaries often falls to the less powerful party. It's not in the interest of the powerful to adhere to those boundaries. As almost anyone who has worked in an office knows: People can be awful and they can use their power, however limited, to belittle or pressure others in subtle or not-so-subtle ways that are psychically bruising but technically not illegal.

What I'm trying to say is: The crying at work was not about the work. The source of stress is never the specific litany of tasks and duties one is paid to do. The work, I could control. But I couldn't control the bullying campaign by an older superior, who seemed to target me and another coworker on staff. Though my coworker and I had both devised ways to avoid the staffer beyond professional interactions (I had taken to strategically wearing headphones), there was something about the daily drip of passive-aggressive jabs, the unnecessarily personal remarks, the pointed, belittling questions interrupting our workflow — all under the thin guise of professionalism — that just added up for me that day.

…

My father has sustained a long and fruitful career in a different field. Once, he was selected as a featured employee for the company newsletter. Ostensibly as a way for employees to get to know one another, the selected employee submits to a questionnaire, published alongside their picture. One of the questions: How would you like to be remembered? To which he responded: I would like to be forgotten.

The answer raised some eyebrows at the company, and my mother would periodically tease him for it. The curtness of his response gave the misleading impression that he didn't, in fact, enjoy his job or derive satisfaction from his career. But what my father meant was that the work self and the private self are two different things. And that he didn't owe the company his private self, even for something as innocuous as a corporate newsletter.

I was born in China during the 1980s. In every family, the Cultural Revolution casts a heavy shadow. I won't go into the particulars of my family history — of who was publicly castigated, who was sent away to labor camps, who was separated from their families — in part because I understand the stories only piecemeal, in offhand references, through secondhand sources. They're a part of family history that no one wants to fully acknowledge.

What I will say is that, for years, between the ages of 3 and 5, my grandmother would put me to bed with stories of children being abducted or lost or killed. Because my life was safe and boring at the time, I relished these tales of peril, and incessantly asked for more of them, in the way that someone might binge on Law and Order episodes.

…

A year after I unceremoniously cried at work, Playboy Enterprises closed the Chicago office, consolidating it with its office in LA, known as Playboy West. The office closing did not come as a surprise. For several months, rumors had been circulating. Employee benefit plans had been cut. The employees on the magazine staff braced themselves. We knew that the magazine was not the most lucrative division of the company. Ultimately, there were mass layoffs of employees across most divisions, some of whom had been with the company for decades and were on the cusp of retirement. (A longtime employee, in fact, sued the company for wrongful termination, heralding a landmark payout.)

My own layoff happened like this: One afternoon, Tom tapped the back of my chair and asked me to come with him. I knew what was coming, as I followed him — his stiff walk — down the halls. All day, each employee had been called individually to the office of the creative director, who either offered them a position in the LA office, or laid them off.

In the creative director's wide, sweeping office, I sat down at the table, along with other company representatives. The creative director, sweat stains on his shirt, seemed shaken by having delivered news to so many employees already. He stumbled over his words, seemingly reciting a script as he faced me, looking at my face but not quite seeing me. The script didn't include the words "lay off" or "terminated," but the message was conveyed.

In retrospect, the stories served as vehicles to impart my grandmother's lessons. The children often ended up in dangerous scenarios due to the same set of follies: They were too adventurous, or too overzealous, or too curious. A bored child, running off from his parents at the street market, ends up getting kidnapped and sent to a labor camp in the icy purgatory of Siberia, living off patchy tundra grass. The survivors in these stories were the ones who learned how to be obedient and to negotiate their own releases by subjugating their wills and impulses with apparent cooperation. The takeaway: In order to survive, one must hide the self.

I don't know how long I have carried this understanding, but it has been there for all of my life: The self can be compressed. The self is infinitely divisible. As in Zeno's paradox, if the self is cut down and continually halved into smaller pieces for eternity, it can still exist. You may act like a completely different person — ingratiating yourself to higher powers, publicly holding political views you don't believe in; in other words, completely subjugated to the system around you — but the self remains. You can be a feminist and still work at Playboy. You can object to the objectification of women but still attend employee parties staffed by lingerie models passing out Playboy Energy Drinks. You can dislike working with certain difficult coworkers, but still wear Nice Face around them. You can be a professional at work, but still retain your personhood.

Is this a depressing outlook or an inspiring one? Are you a hypocrite or are you a survivor?
*
Ling Ma is the author of the novel SEVERANCE just out.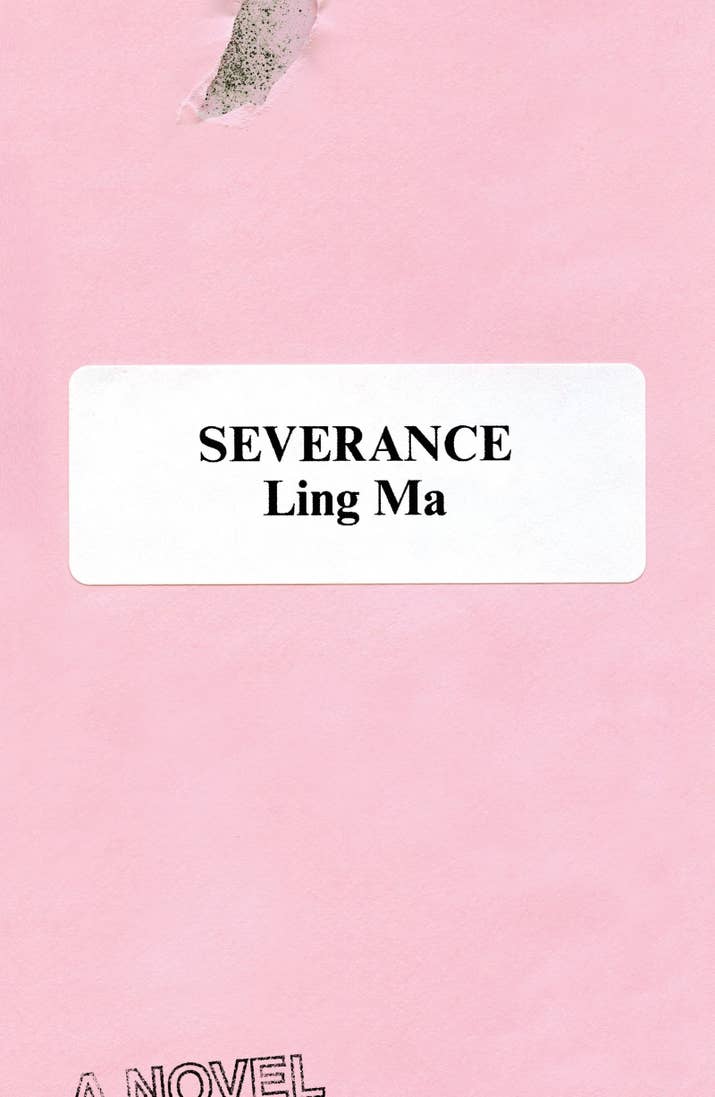 *
***