Compatriots, Be Ready for War
(Serious)
《当那一天来临》
准备好了吗 士兵兄弟们
当那一天真的来临
放心吧祖国 放心吧亲人
为了胜利我要勇敢前进
Are you ready my brother
When the day comes…
At ease my Motherland
At ease my Love

*
The word is out:
We are serious about Hong Kong and we are tired of Carrie Lam fidgeting and fidgeting, doing nothing while the general population is screaming for help to restore law and order, and bring back up the economy. It is going to get really, really rough. See clip below.
Because America is serious about trying to annihilate us, and not just slow us down, we want to take the fight to American soil, or any of its allies. Malaysia? (Hey, Charlie Santiago! You want to come over to China to free us Chinese from the Chinese? Maybe after that give us a dose of your thambi democracy? Remember to bring along Fight-for-Freedom Annie: While resting from your fights the two of you can have a good, righteous, Allah-fearing, Prophet Mohammad-and-Jesus fuck.)
*
When liquidating your assets:
For the short term, 6-12 months, prefer cash or gold;
Start with US dollar-denominated assets, particularly US real estate and US funds because they aren't so liquid and in the current climate, it is difficult to dump unless you are willing to let go at fire-sale prices;
Avoid US banks, and this includes Hong Kong, Singapore, UK, Australia and Canada financial institutions (in that order) because their asset base and capital are tied to the US, much of it dollar denominated. An example is HSBC; and,
Where to go after liquidation? When the US decline the choices are limited because of their monopoly. Think China; it's stable, economy robust, and highly liquid, and that's far more than you think. The financial sector is also opening up. First in, stay in. And the Chinese government always honors its word. Always. It's a cultural, ethical thing.
*
INFINEON is backing us
On behalf of my Motherland, thank you.
*
Never mind you don't understand Chinese. But wait until or move the clip control to time 4:05.
We and the government of China have sworn to our people that it will never, never happen again, especially to our kids.
***
---
*
On January 1, a new Foreign Investment Law was put out. In the current Parliament session when it ends May 28 that law will ratified and come into effect.

*
FINANCIAL LIBERALIZATION
From the lessons of history, China has strict restrictions on foreign ownership of property and land in the mainland. Sometimes, those restrictions are eased especially for oversea Chinese, better if they can demonstrate with documents (birth certificates, photos, passports, etc), they have family relationships in China. Better because you can obtain a special identity card that allows investor to raise local mortgage financing.
Two pieces of property are available for the resident/buyer category described above, one is in the southern Guangdong province, the other at the opposite end of the continent, Liaoning.
The Guangdong property is in Huizhou 惠州 prefecture, Luoyang 罗阳镇 city. This is a sprawling project. Details immediately below.

*
---
*
Property A: Guangdong

广东
General Information on property:
Location: Louyang town, Huizhou prefecture, Guangdong province (map, marked red, above)
Dimensions: upwards of 100 sq m.
Apartment status: New, completed, without finishing. Varied sizes, buildings.
Price: Starting price Yuan 750,000, excludes finishing, fixtures, and furnishings. That is, you get the shell of a building. Rule of thumb is, add to that price at least 50% more for a completed, ready-to-move-in apartment.
Other transaction fees: Minimal if there's no mortgage loan.
*
*
Below, three images of actual, completed/near completed apartment blocks. Unlike in Malaysia, you pay for what you see. That is, pay money today, take possession tomorrow. There is no 'pre-selling' (whatever that is) such as in KL and that scandalous Tropicana 'condo'.
*
LAYOUT #1 Next, below, actual layout. Size ranges from 110-to-120 sq m upwards. Take the following specifications as a rule-of-thumb guide:
Area: 122 sq m
Floor: middle
Rooms: 3+1 living room + kitchen + baths
Price: Yuan 850,000 (unfinished)
*
Balcony view looking out…
*
China properties are typically priced and sold without the finishing, i.e. walls, flooring, ceiling, and fixtures. This is to allow buyer to custom-make the finishing. Either use your interior builder or hire the developer's contractor (who usually have no inclination for this kind of work).
In any case, add a third more to the purchase price per lot. Meaning, for a Yuan 800K apartment, add at least Yuan 400K for a minimum total of Yuan 1.2 million to completely finish and moderately furnish the apartment then move in.  (Yuan 1.2 mn = RM 730K @ MYR1 = Yuan 1.63)
*
Image below gives you an idea into a least-cost finished apartment (walls, floors, ceiling, fixtures) and how that might look. The point? Best you spare a little attention to interior design and furnishing in order to extract the best value out of a budget.

*
LAYOUT #2: Specifications and pricing almost similar to Layout #1
*
---
Exterior view of properties near lake…
*
---
If you finish — and furnish — your own apartment, the following series of images (below) show how the apartment might end up looking. This has to be arranged with a design-builder, unrelated to the developer. Give yourself additional 3 months before moving in, from receipt of apartment key, commissioning of interior works to completion.
Single bedroom apartment — that's only a illustration layout.

Designer will provide schematics with detailed specifications, including material type, etc.
*
Chinese style finishing
(Photos actually show finished and fully-furnished, but not 'show', apartments'. They are currently occupied.)
Tea room, above. Notice, no doors.

Below, same corner-room but the buyer preferred it converted into a study — for calligraphy.

*
TRANSPORT: Ending/beginning in Hong Kong or Hainan island, the future Hong Kong replacement, there are high speed (HSR) bullet train connections from Huizhou to all corners of China, including airports in Shenzhen and Guangdong. Huizhou-Hong Kong, about 100km, takes 1 hr 10 minutes, six HSR trains per day, one way, stopping at Shenzhen.
ABOUT HUIZHOU: Populated since the Song dynasty (c.900 CE), Huizhou county 2019 population is 4.8 million. Moderately urbanized, lots of lakes and rivers coursing through it, serving as Guangdong transport hub, and for Hong Kong and the manufacturing cities of Dongguan, Shenzhen and Guangzhou, as well as redistributing travellers/tourists from the north, east and west heading to beaches on the South China Sea coast. Many overseas Chinese would pass it when going north and east by road to, say, Fujian.
---
*
Property B: Liaoning

辽宁
Next, but less suitable to those who lived all their lives in the tropics is Panjin 盘锦 in Liaoning 辽宁 (where I also live). This is the province next door to Russia and west of north Korea. Real estate is small, available near the coast, indicated in circled-red in map further below. Winter cold cuts into the bones, but spring and summer is celestial.
*
Below, is real… the red beach of Panjin. Those are a species of reeds that bloom from late Spring to early Autumn, that is, it is happening now.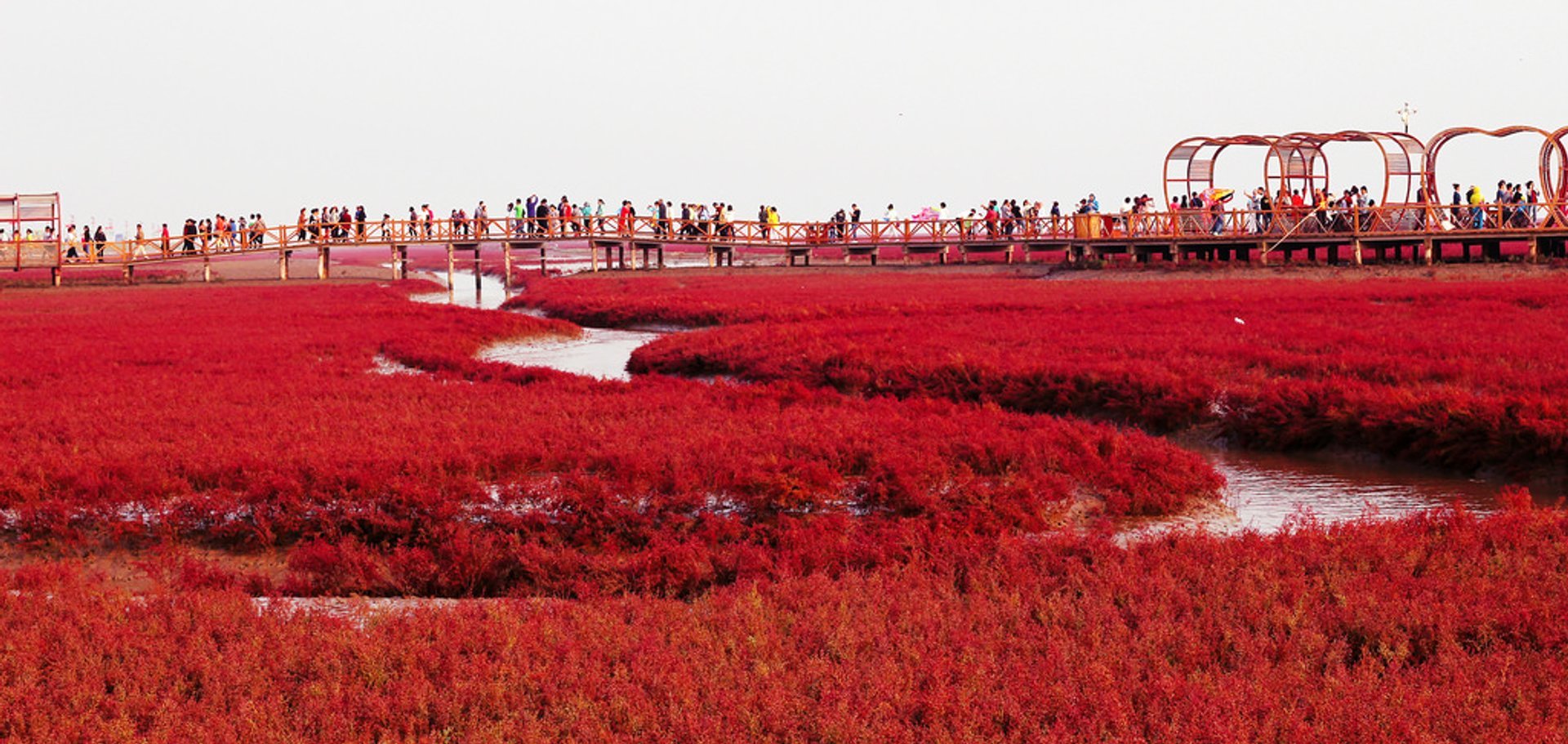 ***
---
INQUIRIES
For confidential inquiries on the above or other properties, incl. foreign investment and other related issues, write to:
cf.forest@gmx.com
When sending mail, on the subject line please write the title of this post — 'China Properties for Sale' — so we know the mail has to do with this site.
***
---
*
《 紅豆詞 • 紅樓夢 》
***